#1 Every New Recipe In Genshin Impact 3.1 (& How To Get It)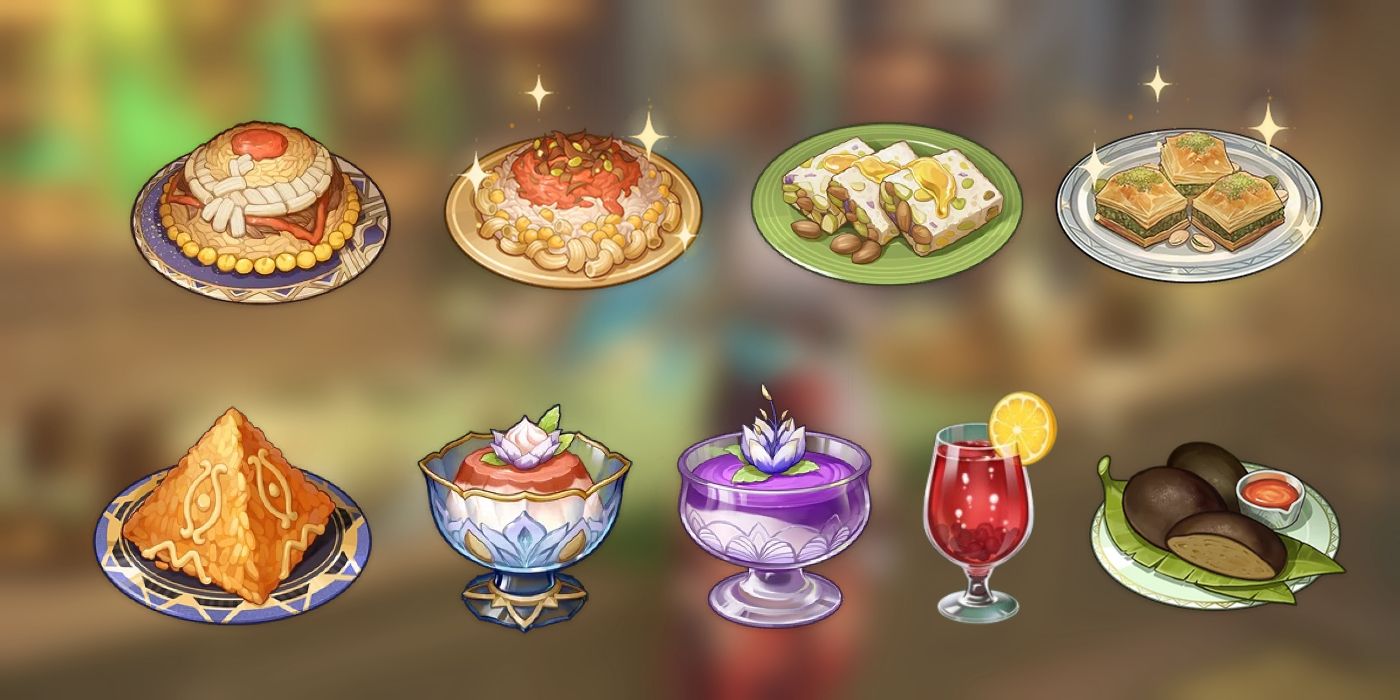 Genshin Impact 3.1 new content update features nine new recipes, including six standard food dishes and three character-exclusive Specialties.
A list of nine new cooking recipes is one of the many features added in Genshin Impact 3.1, allowing players to create six standard recipes and three new Specialties. These brand-new dishes not only look delicious, but they also are beneficial for HP recovery, combat, and even exploration. The land of the Great Red Sand is expansive, which plenty of new areas to explore and enemies to fight. While the Traveler and their companions in Genshin Impact do not require food and drink for sustenance, having these new Genshin Impact 3.1 recipes in one's inventory will ensure players are dietarily prepared for whatever awaits them within the vast desert wilderness.
It should be noted that, like with any Specialty, the three new Special Food recipes in Genshin Impact 3.1 cannot be acquired without possession of the playable character. For example, Duel Soul is a pyramid-shaped sticky rice dish that can only be made by those who have successfully pulled the new 5-Star Electro unit Cyno from the gacha. Those who do not have Cyno will unfortunately not be able to make the new Specialty.
Related: Genshin Impact: "And This Treasure Goes To" & Nameless Treasure Guide
Most of the new Genshin Impact 3.1 recipes can be purchased from NPC vendors in Sumeru. However, some players might have trouble knowing where these specific Sumeru characters in Genshin Impact can be found. Luckily, YouTuber JustCrow Gaming has compiled gameplay footage revealing where each of the new 3.1 recipes can be obtained. For further clarification and details about each dish, players can refer to the index provided below.
How To Unlock All New Genshin Impact 3.1 Recipes
Recipe
Food Effects/In-game Description
Obtainment Method
Coconut Charcoal Cakes

Revives a character and restores 1,200 HP

Head to Lambad's Tavern in Sumeru City and speak with the owner.
Purchase the recipe for 5,000 Mora.

Baklava

Increases all party members' CRIT Rate by 15% for 300s

Head to Lambad's Tavern in Sumeru City and speak with the manager.
Purchase the recipes for 5,000 Mora each.

Candied Ajilenakh Nut

Increases all party members' DEF by 200 for 300s

Padisarah Pudding
Aaru Mixed Rice

Travel to Aaru Village in the Great Red Sand and speak with the merchant Azalai.
Purchase the recipe for 2,500 Mora.

Duel Soul

Restores 34% of Max HP to the selected character and regenerates 980 HP every 5s for 30s

Candace's Speciality variation of Tahchin.
Tahchin's recipe is unlocked by reaching Reputation Level 4 in Sumeru

Utmost Care

Cyno's Speciality variation of Aaru Mixed Rice.

Swirling Steps

Decreases all party members' climbing and sprinting Stamina consumption by 25% for 1500s

Nilou's Speciality variation of Padisarah Pudding.

Sparkling Berry Juice

Revives a character and restores 15% of Max HP, then restores an additional 550 HP

Obtainable during "Of Ballads and Brews" at Springvale, Mondstadt, in Genshin Impact.
Source: JustCrow Gaming
Next: Genshin Impact: Best Cyno Character Builds – Weapons, Artifacts, Talents
Genshin Impact

Original Release Date:

2020-09-28

Developer:

HoYoverse (Formerly miHoYo)

Genre:

Action, RPG, Open-World

Platform:

PlayStation 4, iOS, PC, Android

Publisher:

HoYoverse (Formerly miHoYo)

ESRB:

T