11 best Amazon kitchen tools under $25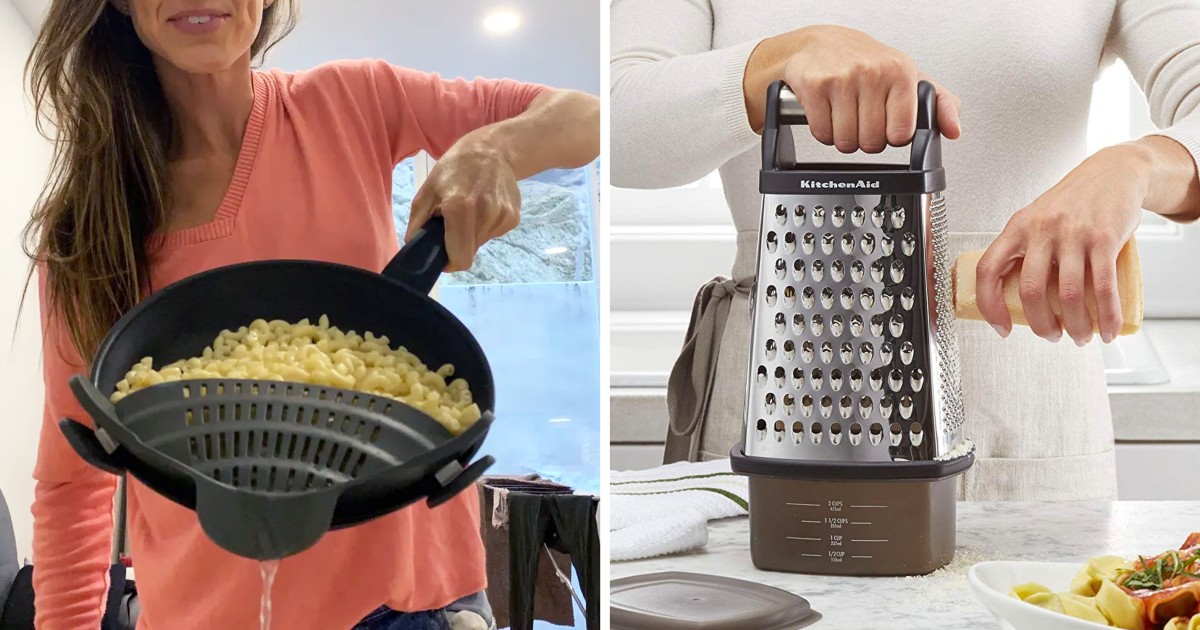 The right kitchen tools can make meal prep easy and enjoyable — whether you're whipping up a weeknight meal for the family or cooking an elegant dinner for close friends. Many of the top-rated tools that chop, grate, peel and froth to perfection cost less than $25 and are available to purchase on Amazon right now.
We've sifted through dozens of bestselling items and found ones that are not only kind on your wallet but actually do what they say — and do it well.
SKIP AHEAD Best Amazon kitchen products under $25
Best Amazon kitchen tools under $25 in 2023
Below, we rounded up 11 tools on Amazon that will streamline the cooking process and save you time in the kitchen. Every item is highly rated with at least 4.2 stars based on thousands of reviews.
4.5-star average rating from over 32,000 Amazon reviews
This silicone fine-mesh strainer lets you drain water from any round pot, pan or bowl with one hand. It is designed to maximize drainage and is half the size of a standard colander, so it it shouldn't take up as much drawer space, according to the brand. The strainer snaps on to round pots, pans and bowls of all sizes including glass, wood and lipped bowls. It's BPA-free, heat resistant up to 440 degrees Fahrenheit and dishwasher-safe too.
4.6-star average rating from over 34,000 Amazon reviews
Smash burgers are well loved for their crispy, cracked edges and juicy center. To get these results, you'll need a weighted press to smash the meat and lock in the flavor as it cooks. This cast-iron press from Cuisinart is durable enough to smash your burger into a 6-inch patty; plus, its 1-centimeter raised edge will lock in the fat and juices, according to the brand.
4.7-star average rating from over 97,000 Amazon reviews
These nonstick silicone baking sheets eliminate the need for cooking sprays, grease and parchment paper. They come in a pack of two and measure 11.6 inches x 16.5 inches, so they fit perfectly on half-size baking pans, according to the brand. Oven-safe up to 480 degrees Fahrenheit, you can easily clean these silicone sheets with soap and water.
4.3-star average rating from over 34,000 Amazon reviews
This compact knife sharpener has a rubber base that firmly suctions to your table when the sharpener switch is turned on, so it shouldn't slip or damage your countertop, according to the brand. It comes with two blades — a carbide blade for sharpening edges and a ceramic blade to hone. The Sharpal also sharpens scissors.
4.2-star average rating from over 24,000 Amazon reviews
With this battery-powered, double-whisk frother, serious coffee drinkers can get barista-grade cappuccinos, lattes and macchiatos at home. It can mix your desired foam in 15 seconds and has a silicone ergonomic handle to keep your hands comfortable while you use it, according to the brand. Plus, it comes with a slim stainless steel stand and is available in 18 colors.
4.8-star average rating from over 10,000 Amazon reviews
This stainless steel, rust-resistant box grater can mince, slice, grate and shred cheeses, veggies and more. It comes with a 3-cup container that fits under the grater's base to catch excess food so there's less mess in your kitchen. The container also has measurement markings and a top so you can store the leftover shavings for later.
4.4-star average rating from over 2,000 Amazon reviews
Fresh herbs make any dish more flavorful. You can use these high-quality scissors, which come with a safety cover and a comb for cleanup, to cut herbs directly over pizza, salad, casseroles, soup and more. Because these scissors have five blades, it uniformly snips herbs faster than regular scissors can, according to the brand. The handle is made of nonslip soft rubber material, and the stainless-steel blades are rust resistant. It's perfect for beginners who don't have the best knife skills and are looking for alternative options in the kitchen.
4.5-star average rating from over 5,500 Amazon reviews
This vampire-inspired kitchen tool can crush, mince and press garlic in seconds. To use, pop off Gracula's head, place the garlic (or ginger, nuts or herbs) inside, place his head back on and twist. It's only 120 grams and is BPA-free and dishwasher safe too.
4.7-star average rating from over 34,000 Amazon reviews
This utensil rest not only has four slots to park your spatulas, ladles and tongs while cooking, but it also has a drip pad to help keep your countertop splatter-free. It's made with heat-resistant silicone and has a nonslip bottom to keep it in place as you use it. Plus, it's dishwasher-safe and available in two sizes and 31 colors.
4.7-star average rating from over 5,600 Amazon reviews
I love making bacon but cringe at the thought of figuring out what to do with the grease. The Talisman bacon bin is made of heat-resistant, BPA-free silicone and has a removable strainer on top that filters out tiny bits of bacon fat so you are left with pure grease to cook with or toss (once it's chilled), according to the brand. It's also refrigerator-, freezer-, microwave- and dishwasher-safe so you can store any remnants as you please.
4.8-star average rating from over 46,000 Amazon reviews
Knives are an essential tool in every kitchen, and this Cuisinart set comes with 12 high-quality stainless steel blades that have a nonstick ceramic coating, which makes them easy to use, according to the brand. With this set you'll get two: 8-inch chef knives, 8-inch slicing knives, 8-inch serrated bread knives, 7-inch santorum knives, 6.5-inch utility knives and a 3.5-inch paring knives along with a blade guard for each. Each type is a different color to help you avoid cross-use during food prep.
Why trust Select?
Barbara Booth has written a number of guides on bestselling and highly rated products you can buy on Amazon that simplify your life,including best organizational products, best car accessories, best travel accessories and more. For this piece, Barbara researched dozens of top-rated items on Amazon that simplify and streamline meal prep.
Catch up on Select's in-depth coverage of personal finance, tech and tools, wellness and more, and follow us on Facebook, Instagram and Twitter to stay up to date.