30-Minute Thanksgiving Recipes for Last-Minute Meals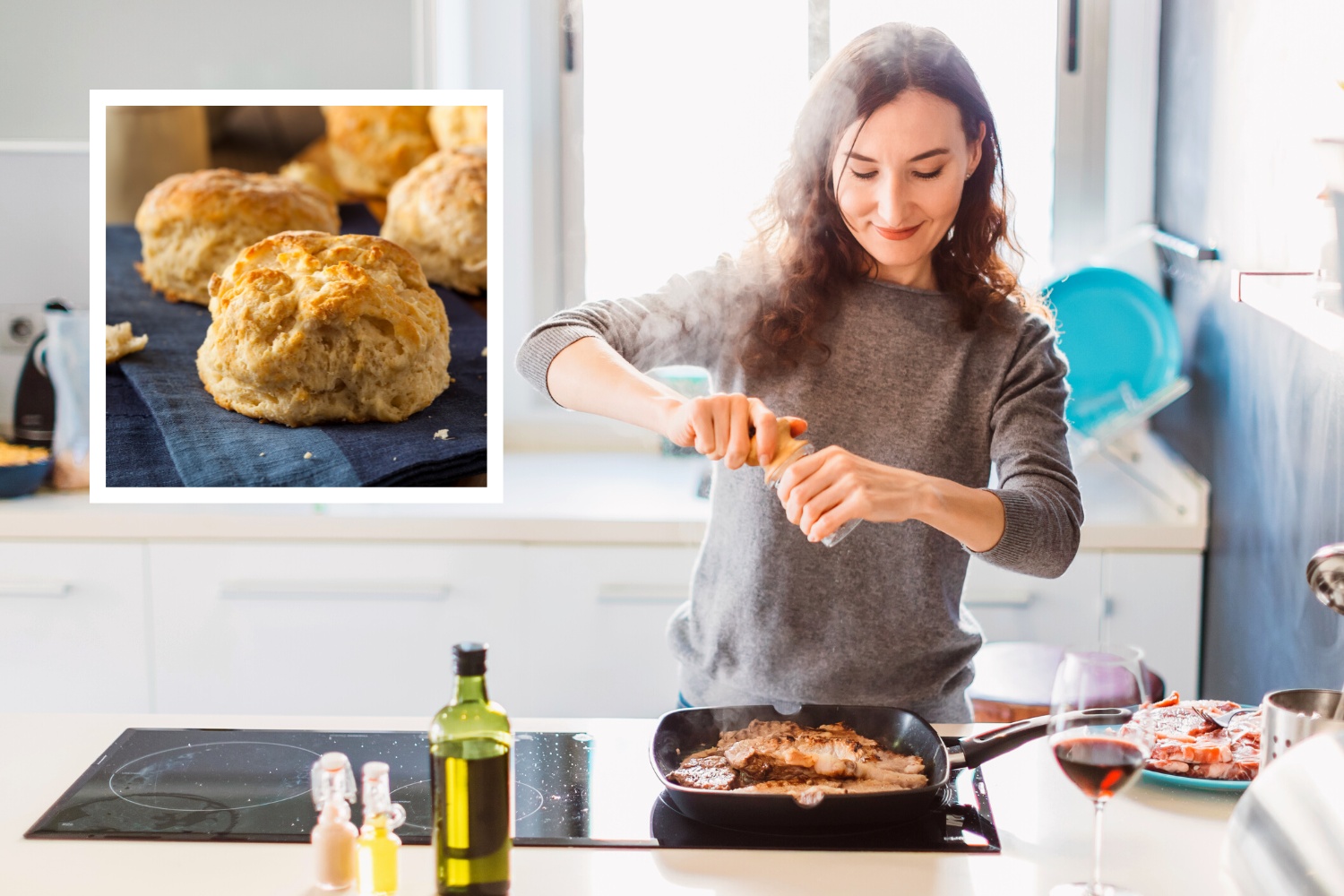 Thanksgiving is a time when home cooks can flex their culinary skills before an audience of family and friends. But getting the house ready for company, not to mention running various errands, can often leave little room to actually cook.
Luckily, you don't have to necessarily spend a ton of time in the kitchen in order to impress your holiday guests. Newsweek recently spoke with Chef Adrianne Calvo to learn her top three 30-minute Thanksgiving recipes for people who have done zero prep.
Chef Adrianne has earned numerous honors and awards and opened two renowned restaurants. She's appeared in reality cooking shows, been named the "Best Chef in Miami" and authored six cookbooks. She also has an acclaimed YouTube series, Searching for Maximum Flavor with Chef Adrianne, and counts more than 1 million Instagram followers.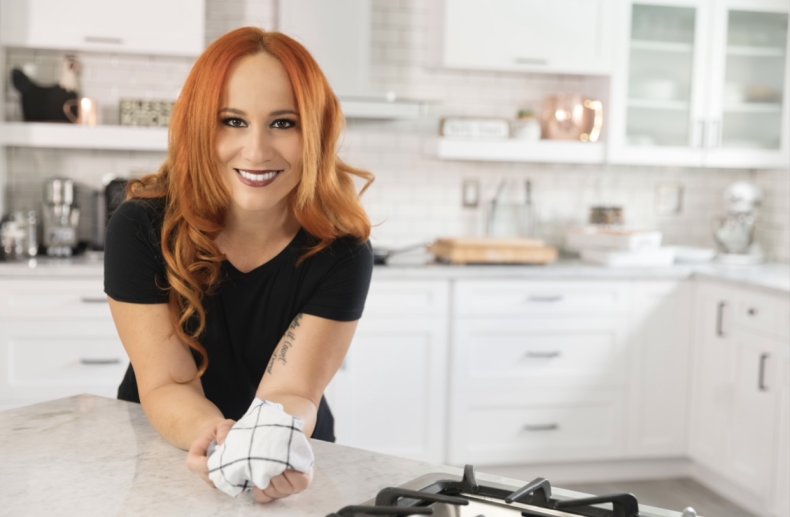 So, it's true that Chef Adrianne is an accomplished professional, but she knows what it's like to face holiday meals under a time crunch. The restaurateur relies on some clever hacks to blow her dinner guests' minds.
"They know I'm a chef, so I better come up with something really great," she told Newsweek. "So these are the recipes that make it look like I've been in the kitchen for two days prepping—I have all the ovens on, all the pots are working—but that's not really what's happening."
At Thanksgiving, people connect with one another through food and the dinner table is the star of the evening, she said. Sure, you can make your holiday meals complicated, but you also don't have to.
The way Chef Adrianne tells it: "You can have an exquisite, beautiful holiday dinner without doing a whole lot of prep."
A (literal) pro tip, though: People who do succumb to procrastination should bring their "A game," Chef Adrianne said. If you're executing a holiday meal on a quick turnaround, then keeping clean and organized is key because otherwise, you could wind up in a frenzy. Tackle one recipe at a time and measure ingredients out in advance for maximum ease in the kitchen, she added. It helps to set out pre-measured items on the counter beforehand so all you have to do is mix.
And with that, let's get to Chef Adrianne's top three 30-minute Thanksgiving recipes.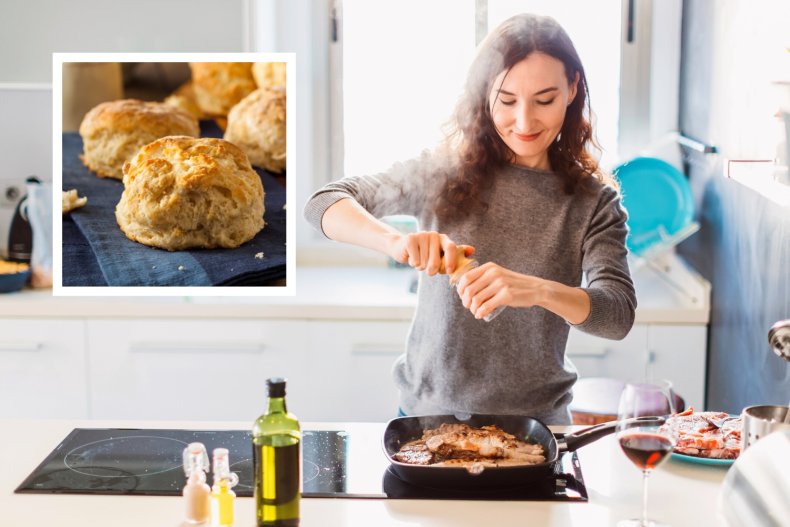 What Are Some 30-Minute Thanksgiving Recipes for Last-Minute Meals?
Chef Adrianne calls this recipe her "shortcut to roasting a turkey for hours on end." It's a delicious and flavorful play on a classic dish that's also a fan favorite.
The herby recipe "packs a ton of flavor" and tricks guests into thinking you've spent hours marinating and roasting, she said.
"In fact, it takes you about 20 minutes to sear that turkey tenderloin and you're done," Chef Adrianne added. "So that's like a turkey hack."
Herb Skillet Turkey Tenderloins, Serves: 6-8
INGREDIENTS:
2 lbs turkey breast tenderloins
Canola oil
1 cup dry white wine
1/4 cup fresh flat-leaf parsley, minced
5 green onions, chopped
1 shallot, minced
2 tablespoons garlic, minced
1 teaspoon dried rosemary
1 teaspoon dried thyme
Kosher salt and freshly ground black pepper, to taste
Pat tenderloin dry. Flatten out a bit. Season with kosher salt and pepper to your liking.
In a medium bowl, mix together wine, parsley, green onions, shallots, garlic, and dried spices. Spread the flavorful paste into the tenderloins. Re-season with salt and pepper if needed.
Using an iron skillet or large pan, heat about 1/4 cup of canola oil to medium-high heat. Cook the seasoned tenderloins for about 5-7 minutes on each side. Allow to rest before carving.
Make sure the internal temperature reaches 165 degrees F. Reserve the pan juices to serve over the sliced turkey tenderloins.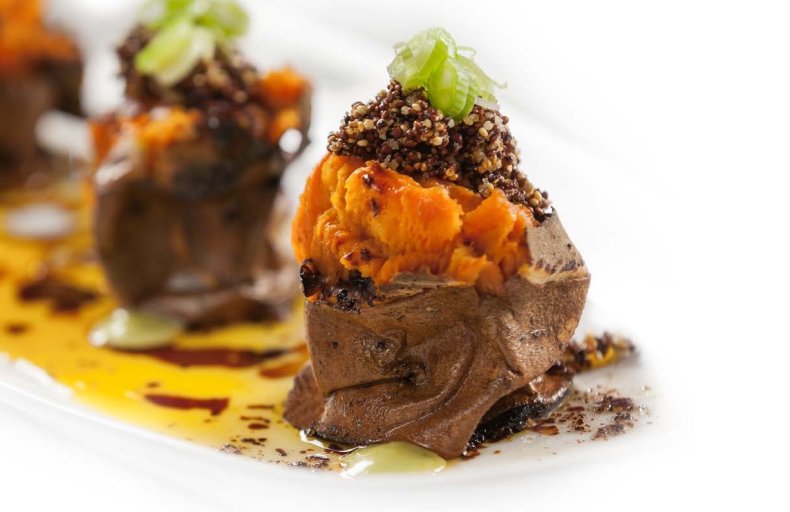 Chef Adrianne's second clutch recipe—which features to-die-for candied quinoa, soy brown butter and cilantro mayo—is featured in one of her cookbooks. She calls it her "go-to" Thanksgiving sweet potato side dish.
You don't have to peel the sweet potatoes, and you can shave off cooking time by cutting them in pieces, she said. The candied quinoa delivers a crunchy texture and the soy brown butter brings an "umami" factor.
"My guests are wowed," Chef Adrianne said. "It takes me a fraction of the time than a classic sweet potato casserole, and it has all the elements."
Skin-On Roasted Sweet Potato, Serves: 2
INGREDIENTS:
1 large sweet potato, cut into three pieces
2 tablespoon quinoa
1 tablespoon sugar
1 tablespoon unsalted butter
1 tablespoon light soy sauce
1 tablespoon cilantro
1 tablespoon mayonnaise
¼ teaspoon garlic, minced
¼ teaspoon hot sauce
1 tablespoon green onion, thinly sliced
Preheat the oven to 350 degrees F. Place cut sweet potato onto a nonstick cookie sheet. Place in oven for 15-20 minutes or until fork tender.
Meanwhile, in a small pan, melt sugar and add quinoa. Cook over medium heat for 3-5 minutes until the sugar starts to turn golden. Take off the heat and set aside.
In another small pan, heat butter to medium-high and cook for 2-3 minutes or until butter starts to brown. Add soy sauce and whisk vigorously to combine. Set aside.
In a food processor, add cilantro, mayonnaise, garlic, and hot sauce and pulse to combine.
To plate, press baked sweet potatoes on the sides to push out the flesh from the top. Add a spoonful of soy brown butter to each. Top with candied quinoa and green onions. Add a dollop of cilantro mayonnaise to each piece of dressed sweet potato.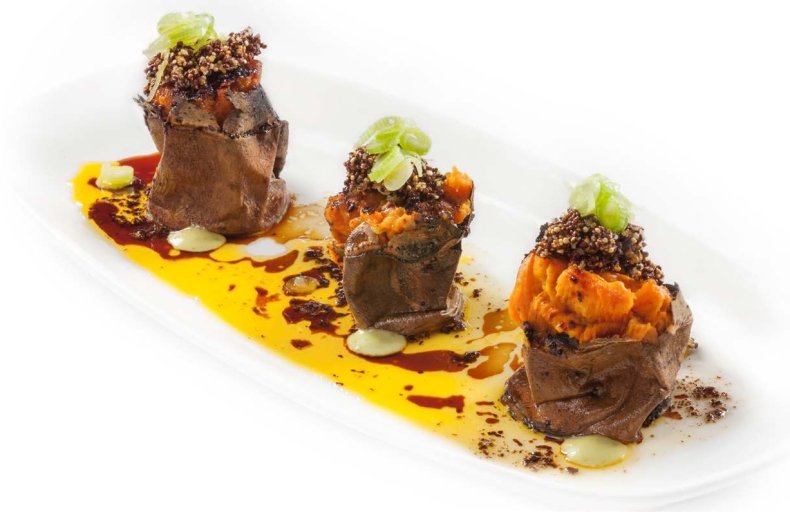 Chef Adrianne's third 30-minute Thanksgiving recipe is for black pepper buttermilk biscuits—and it's sure to leave diners thinking that the dough rested for hours. The trick? Working with cold butter.
"In under 30 minutes, you have these beautiful, flaky, very flavorful buttermilk biscuits," she said.
Black Pepper Buttermilk Biscuits, Serves: 12
INGREDIENTS:
2 cups all-purpose flour
¼ cup granulated sugar
¼ cup roughly chopped fresh thyme
4 teaspoons baking powder
1 teaspoon kosher salt
¾ teaspoon ground black pepper, divided
¼ teaspoon baking soda
¼ teaspoon garlic powder
¼ teaspoon onion powder
½ cup cold unsalted butter, cubed
1¼ cups whole buttermilk, add slowly checking for moisture
Egg wash, to brush over biscuits
Butter, to serve
Preheat oven to 450 degrees F. Lightly spray a square cast-iron skillet with cooking spray.
In a large bowl, stir together flour, thyme, baking powder, salt, ½ teaspoon of pepper, baking soda, garlic powder, and onion powder. Using a pastry blender or 2 forks, cut in cold butter until the mixture is crumbly. Gently stir in buttermilk until a soft dough forms.
Turn out dough onto a lightly floured surface and gently pat to ¾-inch thick. Using a 2½-inch round cutter, cut dough, re-rolling scraps as necessary.
Arrange biscuits in a prepared skillet. Brush tops with egg wash. Sprinkle with remaining ¼ teaspoon pepper. Bake until golden brown, 15 to 18 minutes.
Newsweek's "What Should I Do?" offers expert advice to readers. If you need advice, let us know via [email protected]. We can ask experts for advice on relationships, family, friends, money and work and your story could be featured on WSID at Newsweek.