A frying start: around the world in seven pancake recipes | Dessert
The pancakes of Pancake Day look – and taste – different across the globe. It might be known as Shrove Tuesday, but for culinary reasons I prefer the French translation – "Fat Tuesday". While the day may be fat, the French crepe is a "a slimmer, more elegant, more luxurious" version of the "ordinary British pancake", says Felicity Cloake. For sweet crepes, she adds a pinch of salt to the batter to balance out the sugar. Whisk only until smooth – it should have the consistency of single cream.
But if a fluffy, American-style stack is more your style, you'll need some bicarb soda and buttermilk to start the pancake party (note, this is different from a waffle party). The combination of leavening agent and fermented milk creates fizz and bubbles, resulting in light-as-air pancakes, best drowned in maple syrup, if you're feeling hedonistic, or a berry compote, if you're easing your way into Lent. (If berries are on your mind, see that punnet of blueberries through to Ravneet Gill's blueberry pancakes, too.)
More french toast than pancake, torrijas have come to be associated with Lent in Spain and variations abound in Spanish-speaking countries, including Mexico and Venezuela. Benjamina Ebuehi's recipe for torrijas sees white bread steeped in a heady mixture of egg yolks, milk and sugar (yes, it's essentially custard), with the slices fried in butter, sprinkled with more caster sugar and best served cold, as per tradition.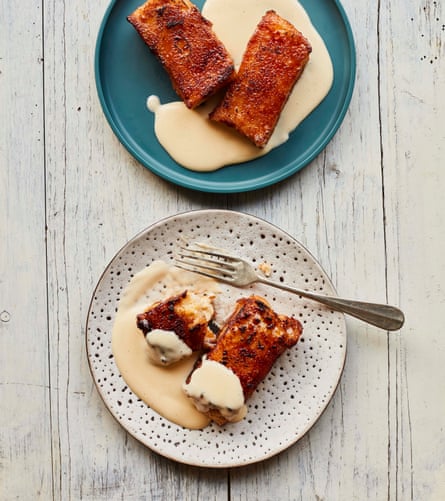 In India, some in the Catholic community make coconut pancakes. The recipe calls for a vanilla-scented batter that's fried, filled with a textural combination of fresh grated coconut, jaggery, nuts and sultanas, and then rolled into sweet little cylinders.
Malasadas, found in Hawaii, Guyana and parts of Portugal, are not pancakes but doughnuts dusted with lemon zest and sugar. They are, however, free of corners, circular in shape and – importantly – eaten to mark the beginning of Lent.
History dictates that Shrove Tuesday pancakes came from followers needing to use up luxury, perishable goods like milk, eggs and butter. It does, however, mean that vegans and the gluten-intolerant are excluded from the pancake celebrations. Enter: kabalagala, Ugandan banana pancakes. They're not exclusively made for pre-Lent feasting, but they are made with ripe bananas and cassava flour, then deep-fried. The result? Pikelet-sized snacks that are crunchy on the outside and soft in the centre. Try your hand with Sophia Musoki's five-ingredient recipe.