Asian-inspired food week highlights AAPI tradition, culture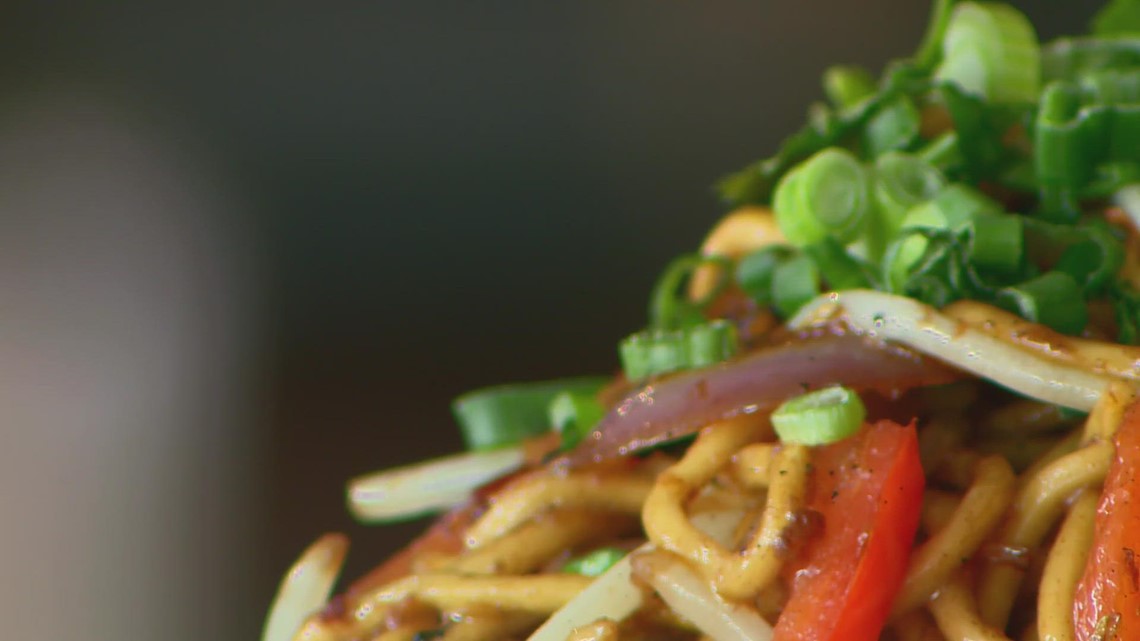 "I feel like in the past three years the Colorado AAPI food and beverage scene has really grown and it's the time now to really showcase that," said Joanne Liu.
DENVER — The inaugural Mile High Asian Food Week kicked off this week by highlighting dozens of restaurants around the Denver metro – and you can tempt your tastebuds with traditional cultural foods through Feb. 26. 
Ken Wan's restaurant is featured in food week – the kitchen has always been a place that feels like home to him because the kitchen is where he has always found his family.
"It would be my goal to show you what my family enjoys to eat," he said. "I think at the end of the day like food and cooking is very much intertwined with our family in general."
"When I see this dish I think of a culmination of two families coming together and putting something on a plate that's delicious," he said. 
It's a dish they've created for Denver's first Mile High Asian Food Week, as well as their menu, inspired by the people closest to them. 
"Stuff that my mom made or Doris' dad makes, stuff that kind of came through from our family traditions and I want to keep that tradition alive," said Wan. 
Wan's XO stir-fried egg noodles will be the restaurant's special during Mile High Asian Food Week. The XO sauce is a recipe he learned from his father-in-law, who is also a chef. 
"XO sauce is like a luxurious, Cantonese-style sauce," said Wan. "It has dried scallops, dried shrimp, fried garlic, fried shallots, chili. There's a lot of good stuff in there."
For Joanne Liu, Wan's sister, Chinese food isn't just about her culture. 
"It symbolizes family and it's a way we show love and care for one another," she said. "It kind of brings me back to being raised in a family who owned a Chinese restaurant."
For 20 years, Joanne and Ken's parents owned a Chinese take-out spot. 
"They were immigrants to this country and really it was their way to put food on our table, put shelter over our heads, and really care for us and really wanted us to succeed," said Liu.
"Food was always a big deal to me but my parents never wanted me to pursue it because obviously, they wanted me to be like a doctor, engineer, lawyer, typical Chinese immigrant stuff, you know?" said Wan. 
Ken still decided to follow his heart into the restaurant business and Joanne also found a way to celebrate food, culture, and community. 
"I want to engage in joy. I want to engage in celebration of the Asian culture and Asian foods and this is how I'm engaging with what's going on today," she said. 
Liu is the founder of Mile High Asian Food Week.
"Oftentimes people think, 'Oh there's no Asian food here. There's no good Asian food,' and like granted yeah, it's not the same as the coastal cities like New York City or San Francisco, but there's good Asian food here and [we] really want the chance to elevate those businesses," she said. 
It's a way to shine a spotlight on the diverse Asian American Pacific Islander (AAPI) food scene she said has been growing in the Denver metro. 
"They all have their own story of why they cook the foods they cook, why they started their businesses… and a lot of times it's about family," said Liu. "It's about their culture, food they grew up on." 
Around 48 restaurants are signed up for Mile High Asian Food Week, including her brother's and a food truck called Pho King Rapidos. 
The owner of the food truck, Long Nguyen, also takes a lot of inspiration from his family.
"A lot of the recipes, a good part of the base, or even the specials are from her," he said.
Long said his menu is Vietnamese at its core, but with an added twist, inspired by special moments in his life. 
"Right here is our sticky icky wings it's our take on the Cánh Gà Chiên Nước Mắm," said Nguyen. 
Another dish takes the flavors of a traditional bowl of pho but is wrapped up in a sandwich.   
"It's an influence from being at home with my family and living in New York with my wife and then every day her and I just thinking about like what can we do differently," he said. 
He hopes to share his food with the wider community while making his parents proud. 
"You want to take all the hard work that they did and make sure that you're taking every opportunity they gave you to do something with it," said Nguyen.
Through food, they're all carrying on a legacy, lovingly passed down by family. 
"To see that not only am I successful here but I'm happy doing what I do… to her, I think to her it gives her some validation that she was a great mom, you know?" said Wan. 
Both Meta Asian Kitchen and Pho King Rapidos will open brick-and-mortar locations later this year. 
Meta Asian Kitchen is located inside Avanti until April 30. Then, they will open a new location called "MAK Fam" at 39 W. First Ave. in Denver sometime this fall or winter.
Mile High Asian Food Week runs from Wed., Feb 22-26.