Bean stew, clam casserole and a creamy dip: Yotam Ottolenghi's recipes for cannellini beans | Food
Tinned beans, jarred beans and dried beans: happily, there is use for them all. For convenience, it's tinned all the way. Jarred, meanwhile, have the benefit of being big, buttery and instantly ready, so they are most definitely your friend. Last, for when you have some time, and want the beans to absorb the flavours of whatever they are cooked with, it's dried for the win (but get them soaking and cooking sooner rather than later, because they need time to reach their full potential). Regardless of which type you go for, however, there are myriad ways to incorporate the humble bean into your day-to-day.
Cannellini beans with grilled tomatoes and crisp oregano (pictured top)
Grilled red peppers work as well as the tomatoes here, if you want to play around. For a quick midweek meal, grill the tomatoes the day before or use jarred red peppers. Either way, serve with plenty of grilled bread and a green salad.
Prep 15 min
Cook 20 min
Serves 4
4-5 plum tomatoes (600g)
3 mild red chillies (60g)
100ml olive oil
30g oregano, leaves picked (15g)
7 garlic cloves, peeled and cut in half lengthways
1 x 660g jar cooked cannellini beans, or other white beans – I like Bold Bean Co
1 lemon, zest peeled off in 5 wide strips, then juiced, to get 45ml
2 tsp fennel seeds, toasted and lightly ground in a mortar
Salt and black pepper
Put a griddle pan on a high heat and, once smoking, lay in the whole tomatoes and chillies, and grill, turning often, until their skins are blackened all over – the chillies will take two or three minutes and the tomatoes seven to 10. Lift out of the pan with tongs, set aside and, once they are cool enough to handle, peel off all the skins. Cut each tomato into four chunks and tear each chilli into three or four long strips (if you prefer less heat, scrape out and discard the seeds and pith).
Put 70ml oil in a small saucepan on a medium-high heat and, once hot, fry the oregano leaves for a minute, until crisp and deep green in colour. Pour into a sieve set over a small bowl and leave to cool.
Meanwhile, put the remaining 30ml oil and the halved garlic cloves in a medium saucepan on a medium-high heat and cook for a minute or two, until softened and starting to brown around the edges. Tip in the beans and the liquid from the jar, add 120ml water, the strips of lemon zest, half of the fennel, half a teaspoon of salt and plenty of cracked black pepper, stir gently and warm through for just three or four minutes.
Spoon the bean mix on to a serving plate. Add the tomatoes, chillies and lemon juice to the oregano oil bowl, with a quarter teaspoon of salt and plenty of cracked black pepper. Mix gently and spoon this over the beans. Serve with the crispy oregano leaves and remaining fennel seed scattered on top.
Cannellini beans with clams and spiced tomato (pictured top)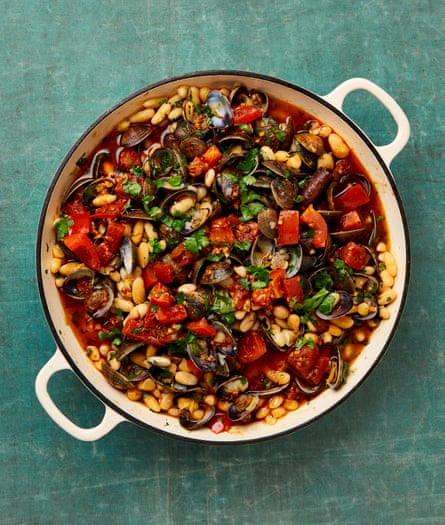 Although I love the convenience of tinned beans, there is no comparison in taste to cooking them from scratch. There's no set time for how long it will take your beans to cook, as beans differ in variety and age. Just beware of using old beans, as however long you soak and cook them, they will never become tender. I've used cannellini beans, but feel free to use different kinds of beans, such as butter or haricot.
Soak 8 hr+
Prep 10 min
Cook Up to 2½ hr
Serves 4-6

400g dried cannellini beans, soaked for at least 8 hours
1 medium onion, peeled and finely chopped (150g)
1 whole garlic head, top 2cm cut off to reveal the cloves
1 cinnamon stick
750g clams, or mussels
100ml olive oil
2 tsp cumin seeds
10g fresh ginger, peeled and finely chopped
2 tomatoes (180g), cut into 2cm pieces
2 tsp paprika
¼ tsp ground cinnamon
Fine sea salt and black pepper
4 tsp apple cider vinegar
20g coriander, roughly chopped, plus 1 tbsp extra to serve
2 tbsp fresh lemon juice
Drain the soaked beans, then put them in a large cast-iron saute pan for which you have a lid. Pour in enough water to cover the beans by 5cm, then bring to a boil. Skim any froth that rises to the top, then turn down the heat to medium-low, stir in the onion, garlic and cinnamon stick, and cook for up to an hour and three-quarters, or until the beans are soft and cooked through – check them at the hour mark, and then every 15 minutes thereafter. Top up the water as necessary, so the beans are always submerged.
Meanwhile, put the clams in a large bowl, cover with very cold water and discard any with broken shells or that refuse to shut. Agitate the clams so they spit out any sand, then drain and repeat until the water runs clear. Strain, transfer back to the bowl and refrigerate until needed.
Put 70ml oil in a small frying pan on a medium heat, then add the cumin seeds and cook for a minute, until fragrant. Add the ginger, cook, stirring, for a minute more, then stir in the tomatoes and cook for one minute. Stir in the paprika, ground cinnamon, a quarter-teaspoon of salt and a good crack of pepper, cook for another 30 seconds, until fragrant, then take off the heat.
Once the beans are soft, strain them through a colander set over a bowl to catch the cooking liquor. Return the solids to the casserole, squeeze in the garlic flesh, then add 100ml of the reserved cooking liquid, the remaining two tablespoons of oil, the vinegar and three-quarters of a teaspoon of salt. Return the pan to a high heat, boil for three minutes, until until the sauce is almost completely reduced, then add the clams. Cover the pot and cook for three minutes, shaking the pan occasionally to encourage the clams to open and to stop the beans from sticking. Once all the clams are open (discard any that do not), take off the heat and stir through the coriander.
Scoop out two tablespoons of tomato pieces from the tomato mixture and stir them through the clams along with the lemon juice.
To serve, drizzle the rest of the tomato topping all over the top, sprinkle on the extra tablespoon of coriander and serve directly from the pan.
Cannellini bean and sweet potato dip with lemon, olive and urfa sauce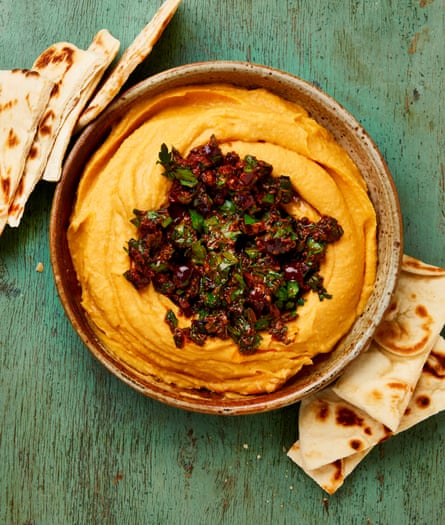 This dip and sauce pairing is a real treat – creamy and sweet from the dip, sour, hot and acidic from the sauce – but they also work well individually, if you have any of either left over. The sauce is great on all sorts, especially grilled fish or veg, so make double, if you like. Serve as part of a spread with flatbreads.
Prep 15 min
Cook 75 min
Serves 4
For the dip
½ whole garlic bulb, cut in half widthways
1 large sweet potato (400g)
1 x 400g tin cannellini beans, drained and rinsed (240g)
Salt
1 tbsp tahini
½ tsp lemon juice
2 ice cubes
For the sauce
¼ tsp ground cinnamon
½ tsp cumin seeds, coarsely ground in a mortar
½ tsp caraway seeds, coarsely ground in a mortar
½ tsp coriander seeds, coarsely ground in a mortar
½ tsp urfa chilli flakes
¾ tsp rosemary leaves, finely chopped
1 tbsp tomato paste
1½ tsp olive oil
1 tbsp lemon juice
40g pitted kalamata olives, roughly chopped
20g picked flatleaf parsley leaves, roughly chopped
Heat the oven to 210C (190C fan)/410F/gas 6½. Wrap the garlic in foil and put this on a roasting tray alongside the whole sweet potato. Roast for 40 minutes, until the garlic is soft and golden, then take out the garlic parcel and roast the sweet potato for another 20 minutes (turn it after it's had half an hour), until cooked through.
When the garlic is cool enough to handle, squeeze the flesh from the papery skins (discard the skins). Peel off and discard the sweet potato skin, then put the flesh in the bowl of a food processor and add the roast garlic flesh, the drained beans and a quarter-teaspoon of salt. Blitz for a minute, until smooth, then add the tahini, lemon juice and ice cubes, and blitz for another minute, until smooth.
To make the sauce, put a small frying pan on a medium-high heat, add all the spices and the rosemary, and toast, stirring frequently, for two minutes, until fragrant. Turn down the heat to medium, add the tomato paste and oil, and cook, stirring constantly, for two minutes. Add two tablespoons of water, simmer for two minutes more, then take off the heat and stir in the lemon juice. Leave to cool for 10 minutes, then stir in the olives and parsley.
Transfer the dip to a shallow lipped bowl with a lip, make a well in the centre, spoon in the sauce and serve.