Best Recipes Featured on The Kelly Clarkson Show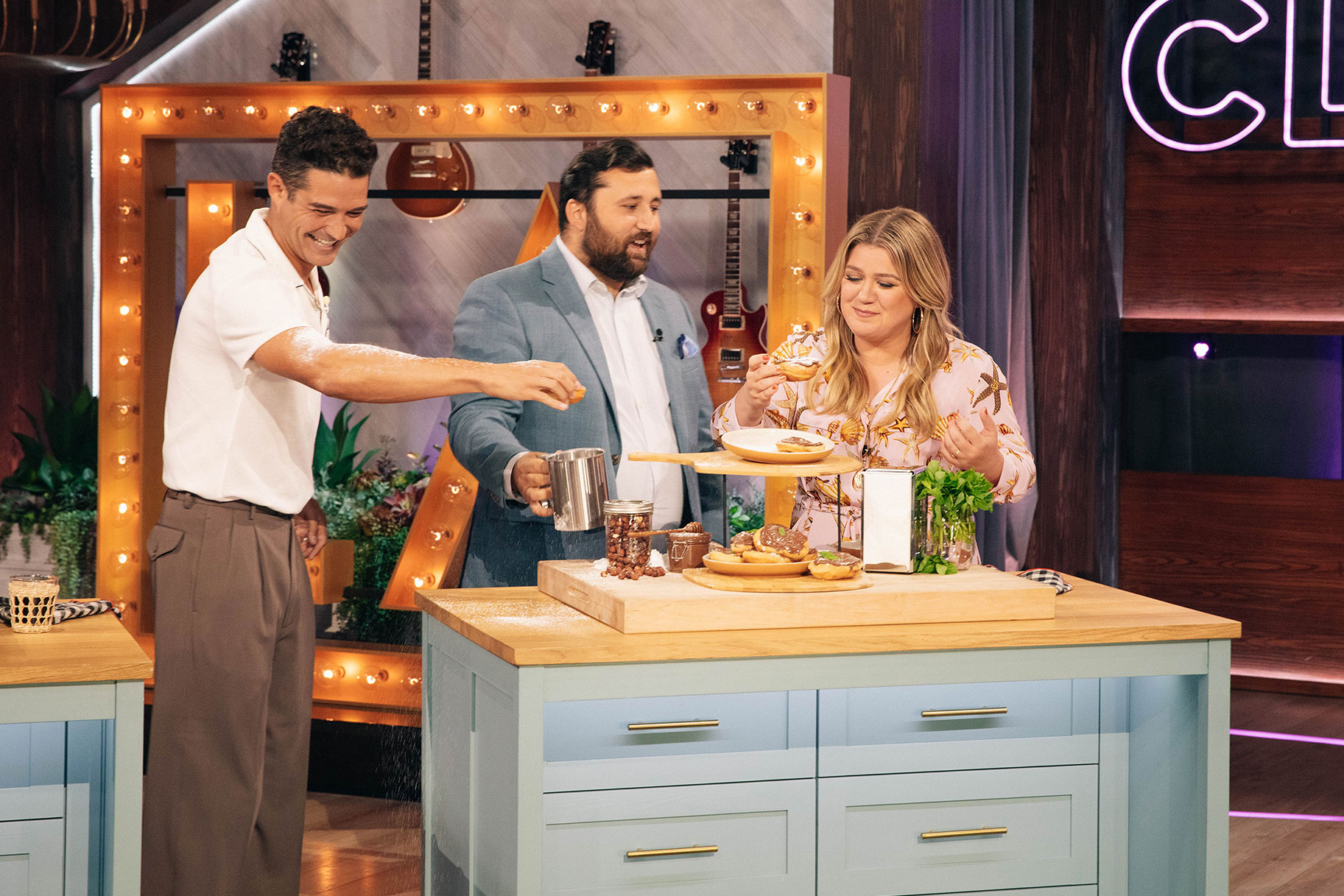 Kelly Clarkson always knows how to make viewers have a fun time on The Kelly Clarkson Show. The Emmy-winning talk show has everything: celebrity interviews, jaw-dropping Kellyoke performances, and cooking tutorials with some of the top chefs in the food industry. What's not to love?
But the Grammy-winning Artist and Season 23 Coach of The Voice will be the first to admit that while she can effortlessly belt any note known to man, she often needs help in the kitchen. Clarkson's kitchen is always chaotic, which is the perfect venue for hilarity when Clarkson and special guests learn how to make tasty recipes. Check out some of the most delicious recipes from The Kelly Clarkson Show that made Clarkson say, "I love this job!"
Tia Mowry's Easy Sheet PanCakes
Start your day deliciously by making these simple sheet pan pancakes from Tia Mowry's cookbook, The Quick Fix Kitchen. Joseph Gordon-Levitt, Hannah Waddingham, and Clarkson had a blast preparing this non-traditional recipe for the classic breakfast favorite. Don't forget the syrup and fun toppings!  
Wolfgang Puck's Butternut Squash Soup
It's not every day that the world-renowned Wolfgang Puck stops by the studio, but when he does, you can bet he's making Clarkson's "favorite soup on planet Earth." Puck guided Lindsey Vonn, Chelsea Handler, and Clarkson on how to make his classic butternut squash soup recipe, complete with a cranberry relish garnish. YUM-MY.
Making Lobster Rolls With Justin Hartley, Kelly and Abby Elliott
Cousins Maine Lobster co-founders Sabin Lomac and Jim Tselikis visited TKCS to show Clarkson, Abby Elliott, and This Is Us's Justin Hartley how to make the perfect "Connecticut" lobster roll with warm melted butter. Hartley went a little off-book for his attempt at the New England staple, but everyone's dish looks tasty anyway. 
Danielle Kartes' Loaded Twice-Baked Potatoes
Kartes showed Clarkson, Kit Hoover, and Justin Cunningham how to make her delicious loaded twice-baked potato recipe and chipotle ranch dipping sauce. Kartes is a frequent guest on The Kelly Clarkson Show, known for her simple and affordable recipes that are perfect for those hectic weekday nights when you don't want all the fuss but still want a delicious meal. These twice-baked potatoes are life-changing!
Gordon Ramsay's Chaotic Shrimp Scampi Recipe 
The Kelly Clarkson Show briefly turned into Hell's Kitchen when Gordon Ramsay visited. Clarkson struggled through her portion of the demonstration and Ramsay was at his wit's end, but the resulting dish was worth the trouble. Even if Clarkson almost tossed all the noodles out of the pot. 
Jamie Oliver's Easy Crispy Pesto Chicken
Celebrity chef Oliver has created more than a few mouthwatering recipes, many featured in his cookbook, Together: Memorable Meals Made Easy. Hailee Steinfeld and Clarkson got a taste of his crispy pesto chicken recipe during his TKCS appearance, and needless to say, it tasted unforgettable.
Joel McHale's Brown Butter Cowboy Steak
McHale is a hilarious guest and a well-known cook, making him a perfect guest for TKCS.The Crime Scene Kitchen Host taught Clarkson how to make his mouthwatering brown butter cowboy steak recipe with chimichurri sauce, and it was an educational experience. Fun fact: a cowboy steak is the same as a bone-in ribeye, and while cooking, "Don't touch it!"
Danielle Kartes's Simple Sloppy Joes
Nothing compares to a simple yet delicious savory sloppy joe. Great to prepare for diners of all ages, Kartes showed Clarkson and Soledad O'Brien how to make a tasty sloppy joe recipe from her cookbook, Rustic Joyful Food: Generations. Get ready to take your next sloppy joe night to the next level! 
Jessica Seinfeld's Unbelievable Vegan Mac-and-Cheese
This Is Us's Sterling K. Brown and Clarkson got an extra special visit from Seinfeld for a demonstration of how to make her mind-blowing vegan mac-and-cheese recipe from her cookbook, VEGAN, at Times. Like many mac-and-cheese recipes, the secret to success is always in the breadcrumb topping. 
Scott Conant's Lobster Gnudi
Clarkson got a little help in the kitchen from Eric Winter and The Office's Jenna Fischer and Angela Kinsey when Chopped Judge Scott Conant stopped by to teach them how to make lobster in butter sauce with gnudi (pronounced "noo-dee"). If you chuckled at the pronunciation of the Italian dumpling made with ricotta cheese, you're not alone. Clarkson giggled so much that she could barely get through the cooking demo.
Danielle Kartes' Quick & Easy Chicken Salad Al Fresco
Clarkson has a lot of love for Kartes' meals, which means you can trust her recipes will become future staples. If you're looking for a summertime recipe perfect for any picnic, try out Kartes' quick-and-easy chicken salad recipe, which uses any store-bought rotisserie chicken instead of prepared chicken breasts. Kelsey Asbille and Clarkson were big fans of this one!
Joshua Weissman's Honey Butter Fried Chicken Biscuit
Get ready to get your hands a little messy, because Weissman's honey butter fried chicken biscuit recipe is the ultimate reward. Jenna Fischer and Angela Kinsey landed in the Clarkson kitchen again for the YouTube chef's delicious instruction, with Clarkson looking thrilled to taste the entire time. Complete with Weissman's signature honey butter sauce, this chicken biscuit looks like it hits the spot. 
Kelly Clarkson's Delicious Mulled Wine
Perfect for those cold nights in fall and winter, Clarkson recommends making her very own mulled wine recipe. "One of my favorite things about fall comes in a cup," Clarkson explains, providing step-by-step instructions to create your own cup of holiday cheer. What better way to wash down these amazing plates?
To catch more delicious recipes like the ones above, check your local listings for The Kelly Clarkson Show. 
NBC Insider is your all-access pass to some of your favorite NBC shows. Go behind-the-scenes, stay on top of breaking news, hang with the stars, and much more.