Cocktail hour: Fun and easy drink recipes to try at home | Featured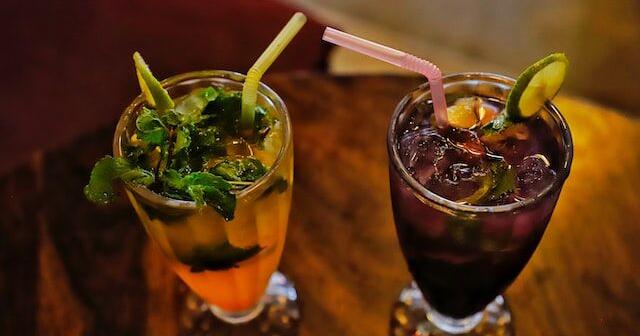 Cocktail hour is a great way to end the day and kick off celebrations with friends. Whether you're throwing an at-home happy hour or virtual cocktail get-together or want something fun to make at home while having some time alone, these cocktail recipes are sure to thrill your taste buds.
From creative twists on classic drinks like margaritas and mojitos to unique new recipes you won't find anywhere else, these drinks will take your at-home happy hour experience up a notch. Also, with their easy instructions and the few ingredients needed, anyone can quickly learn how to mix up delicious cocktails. 
French 75
The French 75 is one of the most iconic drinks, combining a refreshing combination of gin and champagne. You can enjoy this classic cocktail at a bar or restaurant, but making your version at home is also straightforward. You only need simple ingredients like citrus juice, sugar syrup, gin, and champagne. Mix all the ingredients in a shaker with ice and pour into a chilled glass.
Your guests will be impressed as you serve up this delicious tipple. Don't forget a garnish – an orange twist does the trick nicely. A French 75 is the perfect way to kick off any cocktail hour for that added bit of sparkle and sophistication.
Salty Dog
The Salty Dog is the perfect drink for easy at-home entertaining — it's a twist on the classic Grapefruit Margarita that uses vodka, grapefruit juice, and salt to give it an extra kick. All you need to make this delicious drink is two ounces of your favorite vodka, four ounces of fresh pink grapefruit juice, sugar or simple syrup as desired, and a pinch of coarse sea salt.
Shake all ingredients with some ice until chilled, serve over fresh ice if needed, and garnish with some slices of Grapefruit or a sprig of rosemary. Not only will your guests love this sophisticated and straightforward beverage, but they'll be coming back for more. If you are a vodka lover, you should check out vodka clubs.
Classic Margarita
Cocktail hour is the perfect sign of the weekend being in sight, and it just so happens that enjoying one at home can now be even more accessible. A classic margarita is a timeless favorite, and we have the perfect recipe for you to try. This classic concoction requires only three ingredients: tequila, orange liqueur, and lime juice. All left to do is mix them and pour them into a glass with either salt or sugar lining the rim. Enjoy this fun yet easy cocktail recipe at your next evening celebration.
Mojito
Are you ready to turn your kitchen into the best speakeasy in town? All you need for a delightful evening is a classic and easy mojito. Start by muddling fresh mint leaves and lime wedges – it adds extra flavor to the drink, not to mention heavenly aromas that will flow through your house. Then add white rum, sugar, and club soda – these few ingredients are all it takes to make this Cuban cocktail.
Let your troubles drift away with every sip of this refreshingly sweet and tart concoction. So dim the lights and choose some music because, with a mojito in hand, you're all set for an indulgent night of relaxation at home.
Bramble
Nothing says summer like a cool, refreshing drink on the porch with friends. Look no further than the Bramble if you want something special to change up your at-home happy hour routines. The Bramble is a delicious gin-based cocktail that features sweet blackberry and tart raspberry flavors balanced by subtle herbaceous notes of juniper.
It's an easy recipe at home – mix gin, fresh lemon juice, simple syrup, creme de mure, and crushed ice in a shaker cup. Serve this delightful mix with some fresh berries or mint sprigs for garnish, and enjoy your unique take on the classic Bramble.
Tequila Sunrise
Cocktail hour is a great way to add a festive flair to any occasion, big or small. One fun and easy drink recipe you can try at home is a Tequila Sunrise. This classic drink is prepared with tequila, orange juice, and grenadine syrup and served in a highball glass over ice. Start by pouring a measure of tequila into the glass and top it up with orange juice – the sweeter, the better.
Stir the ingredients together, then flaunt your bartending skills by adding that beautiful red color of grenadine. Finally, garnish with an orange slice for extra color and flavor. Chill out with this timeless drink while you soak up the sunset – Tequila Sunrise will make every hour special.
Pimm's Cup
The Pimm's Cup is a classic British drink perfect for cocktail hour. This timeless recipe calls for Pimms No. 1, a gin-based liqueur that adds an exciting and complex flavor to the drink. Start by adding ice cubes to a tall glass along with your preferred amount of Pimm's No. 1, then add equal parts ginger ale and lemonade for sweetness and fizziness.
Garnish with fresh cucumber slices, mint leaves, and oranges, and let your guests enjoy this delicious blend of flavors. Not only does it make the perfect accompaniment to nibbles and conversation at home, but it will also set the mood for any social gathering.
Here are Some Other Articles Related to Your Search:
4 KOMBUCHA COCKTAIL RECIPES
Your New Obsession: Skrewball Peanut Butter Whiskey