Ivy Odom's recipes for repurposing food scraps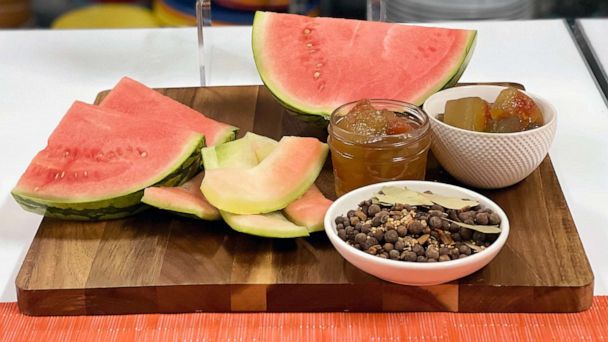 ---
Ever make a meal and feel guilty about tossing out your leftover food scraps? We've all been there.
Thankfully, Southern Living lifestyle producer Ivy Odom dropped by "GMA3" on Tuesday to share a few creative ways to use those scraps that would normally go to waste to make something entirely new — and just as delicious.
Scroll below to check them out.
Fruit peels to make a Citrus Simple Syrup for cocktails (or mocktails)
Cut 1 cup of citrus peels into 3/4 inch strips.
Bring 1 cup of granulated sugar and 1 cup of water to boil in a medium saucepan over high.
Add peels, simmer until syrup thickens slightly, 15 to 20 minutes.
This can also be used for mocktails, dressing up fruit and brushing on cake layers for extra moisture.
Potato peels to make Yummy Potato Peel Chips
Toss together 1 cup of potato peels, two tablespoons olive oil, 1/2 teaspoon smoked paprika, and 1/4 teaspoon kosher salt.
Spread evenly on a parchment-lined baking sheet.
Bake until crispy, 10 to 11 minutes.
1 small (about 4 pounds) seedless watermelon
2 tablespoons kosher salt
1 cup apple cider vinegar
4 medium garlic cloves, smashed
1 tablespoon pickling spice
1/2 teaspoon whole allspice
1/2 teaspoon black peppercorns
Using a vegetable peeler, remove outer layer of green peel from watermelon; discard peel.
Cut watermelon in half lengthwise, then cut into half crosswise.
Cut each quarter into 1/2-inch-wide strips.
Using a paring knife, remove pink watermelon flesh from rind, leaving a thin 1/4-inch layer of pink flesh attached to rind (reserve removed watermelon flesh for another use).
Place rind and salt in a medium pot; add water to cover by 1 inch.
Bring to a boil over high; boil until rind is tender, about 3 minutes.
Drain; set aside until cool enough to handle, about 5 minutes.
Divide rind evenly among two sterilized, 1-pint jars.
Place vinegar, sugar, garlic, pickling spice, allspice, peppercorns, and 1 cup water in a large saucepan; bring to a boil over high.
Boil, stirring often, until sugar dissolves, about 3 minutes.
Pour over rind in jars; let cool to room temperature, about 1 hour.
Seal and refrigerate at least 24 hours or up to 2 weeks.
2 large English or seedless cucumbers, sliced thin
1/2 cup finely sliced Vidalia or sweet onion
1 tablespoon white wine vinegar
3 tablespoons minced fresh dill, divided
1 teaspoon, plus 1/4 teaspoon kosher salt
1/4 teaspoon black pepper
Salt the cucumber and onion well with 1 teaspoon kosher salt, and empty into a colander placed over a bowl; drain for 30 minutes. Do not rinse; pat dry with lint-free paper towels.
While the cucumbers sit, mix sour cream, mayonnaise, vinegar, sugar, 2 tablespoons dill, remaining salt, and pepper in a small bowl.
Mix with the dried vegetables.
Serve chilled with more minced dill on top to garnish.
Use wilted greens to make Homemade Pesto
Pulse 2 cups packed fresh spinach, 1/2 cup grated parmesan, 1/4 cup toasted walnuts, and 1 garlic clove in a food processor until chopped. With processor running, slowly add 1/2 cup olive oil until smooth.