Maya Feller recipes from new cookbook 'Eating from Our Roots'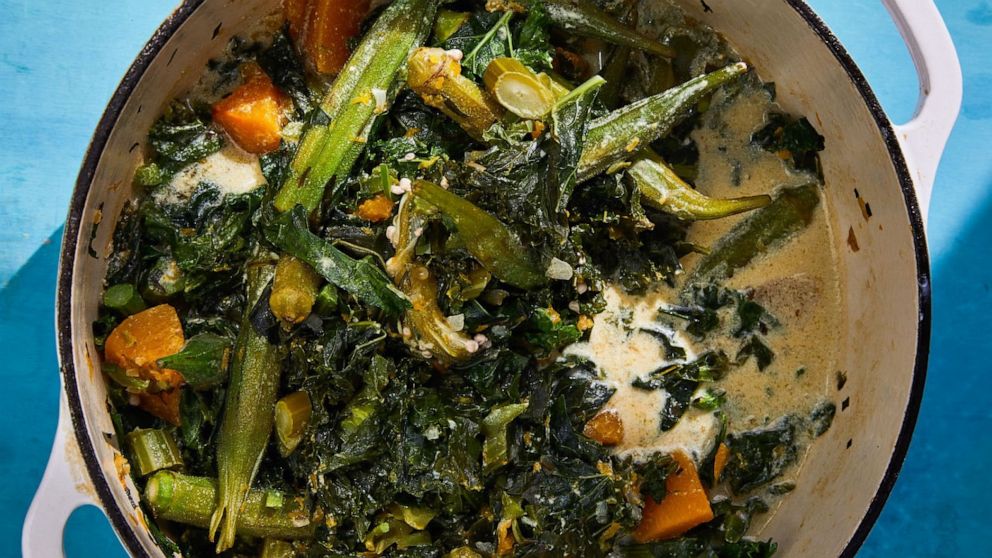 While there is no one particular-size-suits-all nutrition system, having sustainably and healthfully is a great place to get started, primarily for having back to flavorful conventional cooking approaches.
Maya Feller, a registered dietitian and nutritionist identified for her approachable, real-food stuff-primarily based remedies, joined "Very good Morning The usa" to share recipes from her debut cookbook "Having From Our Roots."
Her e-book dives into culinary culture from the Caribbean, South American, Africa, the Mediterranean, Asia, and a lot more with over 80 recipes "for heritage dishes embraced by assorted teams of people today living in the United States" with minimally processed substances, in accordance to the book's publisher.
"My grandmother has given that passed so this is seriously meaningful for me," Feller said. "I went again to Caribbean and was elevated there by my grandparents. My grandmother was generally in the kitchen area — in excess of a pot earning a thing stuffed with greens, tons of spice and taste and she just really encouraged me to do the similar in my kitchen."
Check out two of Feller's recipes under.
Granny's Callaloo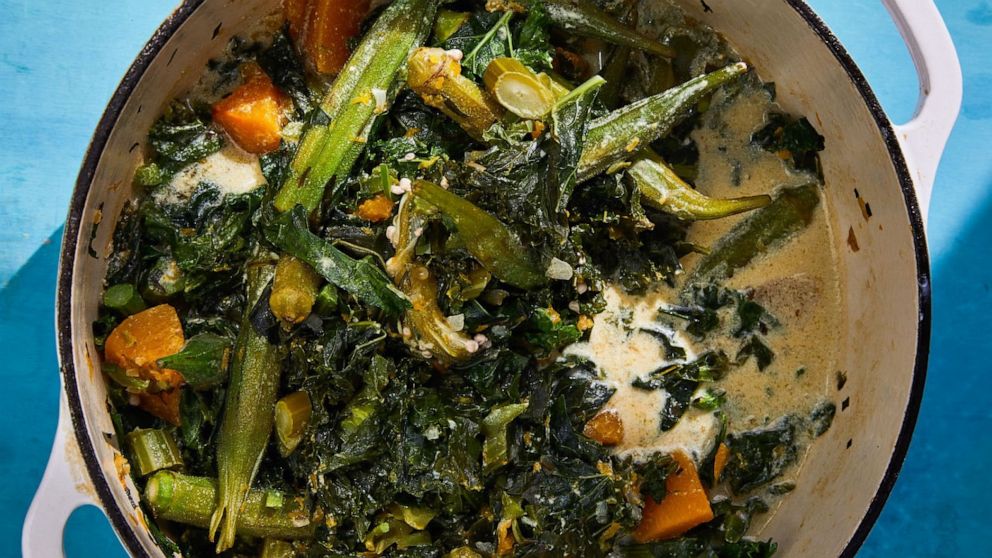 Serves 6 to 8
"My grandmother always made callaloo with dasheen bush, also identified as taro. Occasionally she would use a whole crab for a sweet-and-salty taste. When she would stop by us in Massachusetts, she would replicate the dish with frozen spinach in position of dasheen bush. The greens in the dish supply a wide range of micronutrients as well as carotenoid anti-oxidants. I have created my individual edition with the greens that are offered to me by combining Chinese broccoli and kale, which yields an earthy but spicy callaloo."
Ingredients
2 ham hocks (optional)
1/3 cup avocado oil
1/3 cup diced refreshing chives
1 onion, finely diced
2 1/3 cups coarsely chopped pumpkin
13.5-ounce can complete-fat coconut milk
1 tablespoon kosher salt
2 cups okra
1/2 bunch Chinese broccoli, stems and florets separated
1/2 bunch kale, coarsely chopped
1 inexperienced bell pepper, finely diced
1 habanero pepper
Pelau (recipe under)
Instructions
If working with the ham hocks, place them in a significant bowl covered with drinking water, go over with a dish towel, and soak them right away. Following 8 to 12 hrs, discard the water and established the ham hock aside.
In a hefty-bottomed 8-quart pot, increase the oil, chives, onion, and ham hocks. Prepare dinner about medium heat for 5 minutes, until finally golden brown.
Incorporate the pumpkin and prepare dinner for 3 to 5 minutes. Upcoming, include the coconut milk and salt as effectively as 13 1/2 ounces drinking water (use the empty can as your measuring cup), and prepare dinner uncovered for 20 minutes.
Add the okra, Chinese broccoli stems, kale, and bell pepper and cook for 15 minutes.
Increase the Chinese broccoli florets and habanero pepper. Reduce heat to lower, getting treatment not to burst the pepper, and cook for 5 minutes.
Diligently take out the pepper and ham hocks from the pot. Use an immersion blender to blitz the veggies till they are a thick stew-like regularity.
To provide, spoon the callaloo onto a plate with the pelau.
Ingredient spotlight: Avocado oil is an outstanding substitute for butter. This heart-balanced oil is wealthy in monounsaturated fats and low in saturated fats, a combination that supports a nutritious blood-lipid profile.
Pelau (Pilaf)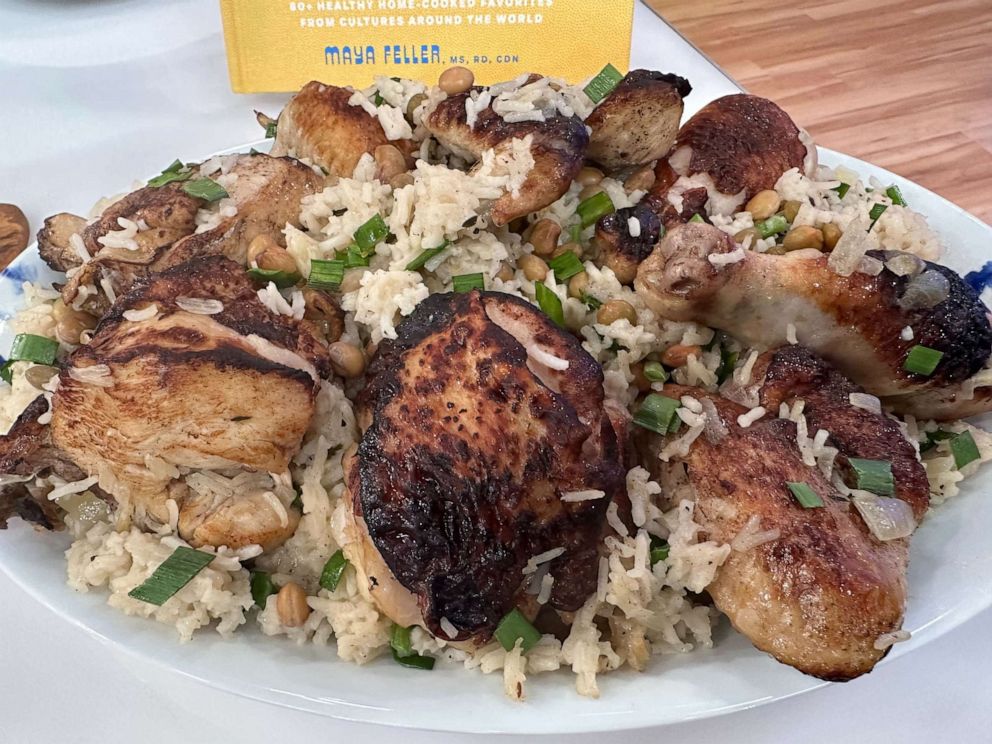 Serves 6 to 8
"This one-pot dish is a group-pleaser that can be created in advance and will get improved as the days go on. Anyone has their very own exclusive strategy when it comes to building pelau when I walked a plate of mine about to my neighbor who takes place to be from Trinidad, she mentioned, "I will have to make my possess for you 1 time!" My model is small in extra salt whilst incorporating a assortment of veggies and legumes in addition to the poultry. Do not be intimidated by the brine it is a exclusive method that boosts the taste of the hen and keeps it additional juicy."
Elements
For the brine
1/2 cup honey
4 bay leaves
1/2 tablespoon cumin seed
1/2 tablespoon coriander seed
1/2 tablespoon complete black peppercorns
1/2 cup kosher salt
1 hen, reduce into 8 pieces
1/3 cup avocado oil
3 smaller yellow onions, minced
2 garlic cloves, minced
Three 1-inch items contemporary ginger
3 sprigs thyme
8 ounces pigeon peas, well prepared according to the bundle directions
1/3 cup garlic chives
13.5-ounce can light coconut milk
1 teaspoon kosher salt
2 cups white basmati rice
Directions
Vegetarian alternative: For a vegetarian model, omit the rooster, cut down the total of water to 5 cups, and cook dinner for a full of 45 to 60 minutes.
In a substantial pot, add the honey, bay leaves, cumin seed, coriander seed, peppercorns, and salt to 8 cups of drinking water and stir right up until properly merged. Increase the chicken. Brine the chicken in the fridge for a least of 2 hours or preferably right away. Get rid of the rooster from the brine and discard the liquid, pat dry, and established apart.
Warmth a major-bottomed 10-quart pot over medium-significant heat and include the oil and hen. Brown the hen for 4 to 5 minutes on every single facet, take away from the pot, and established apart.
Increase the onion, garlic, and ginger to the pot and cook dinner for 5 minutes.
Up coming, include the thyme, peas, chives, coconut milk, and salt and cook for 30 minutes. Last but not least, increase the chicken and rice and 6 cups of drinking water and cook for 20 minutes.
To serve, plate the pelau with a heaping spoonful of callaloo.
Recipe reprinted with permission from Eating FROM OUR ROOTS. Copyright © 2023 by Maya Feller. Revealed by goop Push/Rodale Books, an imprint of Penguin Random House, LLC.