Refreshing Beverage Recipes | Seasonal Food and Country Style Recipes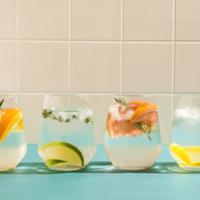 Pineapple Orange Drink
1 (46-ounce) can pineapple juice
1 package orange Kool-Aid
1 cup sugar
Mix ingredients and add enough cold water to make 1 gallon.
Recipe by the Hoovers, Annville, Pennsylvania
---
Coffee Milk
1 tablespoon instant coffee
1/2 cup sugar
3/4 cup hot water
1/2 teaspoon vanilla
1 quart milk
Dissolve coffee and sugar in hot water. Cool. Stir mixture and vanilla into cold milk. Serve.
This is a cool, refreshing drink for a hot summer day.
Recipe by the Hoovers, Annville, Pennsylvania
---
Tea Syrup
4 quarts boiling water
3 cups sugar
1 quart tea (such as mint), tightly packed (stems and all)
Put tea in boiling water and let steep for 20 minutes. Strain. Add sugar to liquid. Heat liquid until sugar is dissolved. Cool and freeze. To serve, add 2 quarts water to 1 quart of concentrate.
This tastes like fresh-cut tea in wintertime.
Recipe by the Hoovers, Annville, Pennsylvania
---
Frappes
2 tablespoons hot water
2 tablespoons instant coffee
2 teaspoons sugar
1/2 cup ice cubes
1/2 cup milk
1-1/2 cups vanilla ice cream
1/2 teaspoon vanilla extract
Whipped dairy topping, optional
Caramel sauce, optional
Dissolve coffee and sugar in hot water. Blend coffee mixture, ice, milk, ice cream and vanilla in a blender until smooth. Pour into glasses and top with whipped dairy topping and caramel syrup, if desired.
Frappes can be your morning coffee in the summer or a chilly dessert.
Recipe by the Reiffs, Mifflinburg, Pennsylvania
---
Strawberry Banana Breakfast Smoothie
1-1/2 cups milk
1 cup fresh or frozen strawberries
1 banana, fresh or frozen, sliced
1 cup yogurt
1-2 teaspoons honey
1 cup ice cubes
In a blender, pour in milk and add rest of ingredients. Blend until smooth.
Recipe by the Reiffs, Mifflinburg, Pennsylvania
---
Best Lemonade Ever
1-3/4 cups sugar
8 cups water, divided
1-1/2 cups lemon juice
In a small saucepan, combine sugar and 1 cup water. Bring to a boil and stir to dissolve sugar. Allow to cool to room temperature; then refrigerate until chilled. Remove seeds from lemon juice, but leave pulp. Stir together chilled syrup, lemon juice and remaining 7 cups water.
Recipe by the Zimmermans, Akron, Pennsylvania
---
Whipped Coffee
2 tablespoons instant coffee
2 tablespoons sugar
2 tablespoons hot water
Combine ingredients and beat with hand mixer for 5 minutes or until peaks form. In a glass, layer ice cubes, then coffee mixture, and add desired amount of milk. Stir.
Recipe by the Zimmermans, Akron, Pennsylvania
---
Coffee Punch
2 cups boiling water
1-1/2 cups sugar
3-4 tablespoons instant coffee
1 gallon milk
1 quart vanilla ice cream
1 quart chocolate ice cream
Combine boiling water, sugar and coffee. Stir until dissolved. Cool. To serve, combine coffee mixture with milk and pour in a punch bowl.
Serves 8-10.
This is very delicious.
Recipe by Jalisa Martin, Port Trevorton, Pennsylvania
---
After-School Blueberry Blendies
15-ounce package frozen blueberries
1 cup milk
2 tablespoons honey
Pinch cinnamon (optional)
Pinch cardamom (optional)
In a blender, combine all ingredients and blend and until smooth. Serve immediately.
Servings: 4.
---
Strawberry Melon Fizz
2 cups sugar
1 cup water
5 fresh mint sprigs
1 quart fresh strawberries, halved
2 cups cubed honeydew
1-3/4 cups cubed cantaloupe
Ginger ale or sparkling white grape juice
In a large saucepan, combine the sugar, water and mint; bring to a boil. Reduce heat; simmer 10 minutes. Remove from the heat; allow to cool completely. Discard mint.
Combine strawberries and melon. Just before serving, fill tall glasses with fruit and drizzle each with 1 tablespoon sugar syrup. Add ginger ale to each glass.
---
Dirty Chai Latte
1 black tea bag
1 to 2 shots espresso (or 2 to 4 ounces strong coffee)
1 to 2 tablespoons homemade chai tea concentrate (see recipe at right)
1/3 cup milk
Ground cinnamon
Place tea bag in a large coffee cup. Cover with 1 cup boiling water and let steep for 3 to 5 minutes.
Discard tea bag, then add hot espresso to tea.
Stir in 1 to 2 tablespoons of chai tea mix (to taste).
Microwave milk until hot (about 45 seconds), then froth using a milk frother (or shake in a sealed mason jar).
Add frothed milk to drink, then sprinkle with cinnamon, if desired.
Serve hot.
---
 Maple Syrup Milkshake
1/4 cup pure maple syrup, plus more for serving
1/4 cup milk
1 teaspoon vanilla extract
1 pint vanilla ice cream
Puree ingredients until smooth; pour into serving glasses and drizzle with more syrup, if you like.
---
Maple Latte
8 ounces strong coffee
1/4 cup milk
1-2 tablespoons maple syrup
Pinch of ground cloves
Pinch of allspice
Pinch of fresh nutmeg
Add maple syrup and spices to the bottom of a mug; stir to combine.
Place milk into a microwave safe jar and heat for about 30 seconds, until warm. Tightly screw lid onto jar and shake for a few seconds, until milk is foamy.
Pour hot, strong coffee over maple syrup. Top with foamy milk. Garnish with more spices if desired.
---
Homemade Chai Tea Concentrate
1 (14-ounce) can sweetened condensed milk
1 teaspoon ginger
1 teaspoon cardamom
1/2 teaspoon cinnamon
1/2 teaspoon nutmeg
1/2 teaspoon cloves
1/4 teaspoon black pepper
Pour condensed milk into a small bowl.
Add spices to milk and stir until completely combined.
To use, brew a strong cup of black tea, then mix in a heaping tablespoon of concentrate. Serve.
Keep concentrate in refrigerator.