The Tastiest-Looking Recipes in Disney Dreamlight Valley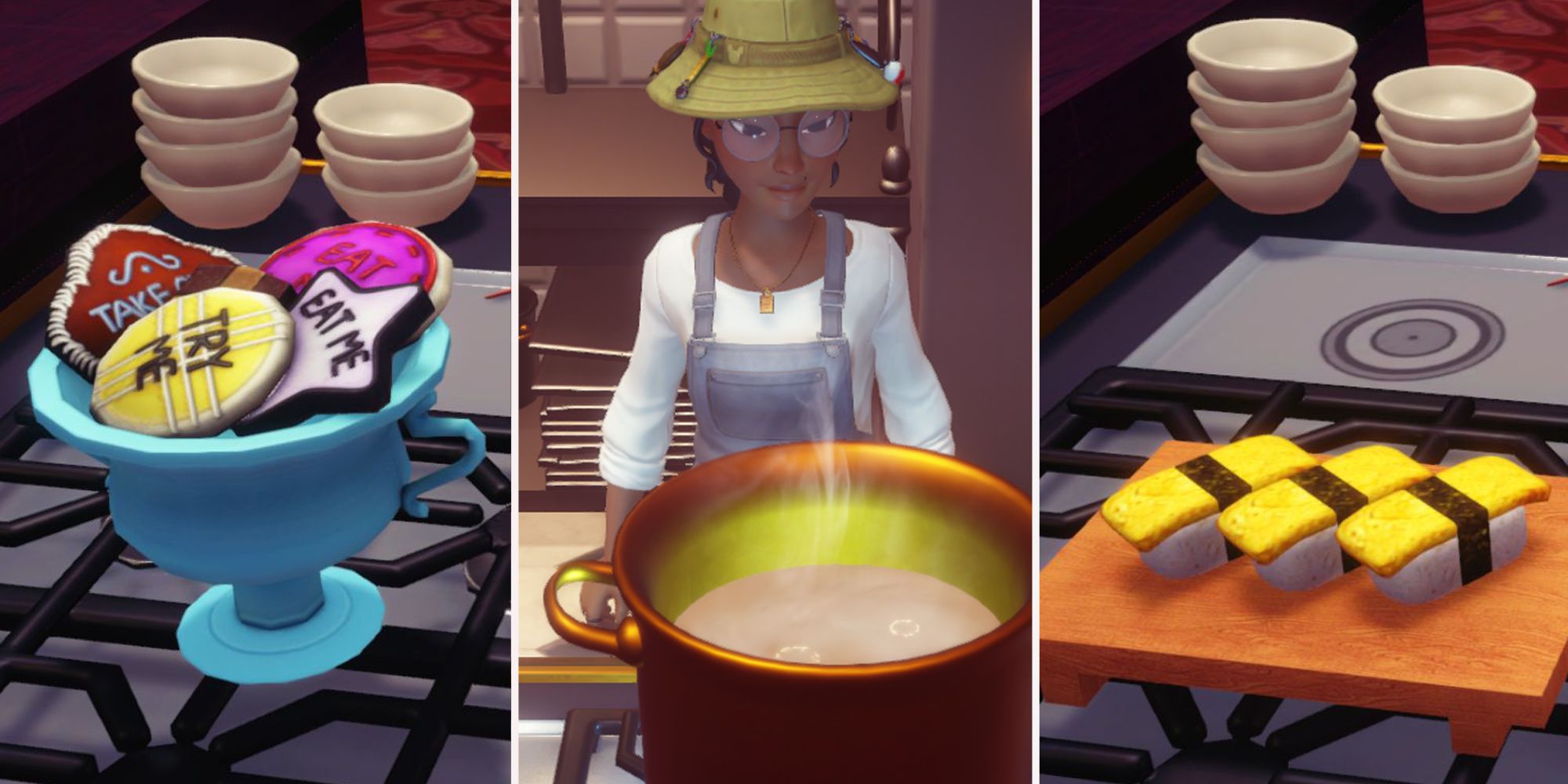 Disney Dreamlight Valley is a part farming simulator and equal parts everything else. You can forage, harvest, fish, craft, and the best part; you can make all the delicious food in the world, so long as you have all the right ingredients.
RELATED: Games To Play If You Like Disney Dreamlight Valley
There are over 100 meals to make, and the best way to unlock them is by trying different combinations to see what you can cook up. With appetizers, entrees, snacks, and desserts, there's so much variety and an endless supply of memories to form. Whether you have a sweet tooth or are more into the savory stuff, there's always a recipe that looks as delicious as its real-world counterpart.
10

Seafood Platter
Ingredients:
Any seafood X2
The seafood platter is a plate of shrimp, oysters, clams, cockles, lobster, and some lemons — a bustling plate falling under the appetizers category. The crustaceans look perfectly cooked, full of color and succulent flavor. The shelled food looks juicy, and everything is placed with thought. They haven't simply been tossed around as an afterthought.
Making a platter with this much food would take hours longer than in Disney Dreamlight; it would also take much more ingredients than the two pieces of seafood you boil.
9

Spaghetti Arrabbiata
Ingredients:
Wheat, tomato, chili
Spaghetti comes in all shapes and sizes, from the plain and admittedly dry-looking pasta to the tomato-based dish with a spicy kick. Spaghetti Arrabbiata is pasta in a tomato sauce, herbs to taste, chili for spice, and additional sliced tomatoes to really drive the flavor home. While there is seemingly no cheese on this version of the dish, we can only hope it's hidden away amongst the ingredients.
It's simple but something anybody can make. This meal might be the perfect excuse to try cooking Spaghetti Arrabbiata for yourself.
8

Tamagoyaki
Ingredients:
Eggs, sugarcane
Tamagoyaki is a Japanese breakfast dish comprised of eggs rolled together to create a type of omelet. The mixture of sugar gives it a sweet taste that blends nicely with the texture of the eggs. In addition, the colors used in Disney Dreamlight make the meal look extremely tasty, even if you're initially unaware of what it tastes like.
RELATED: The Best-Looking Food In Video Games
A white bottom, yellow on top, and black wrapped around to give Tamagoyaki a unique look that couples with its unique taste. Many of the game's Japanese dishes look visually similar, but Tamagoyaki is by far the best.
7

Greek Pizza
Ingredients:
Any herb, tomato, onion, cheese, wheat
Pizza is just the best in any circumstance. In real life, pizza is a universally loved food when cooked at home, ordered from a restaurant, described with tactful words, or shown in the background of a movie. Something perhaps better than a standard Margherita is pizza with all the toppings. Tomatoes, onions, olives, cheese — everything.​​​​​​​
The crust is fluffy, maybe stuffed with cheese, toppings are generous, and best of all, the entire thing is for one person—no more fighting between the final slice.
6

Spicy Baked Bream
Ingredients:
Bream, chili, butter
Whether you eat fish or not, you can't deny how tasty the spicy baked bream looks. Any food with spice involved is always a plus because it adds flavor to what otherwise might be a bland meal. The fish is placed in the middle with tomatoes, and chili is also spaced around the dish.
Then there's a yellow sauce-style substance that might be the butter of the dish, meaningfully placed to add some more seasoning. Again, the way the ingredients are placed on the plate makes it a worthy recipe.
5

Peanut Butter Waffles
Ingredients:
Peanuts, wheat, eggs, milk
It's unsurprising that desserts will take up most of the remainder of this list. After all, who doesn't love something with a bit of sugar? There are so many options to choose from that even those who prefer home-cooked meals or dislike peanut butter are sure to think these Mickey-Mouse-shaped waffles look appetizing.​​​​​​​
RELATED: The Best Games With Wizards And Mages
The fluffy texture, perfectly baked waffles, and the taste of the peanut butter drizzle make this a dessert worth trying out for yourself. Or if you'd prefer to sit and gawk, that's fine too.​​​​​​​
4

Cheese Platter
Maybe this entry is a little biased because Remy is in the image, but there's nothing wrong with a simple cheese platter, especially when that platter has something for everyone. There are various types of cheese to tuck into and even other ingredients if you're allergic to cheese or if it simply isn't your kind of food.
Lucious purple grapes, carrots, and cucumber, along with the various dips, and the platter's advantage of being a sharing course for all your friends to try out. This kind of meal is something you can buy anywhere in the physical world.
3

Coconut Cake
Ingredients:
Coconut, wheat, eggs, sugarcane
Coconuts aren't unlocked until bringing Maui to the valley, and you'll have to get Moana before doing this, so you'll be waiting a while before making this tasty treat yourself. In the meantime, you can wander into the woes of imagination by thinking about just how delicious the Disney Dreamlight coconut cake must taste.​​​​​​​
The soft buttery sponge, the icing spread between the cake and atop it too, the coconut sprinkled across the entire thing. This cake looks lovely and would likely taste incredible as well.
2

Wonderland Cookies
Ingredients:
Butter, sugarcane, vanilla, wheat
What's even better than the glorious nature of the coconut cake? Why decorated cookies, of course. But these cookies aren't any old sort; they're specially designed after Disney's "Alice in Wonderland", giving them their fitting name. These treats represent what Alice eats in the movie to grow back to her human size again, and luckily for us, in game form, they look even more remarkable than their film counterpart.
Wonderland cookies are an assortment of shapes, colors, and flavors even if we, unfortunately, can't taste them through the screen.
1

Apple Pie
Ingredients:
Apple, wheat, butter
Who doesn't love a good apple pie? You can eat it steaming hot or at room temperature. It doesn't matter. This is one recipe that tastes good no matter how it's made. It also looks effortlessly delicious, with the pattern on the pastry and the red oozing in from underneath. Seriously, envision walking into a coffee shop. It's been a long day, you're exhausted, and there's one slice of apple pie left, the perfect companion to your boiling jug of caffeine. So naturally, you would want to buy it.
And you'll want to buy this too with how incredibly delicious it looks, so much so that it trumps all other meals in the game.
NEXT: Underrated Disney Characters Who Need To Be Added To Dreamlight Valley