4 dessert recipes you can try this Ramadan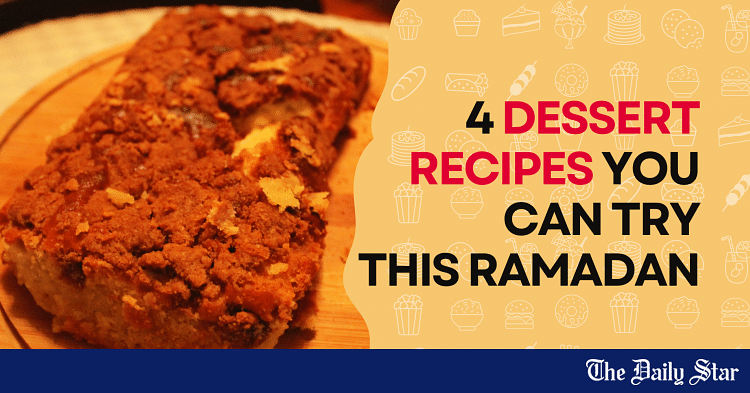 Photo: Author
">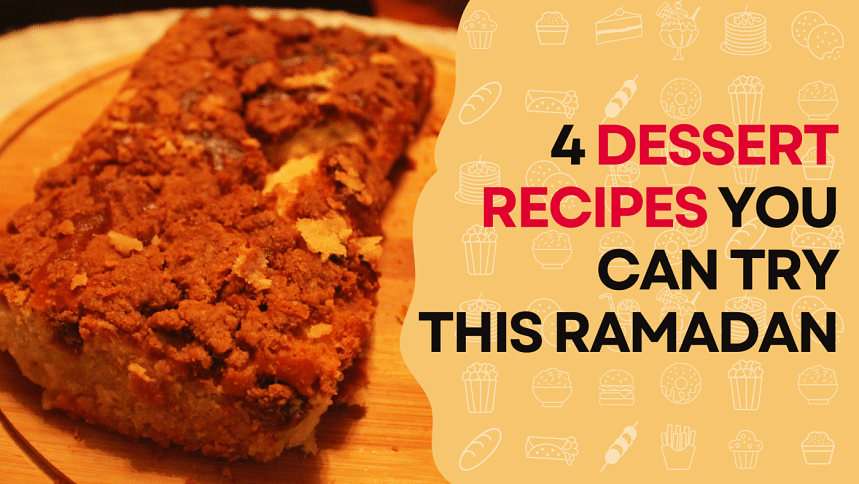 Photo: Author
During Ramadan, it is hard for people with a sweet tooth like me to find room for dessert. Between feeling too bloated after iftar and rushing through sehri, I often have to compromise with my date being the only sweet treat I have during the day. However, during the rare days when my desire for sweets was enough to drive me to the kitchen and prepare something, these recipes have satisfied my cravings.
Date Pudding
Ingredients:
Pudding:
300g pitted dates
1 tsp of baking soda
1 cup of water
1/2 cup of light brown sugar
80g of butter
2 eggs
1 tsp vanilla essence
1 and 1/4 cups of flour
1 and 1/2 tsp baking powder
1/2 tsp of salt
Toffee Sauce:
1/3 cup of unsalted butter
1 cup of heavy cream
3/4 cup of brown sugar
1 tsp vanilla extract
1/2 tsp of salt
Instructions
Add the dates, boiling water, and the baking soda to a bowl and let the dates soak for about 10 minutes. Once the dates are softened, use a fork to mash the mixture into a thick paste.
Add the date paste, softened butter, brown sugar, and vanilla essence to a large bowl and whisk until the mixture is smooth.
Add the dry ingredients to the mixture and fold until a thick batter forms.
Pour the mixture into a parchment paper lined baking tray and bake in a preheated oven at 180 degree celsius for 35 minutes or until a toothpick comes out of the centre of the pudding clean.
While the pudding bakes, you can make the toffee sauce. Add the butter, heavy cream, brown sugar, salt and vanilla essence to a pot over medium heat. Bring to a simmer for 3-4 minutes. Once the sauce thickens, take it off the heat and set aside until the pudding is done.
Once the pudding is done, let it rest for 15 minutes. Once cooled, use a straw or a skewer to poke holes into the pudding.
Pour about half of the toffee sauce over the pudding and let it soak in for 30 minutes.
Serve the pudding with an optional scoop of ice cream and more sauce.
3 Ingredient Ice Cream Bread
Ingredients:
6-8 bars of chocolate ice cream
1 and 1/4 cups of flour
1 tsp of baking soda
Instructions:
Melt 2 cups worth of ice cream bars in an oven safe bowl.
Combine the melted ice cream with the flour and baking soda. Fold until a rough dough forms.
You can add additional toppings such as chocolate chunks, nuts, fruits, etc.
Bake in a preheated oven at 180 degrees celsius for 45-55 minutes or until a toothpick comes out of the centre clean.
Let the bread cool for 15 minutes. Slice it up and enjoy!
Banana Date Smoothie
Ingredients:
1 whole banana
5 dates
1 tbsp of yoghurt
1 tsp of honey
1 tsp of cinnamon
Ice cubes
1/2 cup of milk
Instructions:
The amount of each ingredient you use for this smoothie is customisable. The honey can be adjusted to your desired level of sweetness. The amount of milk can also be adjusted to change how thick the smoothie is. This smoothie is surprisingly filling and can even be perfect for suhoor.
Cake and Coffee
Ingredients:
Cake:
12 tbsp of unsalted butter
1 and 1/2 cups of sugar
3 eggs
2 tsp of vanilla essence
1 and 1/4 cups of yoghurt
2 and 1/2 cups of flour
2 tsp of baking powder
2 tsp of baking soda
1 tsp of salt
Cinnamon crumble:
1/3 cups of light brown sugar
2/3 cups of flour
2 and 1/4 tsp of cinnamon
1/4 tsp of salt
4 tbsp of cold unsalted butter
Instructions:
In a large bowl, mix together your butter and sugar for at least 5-10 minutes. Once smooth, whisk in all 3 of your eggs. Add your yoghurt and vanilla to the mixture and whisk until completely smooth.
In a separate bowl mix together your dry ingredients.
Gradually add your dry ingredients to the wet batter, a little bit at a time until everything is well incorporated.
For the cinnamon crumble, add the brown sugar, flour, cinnamon, butter and salt to a bowl. Use a fork (or your hands if you're feeling impatient) to mix the ingredients together until a rough crumble forms.
Take a loaf pan and fill it up 1/4 of the way with the cake batter. Put a generous layer of the crumble on the batter and then pour the rest of the batter on top. Top off the batter with the rest of the crumble. Try not to fill up the loaf pan the whole way in order to stop the cake from drying out.
Bake the cake at 160 degrees celsius for about 50-60 minutes. Once the cake is done, allow it to cool and serve it with a warm cup of coffee.
Juhayer Khan is probably watching YouTube compilations of Paul Pogba. Send help at [email protected]