4 International Recipes to Try This Holiday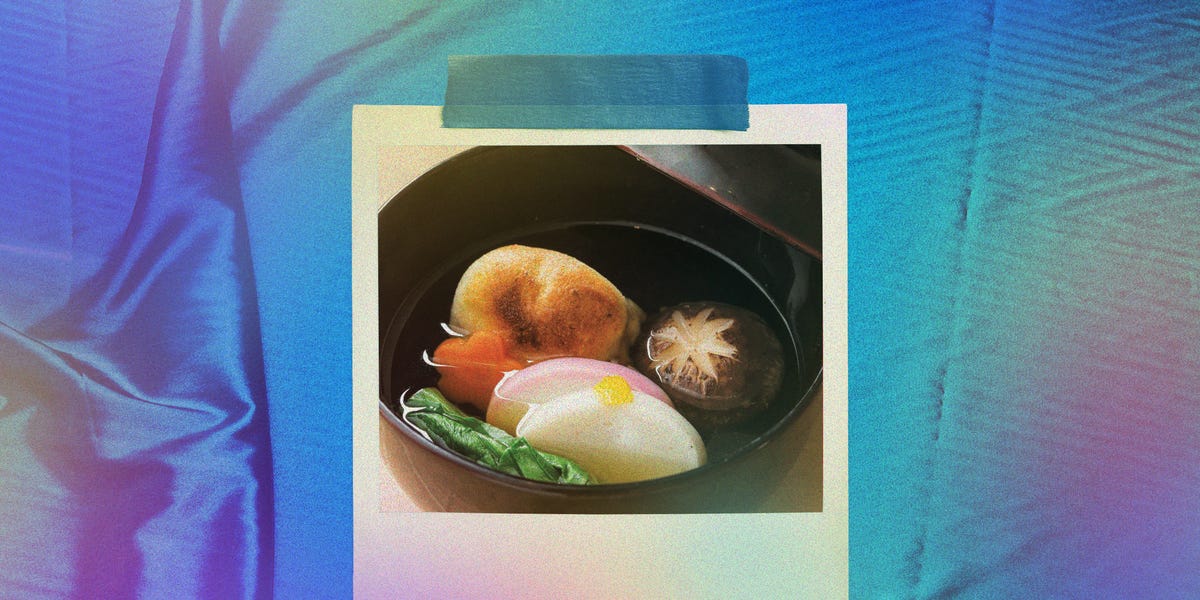 This month at Shondaland, we're celebrating once again what the holidays mean to all with our Food, Family, and Traditions series. These snapshots and vignettes from many of our beloved Shondaland stars, pals, and fans festively affirm the importance of communities both big and small coming together to celebrate.
---
With the holidays quickly approaching, it's the time of the year when you're probably finding yourself whipping out a cookbook to prepare for Thanksgiving dinner or perhaps an elaborate New Years Feast. So, maybe this is the year you decide to try something a bit out of your ordinary.
Recently, Shondaland spoke to beloved chefs and authors Amelia Saltsman, Rabia Choudry, Sonoko Sakai, and Zoe Adjonyoh about the traditions that make up their multicultural holiday celebrations. They shared with us their go-to recipes for a memorable meal, which we're detailing here so you can enjoy with your own family and friends. Whichever you decide to make this year, there's no doubt that these will be a welcome addition to any celebratory dinner.
---
Zengoula with Lemon Syrup: Iraqi Funnel Cakes
Makes 8 servings.
"Also known as jalabi, these crisp fritters, or funnel cakes, were adopted by Iraqi Jews centuries ago as the perfect fried food to celebrate the miracle of Hanukkah. Traditionally soaked in sugar syrup, they are infinitely more wonderful when infused with a tangy lemon syrup. It takes only a few minutes to whisk together the forgiving batter the night before you want to serve zengoula, and the pastries can be fried early in the day you want to serve them. Or, make the frying a Hanukkah party activity. My cousin Elan Garonzik has vivid memories of our grandmother turning out perfect coils, which is how they're sold at Arab bakeries like Moutran in Nazareth and Jaffa. That takes a bit of practice. Free-form Rorschach-like shapes — sea horses, dolphins, geese — that magically appear as they bubble up in the hot oil are just as delicious. You will need to begin this recipe at least six hours before you want to serve the zengoula." – Amelia Saltsman
Ingredients
For the dough
1¹⁄8 teaspoons (½ package) active dry yeast
1¼ cups (300 ml) warm water (100° to 110°F/38° to 43°C)
1 cup (125 g) unbleached all-purpose flour
¾ cup (95 g) cornstarch
Scant ½ teaspoon salt
For the syrup
2 to 3 lemons
½ cup (120 ml) water
1 cup (200 g) sugar
2 quarts mild oil with a medium-high smoke point, such as grapeseed, sunflower, or avocado, for deep-frying
Instructions
To make the dough:
In a small bowl, stir together the yeast and ¼ cup (60 ml) of the warm water and let stand in a warm place until the mixture bubbles, about 10 minutes.
In a medium bowl, using a fork, stir together the flour, cornstarch, and salt. Stir in ½ cup (120 ml) of the warm water and the yeast mixture. Then slowly stir in enough of the remaining ½ cup (120 ml) warm water until the dough is lump-free and the consistency of thick pancake batter. You should have 1½ to 2 cups (360 to 480 ml) batter.
Cover the bowl with plastic wrap and refrigerate until doubled in bulk, at least 6 hours or up to 24 hours. The dough will be loose and spongy and have a yeasty aroma.
To make the lemon syrup:
Using a five-hole zester, remove the zest from 1 of the lemons in long strands. Halve and squeeze enough lemons to yield ⅓ cup (75 ml) juice. In a small pot, stir together the lemon juice and zest, water, and sugar over medium heat. Bring to a boil and cook, stirring frequently, until the sugar is completely dissolved and clear, about 1 minute. Pour into a pie pan and let cool. (The syrup can be made 1 day ahead, covered, and refrigerated.)
To make the fritters:
Scrape the dough into a 1-gallon (4-L) resealable plastic bag or large pastry bag fitted with a ¼-inch (6-mm) plain pastry tip and set the bag in a bowl for support. Let the dough stand for about 15 minutes before frying. Line a large plate with paper towels. Place the prepared plate, tongs, a small spider or slotted spoon, the syrup, and a tray to hold the finished fritters near the stove.
Pour the oil to a depth of 3½ inches (8.5 cm) into a 4- or 5-quart (4- or 5-L) pot, wok, or electric fryer and heat to 375°F (190°C). If using a plastic bag for the dough, snip ¼ inch (6 mm) off of one of the bottom corners, cutting on the diagonal, to create a piping tip. Roll the top of the pastry bag closed to move the batter toward the opening. Don't worry about air pockets.
Pipe a bit of the batter into the hot oil. The oil should bubble around the batter immediately. If it does not, continue heating the oil and try again. Pipe the dough into the hot oil, creating 3- to 4-inch (7.5- to 10-cm) coils or squiggles, letting gravity help push the batter out. Be careful not to crowd the pan. Fry the dough, turning once at the halfway point, until bubbled, golden, and crisp, 4 to 5 minutes total. Use a spider or slotted spoon to fish the fritters out of the oil, drain them briefly on the towel-lined plate, and then drop them into the syrup for a moment or two, turning them to coat evenly. Lift them out of the syrup and transfer them to the tray in a in a single layer to cool. Repeat with remaining batter, skimming any loose bits of dough from the hot oil between batches to prevent burning. Scrape any batter that escaped into the bowl back into the pastry bag to make more pastries.
The cooled pastries can be piled on a platter. Pour any remaining syrup over the top. The fritters taste best served the same day they are made, although they will hold their crispness overnight. Store loosely covered at room temperature.
Kitchen note
A couple of 2-inch (5-cm) chunks of raw carrot added to the frying oil act as magnets, attracting all those little brown bits that might otherwise burn and impart an acrid taste to the oil. It's an old-fashioned trick that works!
Note: Recipe reprinted with permission from The Seasonal Jewish Kitchen © 2015 by Amelia Saltsman published by Union Square & Co. Photography by Staci Valentine.
Lahori Fried Fish
"I admit my bias towards the foods of Lahore, but believe me, there's a reason Lahori-style fried fish is the gold standard of fried fishes of the region. Karachi, the coastal city that is the largest in Pakistan, has its own style, however, which is usually a whole fish, marinated and fried without any kind of batter or crumb coating. It's likely loads healthier, but if you're going to fry fish, you've already abandoned any pretext that healthy matters." – Rabia Choudry
Ingredients
1 pound fish, cut in preferred piece sizes
1 lemon
1 teaspoon garlic and ginger paste
1 teaspoon cumin seeds
1 teaspoon coriander seeds
1 teaspoon carom (also known as ajwain or caraway) seeds
1 teaspoon red curry flakes
1 teaspoon dried fenugreek
½ teaspoon turmeric powder
½ teaspoon red chili powder
½ teaspoon salt
6 tablespoons besan (gram) flour
½ teaspoon orange food coloring (optional)
Oil for frying
Instructions
Rinse your fish pieces, then pat them dry. Give the lemon a good roll to soften it up, then cut in half and squeeze the juice onto the fish in a bowl, making sure to remove any seeds. Add the ginger and garlic pastes to the fish and give it a mix so it's well coated. Lightly crush the fenugreek with your hand and sprinkle it on the fish. Dry-roast the cumin and coriander seeds, and give them a coarse crush with a mortar and pestle or, wrapped in some paper towels, with a rolling pin. Mix the cumin, coriander, and carom seeds, red chili flakes, chili powder, turmeric, salt, and half of the gram flour together in a separate bowl, then massage it onto the fish gently by hand, turning the pieces over so all sides get coated. If the besan is too dry, add a few splashes of water to moisten it up. The coating should be on the thick, dry side. Cover and refrigerate for at least an hour, but you can leave it overnight.
When you're ready to fry, heat oil, on a medium high flame, 2 inches deep in pan (or you can use an electric deep fryer). As the oil comes to temperature, mix the remaining half of the gram flour with the food coloring and three tablespoons of water. This should give you a fairly thin batter. Pour the batter over the fish and coat well, using your hands. The oil is ready if it starts bubbling and frying and rises to the top when you flick a little batter into it. Turn the flame down to medium low and carefully lower the fish into the pan, making sure not to crowd it: there should be at least an inch of space around each piece.
Let the fish fry for 5 minutes before turning once and frying on the other side for 5 more minutes. (Thinner fillets like flounder will need only 3 minutes on each side.) When done, the color should be very deep golden (or almost orange, like tandoori chicken, if you use the food coloring). Remove and drain on paper towels. Serve with any chutney, and a slaw of chopped or finely julienned radish, red onion, and seeded cucumber dressed with just salt and vinegar.
Note: Adapted from a recipe by Rabia Chaudry in her memoir Fatty Fatty Boom Boom: A Memoir of Food, Fat & Family.
Ozoni: New Year's Good Luck Soup
Makes 4 servings.
"This is the first soup of the New Year that every Japanese person sips for good luck and good fortune. We drink ozoni each day for breakfast, lunch and dinner for the first five days of the year. I make a big batch of dashi, about 4 quarts (4L) to last me for the whole week. The featured ingredient in this hearty soup is mochi, which symbolizes flexibility and endurance. In my family, the soup is a simple suimono (clear soup) and the mochi is always freshly toasted. The soup also includes bite-sized pieces of kamaboku (fish cake), chicken, carrots, shiitake mushrooms, some greens (such as spinach, kale, or mizuna), and for garnish, some mitsuba leaves and a small bit of lemon or yuzu peel to balance out the colors. Besides this soup, I always make more than a half dozen traditional New Year's good luck osechi dishes, which celebrate fertility (eggs, beans), endurance and flexibility (mochi), happiness (kombu), forward motion (lotus wheels), fire (carrots), purity (daikon), and groundedness (root vegetables)." – Sonoko Sakai
Ingredients
5 ounces (142 g) spinach or mizuna
1 carrot sliced crosswise and cut into flower shape with a cookie cutter
1 boneless skinless chicken thigh, cut into ½ inch (12mm) pieces
4 cups (960 ml) Bonito and Kombu Dashi
1 tablespoon sake
1 tablespoon usukuchi shoyu (light-colored soy sauce)
1 teaspoon sea salt
Four 1 ½ -ounce (50g) pieces of mochi
4 small fresh shiitake mushrooms, stems removed
4 slices kamaboko (fish cake), cut crosswise into ¼-inch (66mm) pieces
1 tablespoon julienned lemon or yuzu peel
4 sprigs mitsuba (Japanese parsley), chervil, or Italian parsley, leaves removed
Instructions
Fill a medium pot with water and bring to a boil over medium-high heat. Have a bowl of ice water ready. Add the spinach to the boiling water and blanch for 1 minute, or until wilted. Strain into a bowl. Transfer the wilted spinach to the ice water, then drain. Squeeze out excess water. Reserve the cooking water. Bunch the spinach up and cut crosswise into 1-inch (5 cm) pieces.
Return the cooking water to the pot, add the carrots, and blanch for 1 minute. Strain into a bowl, reserving the cooking water. Transfer to the ice water, then drain.
Return the cooking water to the pot once more, add the chicken, and blanch for 1 minute (this removes odor from the chicken). Drain and discard the cooking water.
In a medium saucepan, combine the dashi and the chicken and bring to a boil over medium heat. Lower heat and add the sake, soy sauce, and salt. Taste and make adjustments. You can complete the recipe up to this step up to 3 days in advance.
To serve the soup, bring the seasoned dashi and chicken to a boil over medium-high heat and then bring it down to a simmer while you toast the mochi. Remember, you want to serve the mochi freshly toasted so it tastes soft, not hard.
Preheat the broiler. To toast the mochi, line a baking sheet with aluminum foil. Place the mochi on the pan and broil until the pieces are toasted and puffy, turning them once to toast the other side. Be careful when handling the mochi. When you see one side pop, that is when to make the turn. This will take 3 to 5 minutes, depending on the freshness and thickness of the mochi. Put 1 piece toasted mochi in each of 4 serving bowls.
Divide the shiitake mushrooms, kamaboko, carrots, and spinach among the bowls. Pour the hot soup three quarters of the way up the mochi and add the lemon peel and mitsuba. Serve immediately, with chopsticks.
Note: Adapted from a recipe by Sonoko Sakai in her cookbook Japanese Home Cooking: Simple Meals, Authentic Flavors.
Cubeb Spiced Shortbread
"This is a super simple, earthy tasting shortbread recipe that combines sweet and savory notes and smells like Christmas!" – Zoe Adjonyoh
Makes about 15 – 20 biscuits.
Ingredients
125g (4 ½ oz) butter, at room temperature, plus extra for greasing
55g (2 oz) granulated white sugar, plus extra for sprinkling
180g (6 oz) all-purpose flour, plus extra for dusting
1 ½ tablespoons Ghanan Five-Spice Mix (see below)
Instructions
Grease and line a small 8×10 rectangular pan with parchment paper.
Beat the butter and sugar together in a bowl until pale and fluffy.
Mix in the flour and spice mix until you have a smooth dough. Turn out on to a lightly floured work surface and use your hands to bring the dough together, then press the dough into the greased pan.
Sprinkle with the sugar, if you like, and chill in the fridge for 20 minutes. Meanwhile, preheat the oven to 350 degrees.
Bake for 17-18 minutes or until a pale golden brown. Leave to cool in the pan for 10 minutes, then use a serrated knife to cut into bars while still warm. Sprinkle with the extra sugar once cooled if desired. Leave to cool completely before serving.
Ghanan Five-Spice Mix
Ingredients
4 teaspoons ground cubeb pepper
1 teaspoon ground or freshly grated calabash nutmeg
2 teaspoons ground cloves
1 teaspoon ground prekese, or substitute cinnamon and cocoa
1 teaspoon ground ginger
Instructions
Mix all the ingredients together in a bowl. Store in an airtight container in a cool, dark place and use within a few months.
Note: Adapted from a recipe by Zoe Adjonyoh in her cookbook Zoe's Ghana Kitchen: An Introduction to New African Cuisine – from Ghana with Love.
---
Get Shondaland directly in your inbox: SUBSCRIBE TODAY