Abra Berens' Strawberry Sundae Recipe Review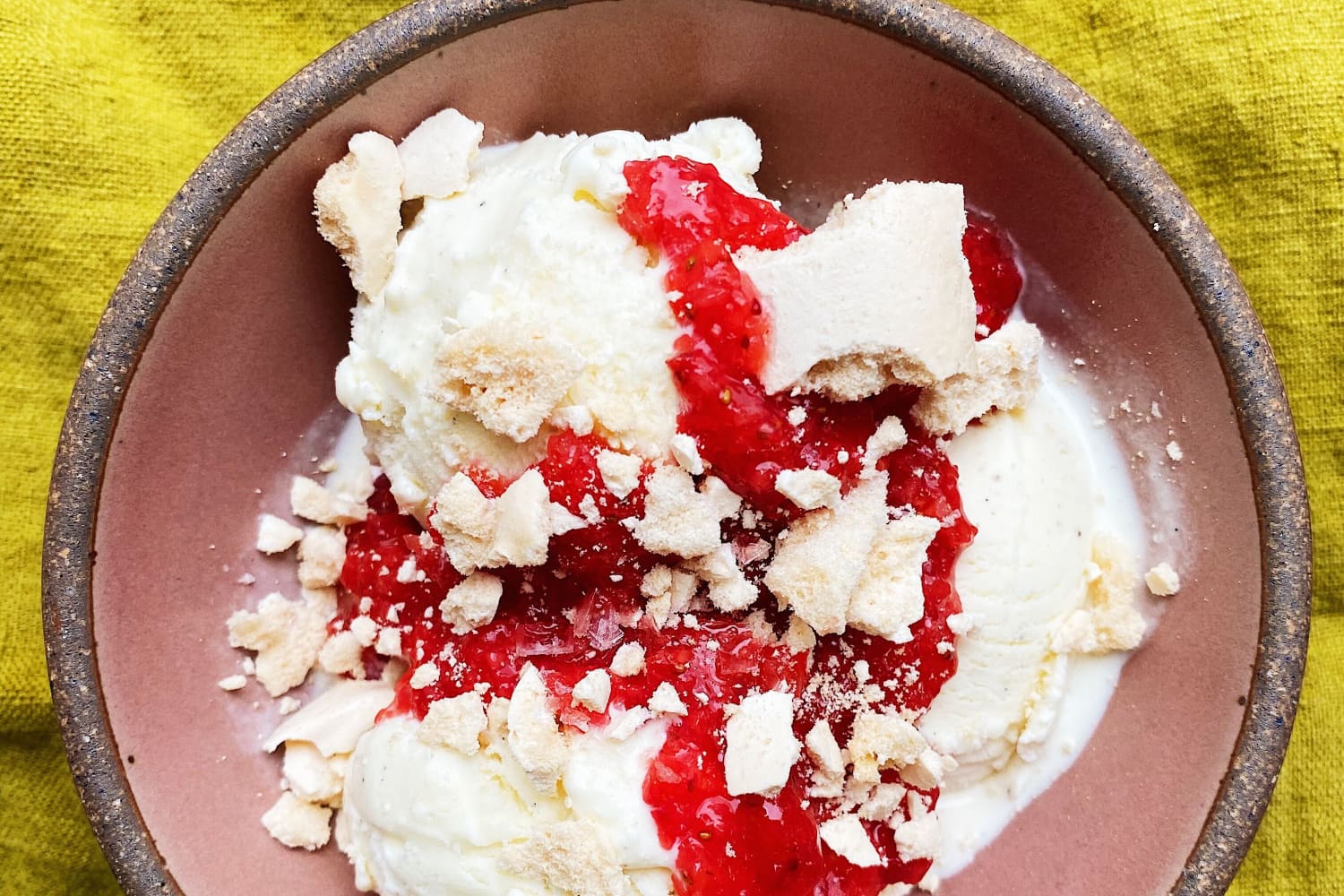 This easy yet elegant sundae features vanilla ice cream, in-season strawberries, and homemade meringue.
Makes4 sundaes
We independently select these products—if you buy from one of our links, we may earn a commission. All prices were accurate at the time of publishing.
I have a major sweet tooth, and I love to bake year-round. But my favorite time to enjoy sweet treats is, hands-down, spring and summer. With the influx of seasonal goodies like strawberries, rhubarb, and peaches, my desserts become bright, vibrant, sweet, and juicy. This affinity for fruit-based sweets led me straight to author and chef Abra Berens' newest cookbook, Pulp: A Practical Guide to Cooking with Fruit.
Pulp explores fruit's place in both sweet and savory cooking, with recipes like Roast Chicken over Blueberries, Cornbread + Lemon and Rum-Plum Clafoutis. But the one that immediately caught my eye was the Strawberry Sundae recipe. With creamy vanilla ice cream, crunchy meringues, sweet strawberry sauce, and flaky salt, this dessert seemed both impressive and approachable.
Why I Love This Strawberry Sundae
The first thing I noticed is that this recipe meets you where you are. While there are instructions for making all three components — ice cream, strawberry sauce, and meringue — from scratch, it's the combination of ingredients that makes this recipe so special. So if you're not really a baker, but you love making homemade ice cream, you could buy some vanilla meringues from your local grocery store or bakery. If you don't have an ice cream maker, like me, then you can buy your favorite vanilla ice cream. I love that if you have a pint of ice cream in the freezer, some meringues in your pantry, and the strawberry sauce in your fridge, you can assemble this showstopping dessert in a matter of minutes — it's perfect for dinner parties, or for the guest who stops by on short notice.
I grabbed my favorite Van Leeuwen vanilla ice cream, then set out to make my meringues. The meringue "batter" came together quickly and easily in my stand mixer. After the two-hour bake time at 250°F, my meringues were crunchy on the outside and slightly marshmallowy on the inside, albeit a little darker than I prefer.
The strawberry sauce was also so simple to put together. After hulling two pounds of strawberries, I dumped them in the food processor with a tablespoon of sugar and blitzed it until "coarsely chopped," as instructed. Mine came out looking a little bit like strawberry salsa, but the flavor was spot-on — even with grocery-store strawberries. I can't wait to try this with tender, fragrant farmers market strawberries in the coming months.
When it was time to assemble, I scooped some of the ice cream into a bowl, drizzled over some strawberry sauce, and topped with some crushed meringue and a pinch of flaky salt. When I took a bite, the salt hit my tongue first and then quickly gave way to the ice cream and strawberries, which evoked memories of my favorite childhood drink, Nesquik Strawberry Milk, in the best way possible. The crunchy meringues gave the perfect textural contrast, and lended a bit more sweetness to balance the salt. This is a truly impressive dessert that just so happens to be gluten-free.
In the headnotes, Abra shares the inspiration behind the recipe: "Through most of June, my favorite dessert is a bowl full of hulled strawberries, splashed with heavy cream, a spoonful of sugar, and a sprinkle of the coarsest salt." I would say her ode to this combination more than lived up to its inspiration.
If You're Making This Strawberry Sundae, a Few Tips