Ben Franklin's Milk Punch Recipe | Seasonal Food and Country Style Recipes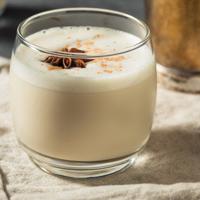 I am always looking for something related to the dairy industry to write about. So many of my readers tell me they enjoy knowing what the Pennsylvania Milk Marketing Board is working on and its position on current issues, but they especially like columns about history and unique dairy products.
Sometimes the topics come from research into an entirely different topic, and that is the case for what I am writing about today — milk punch.
Who knew there would be enough out there to write about milk punch?
I bet you are thinking that I am going to write about that baby shower concoction in a punch bowl that contains a block of vanilla ice cream. Well, that's not it.
Benjamin Franklin, one of the commonwealth's favorite sons, turned 317 years old on Jan. 17. He enjoyed dairy products, including ice cream, and is even credited with introducing it to the colonies during the hot days of the Constitutional Convention. I note that Ben Franklin was born on Milk Street in Boston, although I doubt that influenced his love of ice cream and milk punch.
In colonial America, desserts and drinks were commonly made with curdled milk and cream.
Two favorite drinks of that time were possets and syllabubs, both similar to a punch.
Possets were made by adding wine or brandy to hot milk, which curdled it, and then following up with sugar and various spices. Curds formed on the top, but the popular way to drink it was to sip the whey from the bottom and then eat the sweet curds later.
Syllabubs combined milk with wine and lemon juice or some other acid. Unlike possets, the curds on the top were eaten first with the liquid consumed last.
Ben Franklin's milk punch recipe was like the syllabub in that it incorporated lemons (acid to curdle the milk). He used brandy, spring water, lemon juice, sugar, nutmeg and, of course, whole milk.
Franklin's punch differed from the syllabub in that after letting the mixture stand for a few hours he strained it through a cheesecloth to remove the curds, creating a clear liquid. This process is referred to in the literature as clarification.
Another English favorite punch was made using Earl Grey tea, still popular today, as is Franklin's variety. It used vodka and rum, the brewed tea, sugar and lemon juice. The mixture is strained, yielding a clear (clarified) beverage.
Did you know that an English milk punch was found in the wine cellar of Charles Dickens at the time of his death in 1870?
Since that time, popular milk punches have been developed using any combination of flavors as can be imagined. The James Beard Foundation reports on a popular strawberry milk punch made with cognac, cream, vanilla syrup, and strawberries or strawberry syrup.
Fortunately, creative bartenders and home entertainers have developed a variety of non-alcoholic punch recipes. Alcohol is not the necessary ingredient for the clarification process, but the milk and citrus are.
Can you make a milk punch at home? Of course.
There are many recipes for non-alcoholic (and alcoholic) milk punches on the internet. If you search "making non-alcoholic milk punch at home," a lot of resources are available.
Why am I writing about this?
Well, first, I found the topic to be extremely interesting, especially the clarification process (which you can use with both alcoholic and non-alcoholic punches). Second, I try to promote the use of wholesome dairy products in any way that I can. What can be more wholesome than adding milk to a beverage served in a social context?
I hope you will try some milk punch recipes. I am planning on doing so, and I can't think of anything more enjoyable after a long day of work. And don't confuse them with the baby shower variety — these punches don't contain ice cream and are similar to cocktail beverages. If you have a favorite milk punch recipe, pass it along.
The Pennsylvania Milk Marketing Board is always available to respond to questions and concerns. I can be reached at 717-210-8244 or by email at [email protected]