Best French Madeleines Recipe – How To Make Madeleines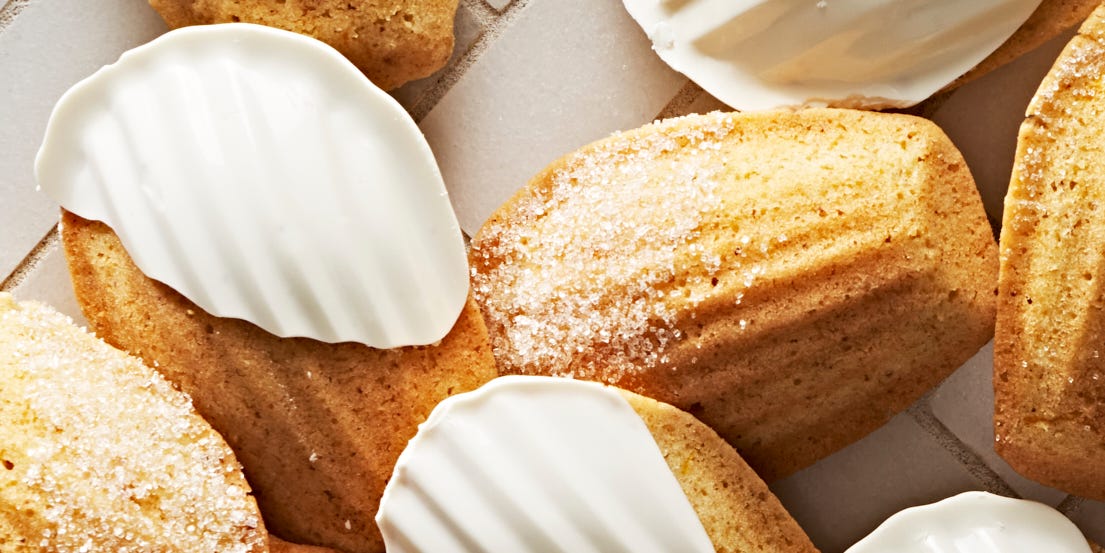 PHOTO: ANDREW BUI; FOOD STYLING: DREW AICHELE
Madeleines are the dainty French treat that I hunt for in every coffee shop. They're the size of a cookie with the texture of a cake, molded into decorative shells with the help of a special pan. The batter is made with a similar method to a genoise cake: Whole eggs and sugar are whipped until ribbony, folded with sifted flour, then combined with melted butter. The method is referred to as the foaming method, and it's used to incorporate air into the batter, creating lift and giving the madeleines a light, airy texture. Be gentle when incorporating the flour and butter so that the tiny pockets of air in the eggs stay intact. As the butter is folded in, it may look like it will never be incorporated. Be patient! Keep folding, and the batter will smooth out, I promise. So is it a cookie or a cake? To be honest, it doesn't matter, and as long as they keep being this delicious, I don't actually care. They're great on their own, with coffee or tea, or featured on a summer dessert charcuterie board. 
What do madeleines taste like? 
Madeleines are butter cakes, but they can carry whatever flavoring you add to them. This recipe uses browned butter and almond extract for extra nuttiness with orange zest instead of the traditional lemon zest to add a pop of brightness and color.
How can you keep the madeleines from sticking to the pan? 
To keep the madeleines from sticking, use a pastry brush to brush each well in the pan with neutral oil (canola, vegetable, sunflower) and dust with flour until each well is fully coated in a thin layer. Tap off any excess flour and chill the pan for a few minutes in the freezer before adding the batter. 
Storage 
Store leftovers in an airtight container at room temperature for up to 4 days. To freeze, wrap baked madeleines individually in plastic and place them in a resealable container for up to 3 months.
Advertisement – Continue Reading Below
Yields:

16
Prep Time:

0

hours

10

mins


Total Time:

1

hour

10

mins


1
c.

(120 g.) all-purpose flour, sifted, plus more for dusting
2
large eggs, room temperature
1/2
c.

(100 g.) granulated sugar
1/2
c.

(1 stick) unsalted butter, divided
2
tsp.

finely grated orange zest
2
c.

white chocolate chips (optional)
This ingredient shopping module is created and maintained by a third party, and imported onto this page. You may be able to find more information about this and similar content on their web site.
In a small bowl, whisk flour, baking powder, and salt. In a large bowl, using an electric mixer or a stand mixer fitted with the whisk attachment, beat eggs and granulated sugar on medium-high speed until mixture is pale and tripled in size, about 10 minutes. 
Meanwhile, in a small saucepan over medium heat, melt 6 tablespoons butter. Scrape bottom and sides of saucepan with a rubber spatula and continue to cook until milk solids start to brown and butter smells nutty and fragrant, about 5 minutes. Pour browned butter into a small, heatproof bowl. Add remaining 2 tablespoons butter, whisking until melted and incorporated.  
Add orange zest and almond extract to egg mixture and beat until combined. Fold in dry ingredients 1/3 cup at a time, blending to combine after each addition. Pour browned butter over batter and fold until incorporated. Cover bowl with plastic wrap and refrigerate at least 30 minutes or up to 1 hour. 
Preheat oven to 375°. Brush each well of a 16-mold madeleine pan with oil and dust with flour to coat. Tap off any excess flour and freeze pan 10 minutes.
Place 1 heaping tablespoon batter in each well in prepared pan. Bake until edges turn golden brown and crisp, 9 to 11 minutes. Let cool 10 minutes, then transfer madeleines to a wire rack and let cool completely. If you need to make these in 2 batches, let the pan cool completely before baking.
In a small heatproof bowl, microwave chips (if using) in 20-second increments, stirring between each, until chocolate is melted and smooth. Dip rounded end of cooled madeleines in chocolate and return to wire rack to set.
This content is imported from embed-name. You may be able to find the same content in another format, or you may be able to find more information, at their web site.
Advertisement – Continue Reading Below