Healthy food recipes at the Fellowship Community retirement community | Food and Recipes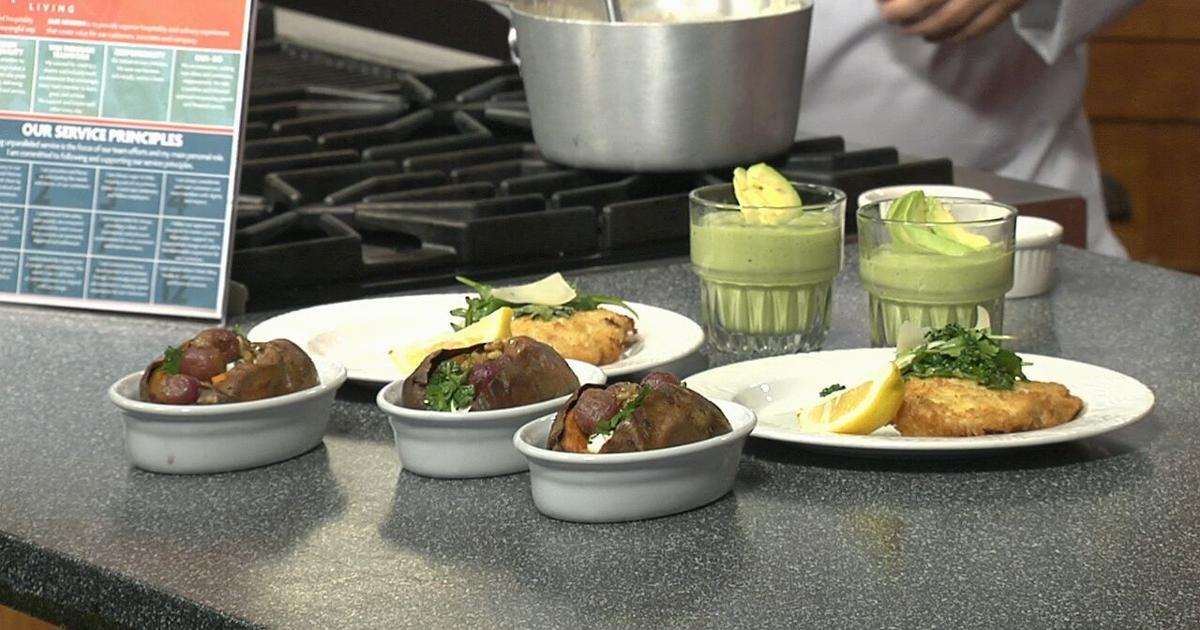 Chef Dennis Rivera and dietician Kelly Strobeck from Fellowship Community in Whitehall were in the Sunrise Kitchen Friday morning to talk about healthy foods.
Fellowship Community is a retirement community with about 400 residents, ranging from independent living to skilled nursing care.
Healthy foods are a must for the residents.
Chicken Schnitzel
1 boneless chicken breast, 4 oz.
1 fresh egg, beaten
1 teaspoon of table salt
1 teaspoon of ground black pepper
1 ½ Tablespoon of flour
¼ cup of panko bread crumbs
Preheat oven to 350 degrees F.
Pound out chicken breasts by placing between 2 layers of plastic wrap (on a cutting board) and flatten with a meat tenderizer (hammer) to approximately 1/4 inch thick.
Beat egg in a bowl.
In another bowl, combine seasoning with panko bread crumbs.
Set up a standard breading station: flour, egg mixture, and seasoned panko.
Dredge chicken in flour, then place in egg mixture, followed by coating in seasoned panko.
Place breaded chicken on sheet tray and bake in oven until golden brown and internal temperature reaches 165 degrees F, approximately 10-12 minutes.
Country Gravy
2 cups of whole milk
1 cup of chicken broth
1/8 teaspoon black pepper
1/8 teaspoon of table salt
Unsalted butter ½ teaspoon
Prepared Hot, Chilled for Cold Storage. Refer to HACCP Plan Form HFS# 001: Prepared Hot for Hot Service.
In cast iron skillet over medium heat, melt the butter, Next, add the flour to skillet to make roux. Continue to cook for 7 to 8 minutes, stirring frequently. Do not allow to brown.
Combine broth and milk in stockpot. Bring to a simmer to make stock.
Add the hot stock slowly to roux, stirring constantly to make a smooth gravy.
Add pepper to skillet. Stir well to blend.
Baked Sweet Potato with Whipped Goat Cheese
3 cups red grapes
1/4 cup olive oil
3 Tbsp. fresh thyme or oregano
1/2 tsp. black ground pepper
2 oz. walnuts, toasted, broken into pieces
2 sweet potatoes, medium
2 Tbsp. salt
8 oz. goat cheese
Whipped Goat Cheese
1 Tbsp. olive oil
½ tsp. salt
1/2 tsp. black ground pepper
3 Tbsp. chives
Herb Salad
2 oz. each mix of herbs: parsley, dill, cilantro, chives & mint
1/2 tsp. Kosher salt
1/2 tsp. extra virgin olive oil
Preheat the oven to 425 degrees F.
Line a sheet pan with foil.
For the Roasted Grapes
In a medium bowl, toss the whole red grapes with olive oil, fresh thyme or oregano, salt and pepper. Pour onto the prepared sheet pan and place in the oven for 15-20 minutes until the grapes are soft, slightly charred and some have popped open.
Scrape the grapes and accumulated juices into a small bowl and stir in the toasted walnuts. Set aside.
Turn the oven down to 350 degrees F.
For the Sweet Potatoes
Wash the unpeeled sweet potatoes, and while they are still damp–rub the skins with the salt for an even coat on the surface. Place in the oven and roast until they are completely tender throughout, about 40 minutes.
For the Whipped Goat Cheese
While the sweet potatoes are roasting, whip the goat cheese with the olive oil, salt, and pepper. Stir in the chives and set aside.
For the Herb Salad
Combine the herb leaves in a small bowl and refrigerate until ready to use.
To Assemble
When the sweet potatoes are fully cooked, split each down the middle and squeeze and push the ends together, slightly to open them.
Toss the herb leaves with olive oil and Kosher salt.
Stuff each sweet potato with ¼ of the whipped goat cheese, a big pinch of the herb salad, and a scoop of roasted grapes. Drizzle with the leftover grapes juice and some extra virgin olive oil. Serve immediately.
Best Green Smoothie
1 ½ cup milk (dairy or dairy-free)
2 cups baby spinach
1 frozen banana
1 apple
¼ avocado
plus optional add-ins 
Add all of the ingredients to a blender and blend on high for 30 seconds, or until creamy.