Tried and true family recipes that always end up on the Easter table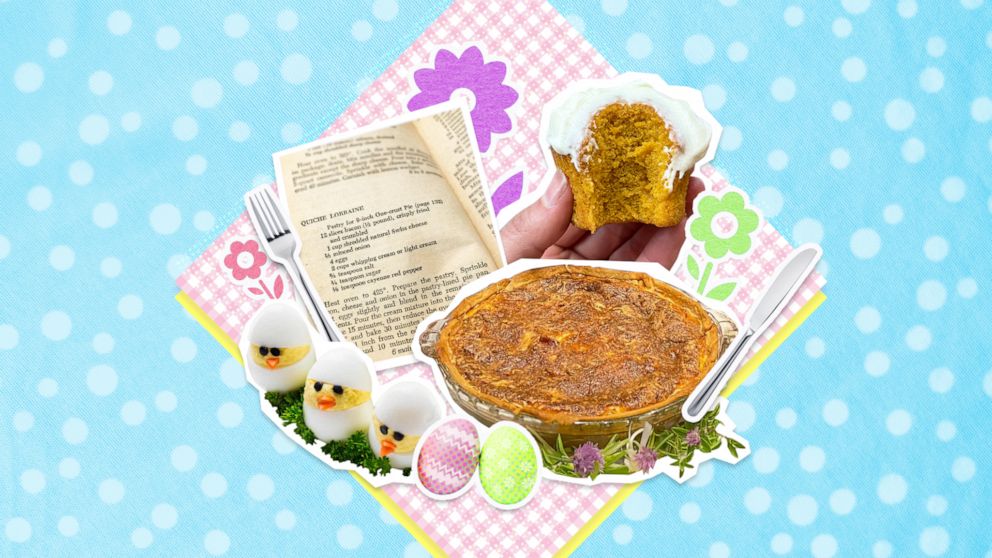 Easter is full of family traditions centered around food.
From egg hunts and spiral cut ham to sweet lemon-filled desserts, every Easter table is sure to include some tried and true favorite foods.
Whether you're searching for a nostalgic recipe like ambrosia salad to whip up fresh for the family or in need of a festive new addition to your usual menu, "Good Morning America" tapped some top food creators who shared passed-down dishes and family recipes that always pop up on their tables.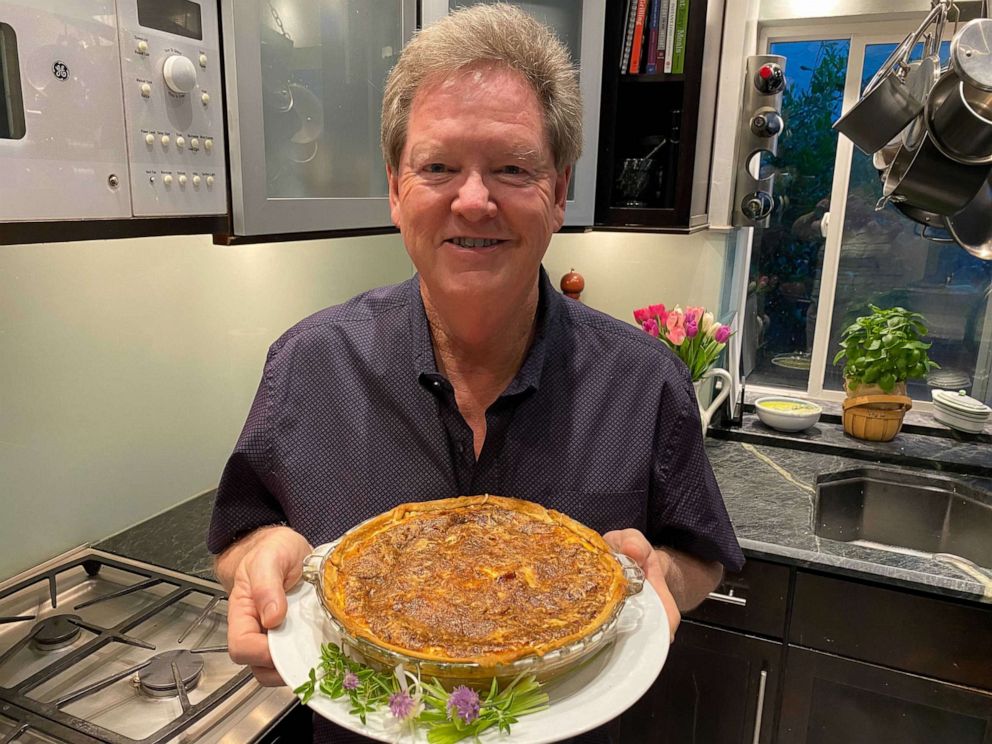 Air Fryer Hard-Boiled Eggs
Yumna Jawad, creator of Feel Good Foodie, has a creative and fast hack that's easier than standing over a boiling pot of water.
Check out the full instructions here.
Deviled Easter Egg Chicks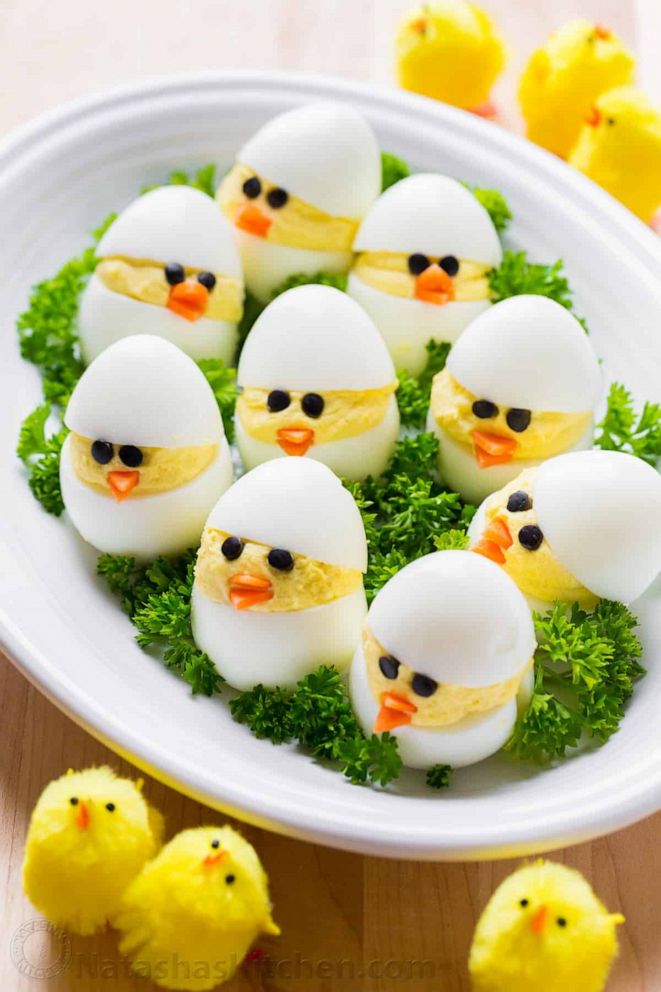 Food blogger Natasha Kravchuk of Natasha's Kitchen shared this recipe for a creative twist on an Easter classic, deviled eggs.
Ingredients
12 large eggs, hard boiled and peeled
1/3 cup mayonnaise
1 1/2 teaspoons dijon mustard, or add to taste
1/4 teaspoon garlic powder
1/8 teaspoon salt, or to taste
1 small carrot, peeled and sliced into rings
6 black olives
Directions
Peel 12 hard-boiled eggs. With a sharp knife, slice off a very thin layer from the base of the egg – this will give it a flat surface to stand on a platter. Cut off a generous top third of the egg. Squeeze around the egg base gently to loosen the yolk and it should pop right out. Keep the lids paired with their bases.
In a medium mixing bowl, combine 12 cooked yolks and mash well with a fork. Add 1/3 cup mayonnaise, 1 1/2 teaspoons dijon (or add to taste), 1/4 teaspoon garlic powder and 1/8 teaspoon salt, or season to taste. Mash everything together until smooth. Transfer mixture to ziploc or pastry bag and pipe generously into egg bases. Place top 1/3 back over the base and press down slightly to adhere.
For the eyes, poke through an olive with a plastic straw several times then gently squeeze down the straw and the little circles of olives will pop right out. For the beaks, thinly slice a few rings of carrot and cut each ring into sixths. Insert 2 olive spots for eyes and 2 carrot wedges for the beak. Set chicks on a platter and garnish with fresh parsley or dill to give them that "free range" feel.
Recipe reprinted with permission courtesy of Natasha's Kitchen.
Dad's Quiche Lorraine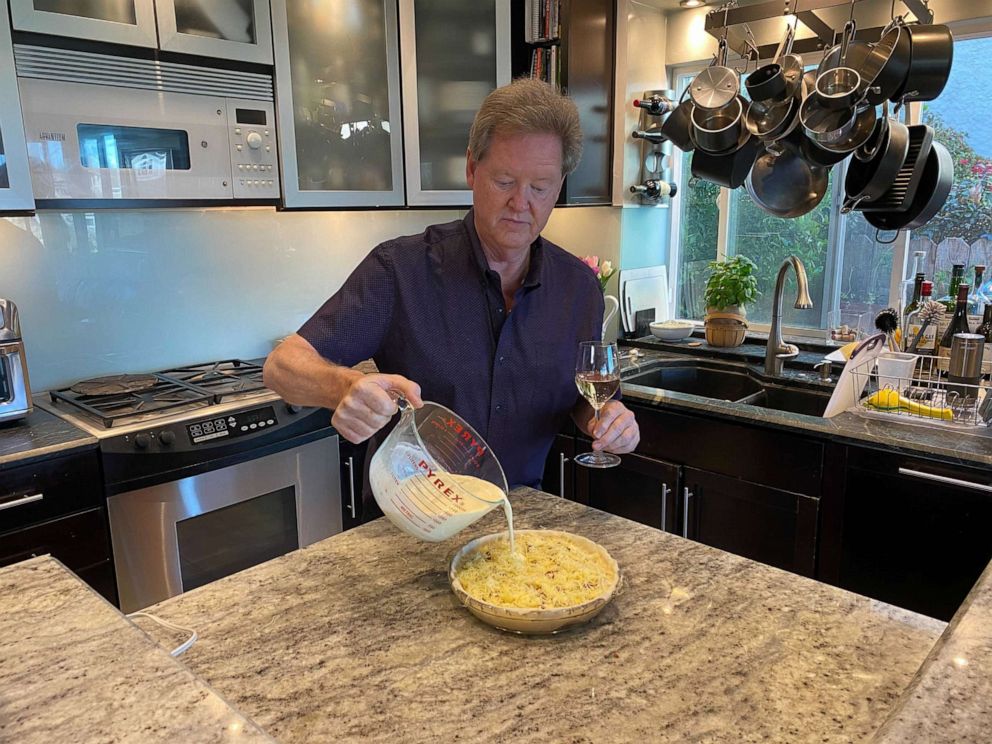 In Dan McCarthy's house, this French classic has become a holiday brunch staple. He shared his full recipe here and I made my best attempt to recreate it on my own.
Easter Ham and Cheese Omelet Casserole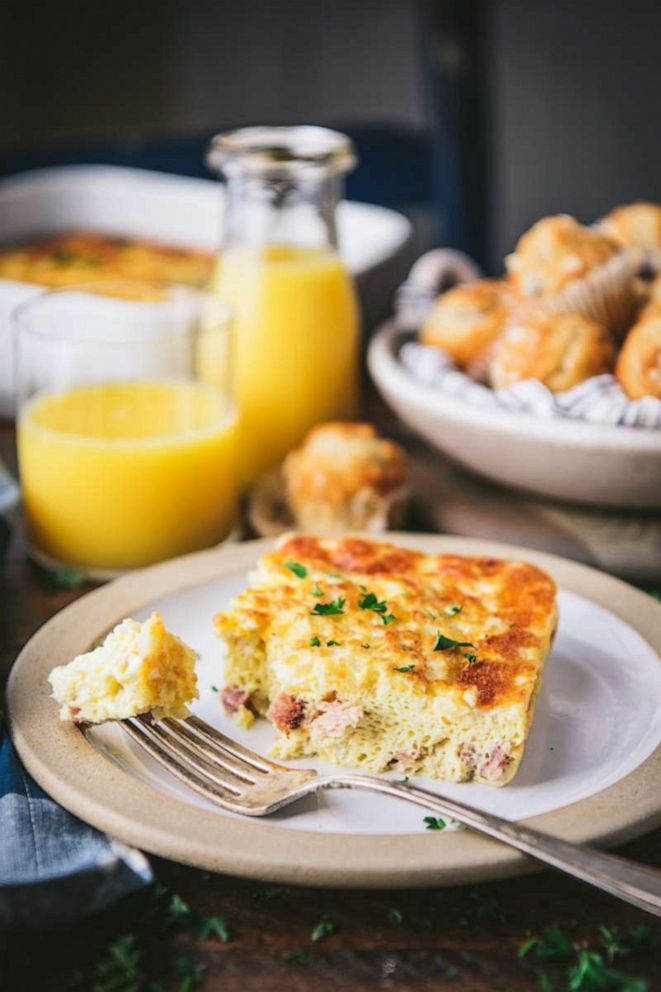 If your family opts for a big brunch instead of dinner, this hearty dish from Blair Lonergan, aka The Seasoned Mom, combines Easter ham with eggs to feed a crowd with ease.
Ingredients
8 large eggs (or use 4 whole eggs and 6 egg whites)
1 cup whole or 2% milk
1/2 teaspoon seasoned salt (such as Lawry's brand)
8 ounces diced cooked ham (or substitute with cooked bacon or sausage)
1 cup grated cheddar cheese
3 tablespoons very finely diced sweet onion
Optional garnish: chopped fresh chives or parsley
Directions
Beat eggs, milk, and seasoned salt together in a large bowl.
Stir in ham, cheese, and onion.
Pour egg mixture into a greased 8-inch square baking dish.
Bake at 350 F for 40-45 minutes, or until the eggs are set and a knife inserted in the center comes out clean.
Cut into squares and garnish with fresh herbs, if desired.
Recipe reprinted with permission courtesy of The Seasoned Mom.
Ambrosia Salad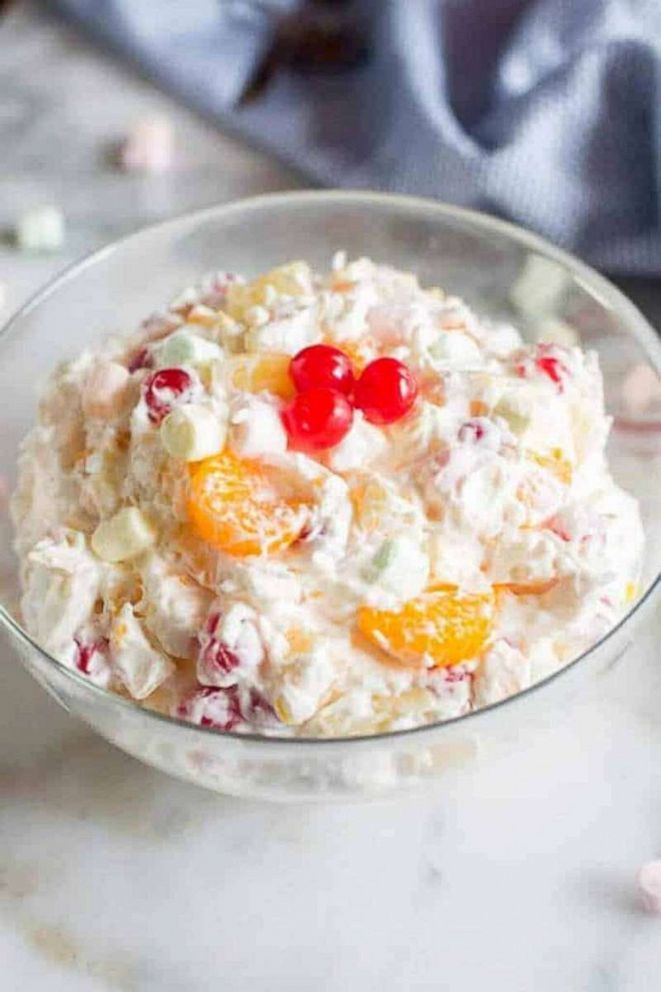 Tastes Better from Scratch blogger and recipe developer Lauren Allen shared this throwback recipe that still holds up thanks to its light and refreshing taste that works in accompaniment with any Easter ham or lamb dish.
"I particularly love Ambrosia Salad around Easter time because the soft pastel colors remind me of the season," she wrote alongside the recipe. "Many recipes for ambrosia salad use cool whip, but if you've followed my blog at all, you know I would never use cool whip when I could substitute fresh whipped cream. The taste is so much better!"
Ingredients
1 cup heavy whipping cream
1/4 cup powdered sugar
1/2 cup plain or vanilla Greek yogurt
1 cup shredded sweetened coconut
11-ounce can mandarin oranges, drained
8-ounce can pineapple tidbits, drained
1 cup maraschino cherries, drained
1 1/2 cups mini fruit-flavored marshmallows
Other optional fruit salad add-ins: chopped pecans, sliced bananas, chopped apples
Directions
Add whipping cream to a large bowl or stand mixer and beat with electric beaters for 1-2 minutes. Slowly add powdered sugar and continue beating until stiff peaks form. Fold in yogurt.
Drain canned fruits very well, then add remaining ingredients to a large serving bowl.
Fold in whipped cream mixture. Chill for at least 30 minutes before serving.
Recipe reprinted with permission courtesy of Tastes Better from Scratch.
Harissa Roasted Leg of Lamb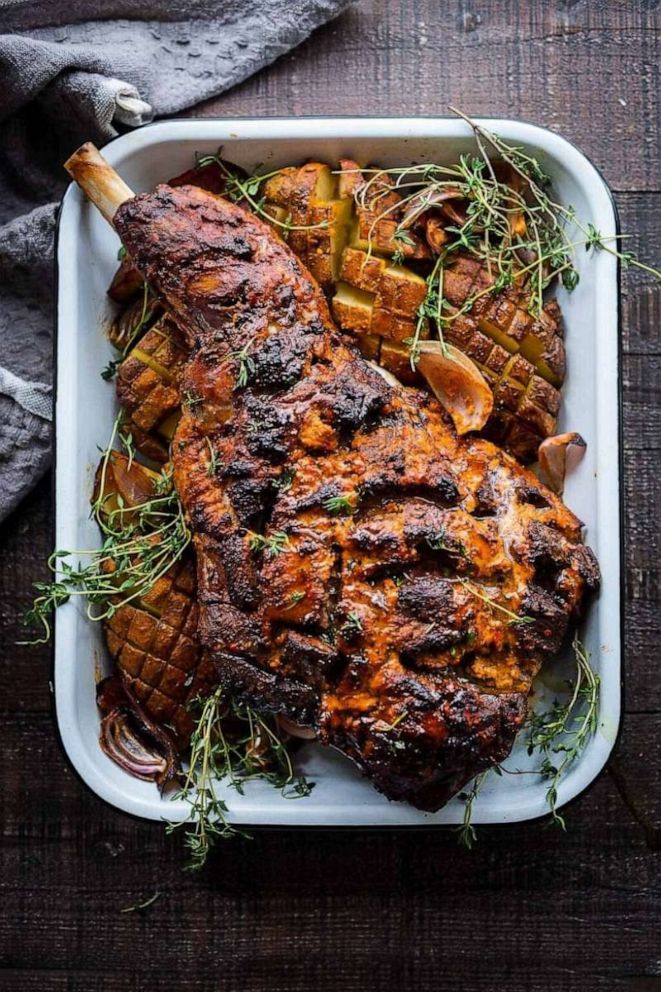 Personal chef and former restaurant owner Sylvia Fountaine — creator of Feasting at Home — shared this showstopping centerpiece for Easter dinner.
With only three minutes of hands-on time, this succulent and savory main dish is a star for a holiday meal like Easter. The bone-in leg of lamb yields a flavorful crust with juicy and tender meat thanks to low and slow-roasting in the oven.
Ingredients
5 1/2 to 6 1/2-pound leg of lamb, bone-in.
8-10 fat garlic cloves
2 shallots, quartered
3-4 tablespoons harissa paste
2 tablespoons preserved lemons (or 1 tablespoon lemon zest)
2 teaspoons salt
2 teaspoons cumin
1 teaspoon caraway seeds, optional
1 teaspoon pepper
2 tablespoons fresh thyme (or 1 tablespoon dried)
2 tablespoons olive oil
1/2 cup thick whole milk yogurt, plain
Directions
Prep the lamb: Trim the fat off the leg if you prefer a leaner version — or leave some on for extra flavor. Score all sides of leg 1/2 inch deep, 1 1/2 to 2 inches apart (crosshatch if you like), sprinkle generously with salt and bring to room temperature for at least 1 hour.
Preheat oven to 350 F.
Make the marinade: Place garlic, shallot, harissa paste, preserved lemon, salt, cumin, pepper, caraway seeds, thyme and olive oil in a food processor and pulse until uniformly chopped. Add the yogurt, pulse a few times (don't blend or it will get runny). Taste for heat, adding more harissa paste to taste.
Assemble: Place the lamb over a rack in a roasting pan. Lift the bone end of the leg straight up and brush the underside of the leg with the harissa yogurt, getting into the slits and cuts as best you can. Lay it down over the rack, brush the remaining marinade over the top, getting into slits and lathering it up generously. Nestle in any roasting veggies you like (toss with olive oil and season with salt and pepper first.) You could brush any remaining marinade on the veggies if you like.
Bake at 350 F, plan on 20 minutes per pound for rare to medium-rare, so plan on roughly 2 hours. Place lamb on the lower third of the oven, loosely covered with a foil "tent" for one hour.
Remove foil and check temp. Because every oven is different, keep an eye on the roast after the first hour, checking every 20 minutes or so for over-browning. You can always re-tent with foil if it's getting too dark. A little color is good here, but you don't want it to burn. (If you leave the fat on, you can always carefully brown using the broiler at the end to help crisp up that fat.)
Once the roast reaches 125 F to 130 F at the thickest end, pull it out, tent it again and let it rest 15 to 20 minutes before cutting into it, allowing the juices to remain in the meat, which will help keep the meat tender.
Grandma's Carrot Cake Cupcakes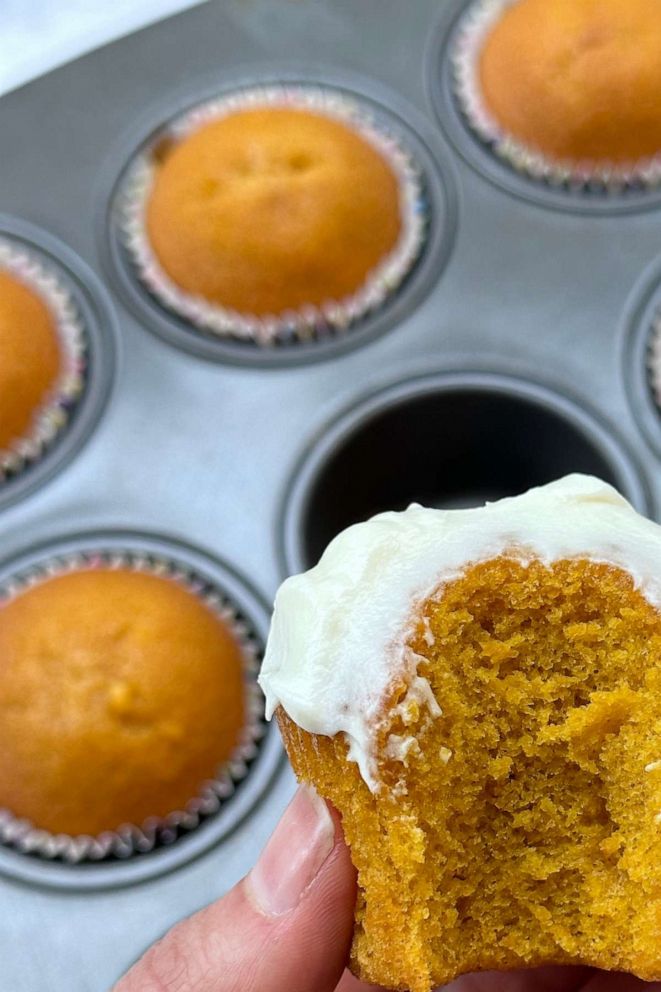 Chef, food stylist and recipe developer Jackie Rothong shared her grandma's recipe for delicious carrot cake cupcakes with "GMA."
"My grandma Mary's favorite dessert on Easter was always carrot cake, which inherently became our whole family's favorite cake," Rothong said. "I started making them into cupcakes when I was in high school — the perfect portion for one — although she would always sneak two."
"Grating the carrots was always my least fave part. This Easter, I decided to try a new method, let's call them 'blender carrot cupcakes.' A smooth carrot cake does exist and it will be your new favorite holiday dessert," she added.
Ingredients
4 large eggs
2 cups granulated sugar 
2 teaspoons vanilla extract 
4 cups carrots, peeled, chopped into 1-inch pieces 
2 cups all purpose flour 
1 teaspoon baking powder 
1 teaspoon baking soda 
1/2 teaspoon kosher salt 
1 cup neutral oil 
Cream Cheese Frosting
1 stick unsalted butter, room temperature
8 ounces cream cheese, room temperature 
1 teaspoon vanilla extract
1 pound powdered sugar 
1/4 teaspoon salt 
Directions
For the frosting, combine butter and cream cheese until smooth. Add the vanilla and powdered sugar. If using a stand mixer, use the paddle attachment until fluffy and light.
Prepare a set of muffin tins with parchment or cupcake liners.
Using a blender combine eggs and sugar and blend until creamy.
Add vanilla and carrots and blend until smooth. Add the measured dry ingredients and scrape down the sides of the blender. Blend until incorporated.
Stream in the neutral oil slowly while blender is on low. Once fully combined and smooth.
Fill the lined pan with batter about 3/4 full.
Bake in a 350 F oven for 18 minutes and let cool before frosting.
Use an offset spatula to cover the cupcakes with cream cheese frosting.
Serve and enjoy!
Check out even more festive Easter dessert recipes here.