Lexy Rogers' not-from-Philly cheesesteak recipe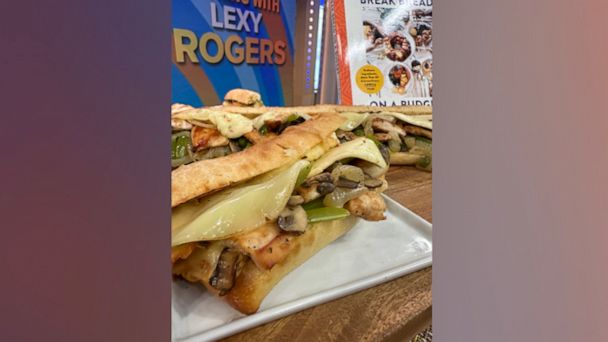 ---
Lexy Rogers, a celebrity chef and author of the cookbook "Break Bread on a Budget," recently dropped by "GMA3" to show us how to make gourmet meals without breaking the bank.
Scroll below to check out her recipe for a delicious and cost-effective cheesesteak.
Not-From-Philly Cheesesteak
1 tablespoon avocado oil (or olive oil)
1 medium white onion, sliced
8 ounces baby portabella mushrooms, sliced
2 teaspoons lemon pepper seasoning
1 pound steak (ribeye or New York strip), or 1 pound skinless boneless chicken breast
1 tablespoon Creole seasoning
4 slices pepper jack cheese
4 slices provolone cheese
Budget tip: A foot-long sandwich feeds Rogers' family of five. If you don't need as much food, go slider style. Make single servings by using a ciabatta bun, Hawaiian roll, or regular sliced bread. Save the rest of the filling in the fridge and make sandwiches throughout the week.
1. Preheat oven to 375 F.
2. Heat oil in a pan over medium-low heat.
3. Add peppers, onions, and mushrooms.
4. Season with lemon pepper seasoning.
5. Cook for about 7 minutes covered, until onions are translucent and mushrooms have released liquids into the pan. Peppers should be cooked al dente, just enough so their color has lightened, and they do not taste raw but are still somewhat firm.
6. Turn off the heat and set veggies aside.
7. Slice the steak thinly, about 1/8 inch in thickness. Sear steak in a cast iron pan or nonstick skillet with butter for 2 1/2 minutes on each side.
8. Mix mayonnaise with Creole seasoning and set aside.
9. Cut bread loaf lengthwise without cutting it completely in half.
10. Spread seasoned mayo on both halves of the inside of the bread.
11. Top with steak, veggie mixture, and cheeses, alternating between a slice of pepper jack and a slice of provolone.
12. Bake in the preheated oven for 5 minutes, or until the cheese is melted and the bread is toasted.
Ways to stretch your dollar
Putting steak into a sandwich filled with veggies is a great way to get your steak fix without relying on the steak to fill you up.
Alternatively, you can use chicken to save further. Instead of using individual hoagie rolls, buy one or two fresh baked French loaves from a big box store for $1.50 and slice them into appropriate portions (about 4-5 servings per loaf).
Use the filling on top of fries, or baked potatoes to stretch the filling and feed more people, ultimately saving about $1 per person.
For the "non-chefs": Knives not your thing? No biggie. Buy pre-shaved steak and pre-cut veggies to cut down on time and reduce the risk of cutting your fingers.