Mild Buffalo Sauce | Everyday Family Cooking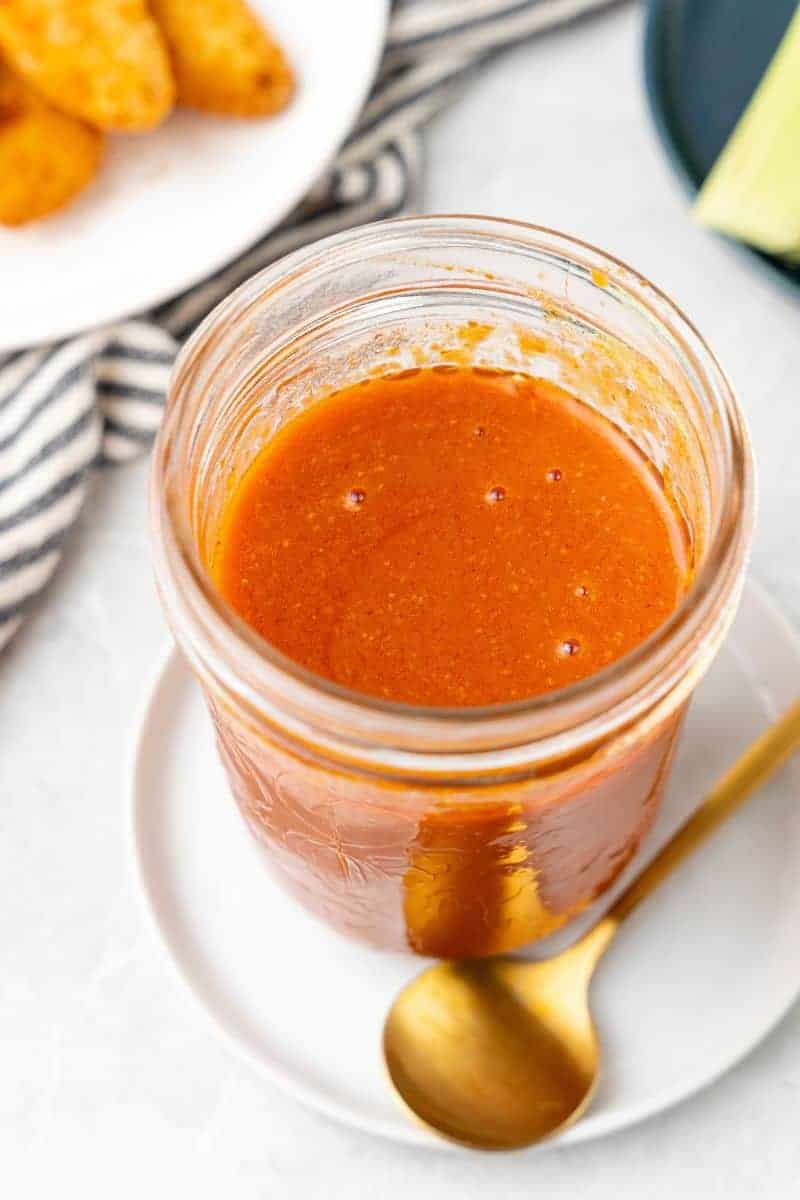 My mild Buffalo sauce is slightly spicy without being overpowering, thanks to the addition of sweet tomato sauce. It's perfect for wings, dressings, sandwiches, and more and is ready in 10 minutes!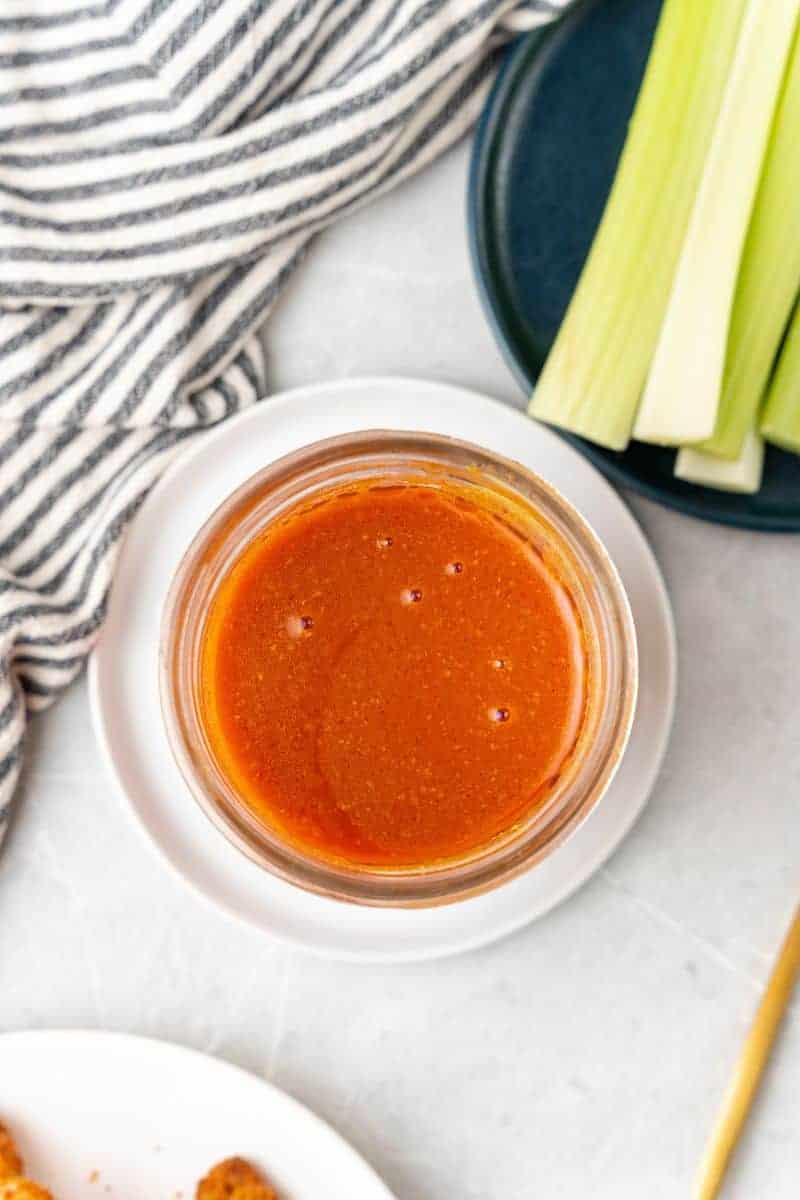 Those who know me, know how much I love Buffalo sauce! I add it to pretty much any savory dish…from my morning eggs to my mid-day sandwich to my wings for dinner.
It's spicy, tangy, and creamy and pairs well with so much.
Buffalo sauce was first created in Buffalo, New York, which is where it gets its name. Legend has it that restaurant owner Teressa Bellissimo came up with the sauce when preparing a snack for her son.
She fried up some chicken wings and then topped them with hot sauce, cayenne pepper, and butter. And so, Buffalo sauce was born.
My husband is from Buffalo, so it's a staple in our meals!
Mild Buffalo sauce, mild Buffalo wing sauce…whatever you call it, I've got a really easy recipe that you can follow to make it from scratch.
Learn everything you need to know about how to make mild wing sauce below. 
In the meantime, know that it's made with only 5 ingredients that you likely already have at home.
You'll be able to enjoy the best mild Buffalo wings slathered in my mild buffalo wing sauce in no time! 
How to Make Mild Wing Sauce
A full printable version of this recipe with ingredient measurements is available at the bottom of this post.
STEP ONE: Add the butter, Frank's hot sauce, tomato sauce, garlic powder, and soy sauce to a small saucepan.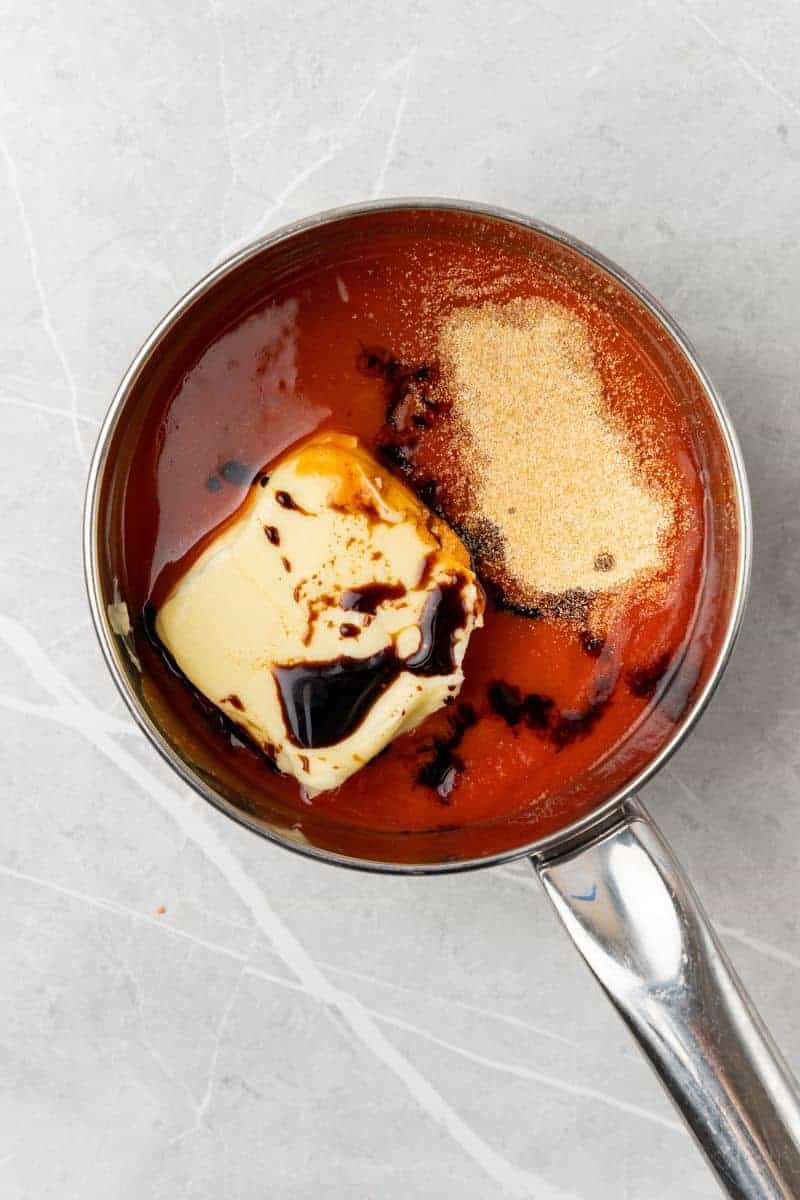 STEP TWO: Heat over medium until the butter has melted and all of the ingredients are well combined. Make sure to stir often to prevent burning!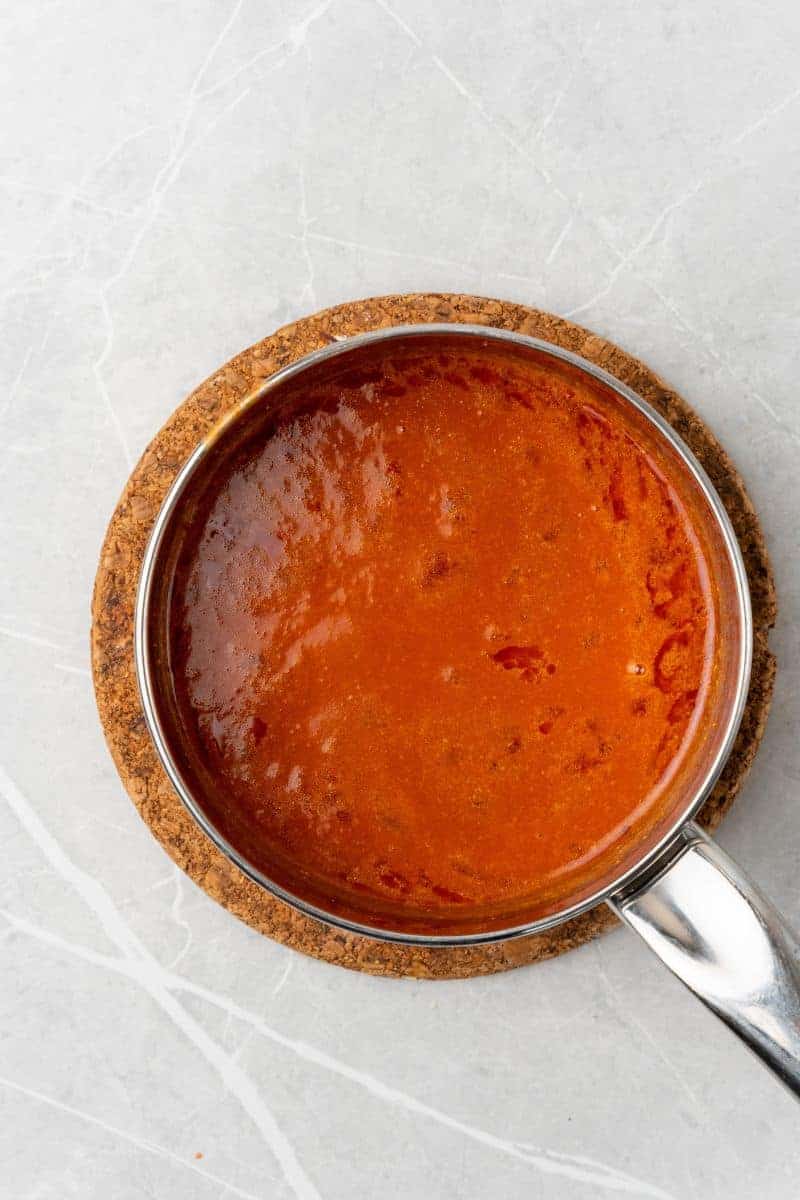 STEP THREE: Allow your mild Buffalo sauce to cool a bit before serving. This mild wing sauce recipe also works wonderfully as a dipping sauce or in a dressing!
What to Serve with Mild Buffalo Sauce From Scratch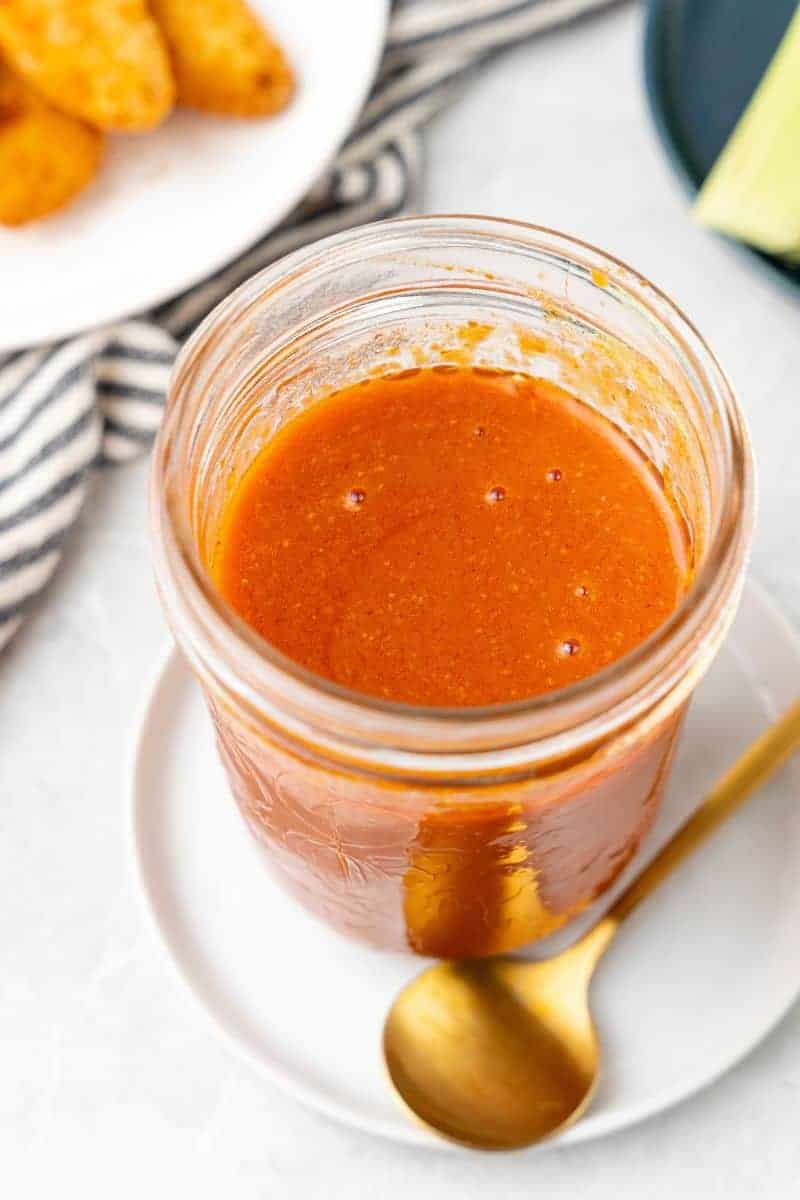 Variations for This Mild Wing Sauce Recipe
Start with my buffalo sauce from scratch to save time. It already includes the extra ingredients like butter and seasonings so you'll only have to add the tomato sauce.
Add some honey for more sweetness — you can try my honey buffalo sauce!
Serve alongside blue cheese and ranch sauce for more dipping options.
Use Worcestershire sauce, tamari, or coconut aminos instead of soy sauce.
What is Mild Buffalo Sauce Made Of?
My mild wing sauce recipe is made with Frank's hot sauce, tomato sauce, soy sauce, garlic powder, and butter.
I find that the addition of sweet tomatoes does much to tone down the spice of the hot sauce. You'll get all of the flavors without worrying about too much heat.
How Do You Mild Down Buffalo Sauce?
The key to mild sauce is in the butter and the tomato sauce. The added dairy takes away some of the spice, and the sweetness of the tomatoes balances out the heat.
I also recommend serving it with another dipping sauce, like ranch or blue cheese. Again, the dairy takes away the heat but leaves the flavor!
Is Buffalo Sauce the Same as Mild?
Traditional Buffalo sauce is considered to be moderately spicy. It's tangy and creamy thanks to the addition of butter.
I would say that Buffalo is medium in terms of spice level, which is higher than mild.
That's why I wanted to create this mild wing sauce recipe for those who find Buffalo too hot.
Is Buffalo Sauce Always Spicy?
No, and my mild Buffalo sauce is proof! Yes, this condiment is slightly spicy, but the tomato sauce and butter do a great job of tampering with the heat.
You'll be able to make mild wings easily and quickly with the addition of my mild sauce!
Other Buffalo Recipes You'll Love:
More Sauce Recipes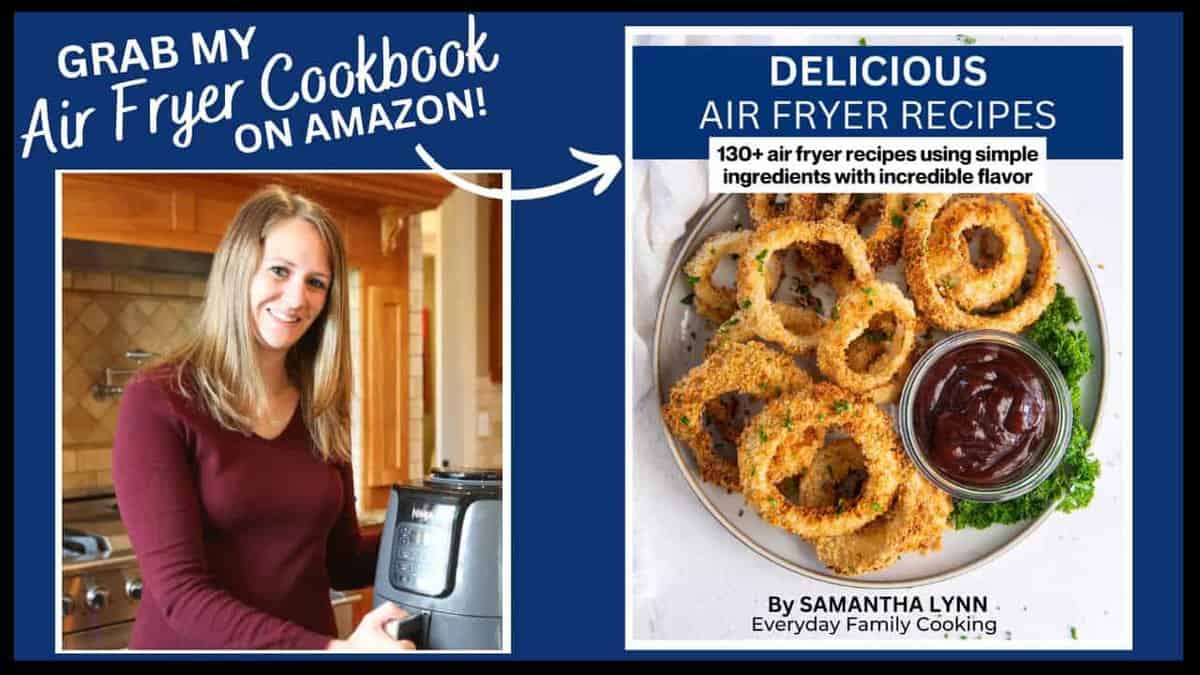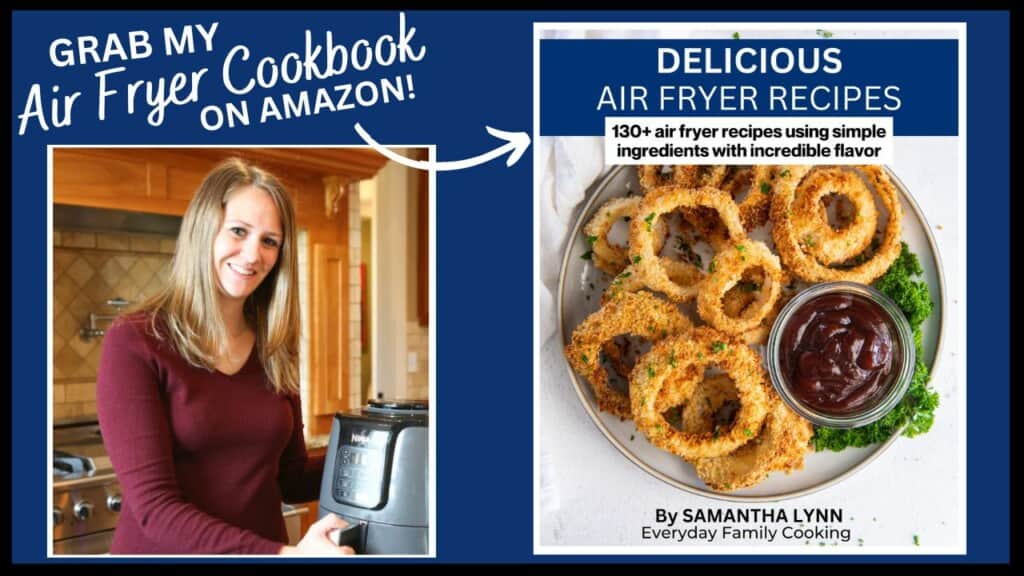 Prep Time
5 minutes
Total Time
5 minutes
Ingredients
½ cup butter
½ cup franks hot sauce
½ cup smooth tomato sauce (a sweeter one works best)
1 teaspoon garlic powder
½ teaspoon soy sauce
Instructions
In a small saucepan, add the butter, franks, tomato sauce, garlic powder, and soy sauce and heat over medium heat, stirring often, until the butter has melted and all ingredients are mixed well
Allow to cool slightly before serving; works great as a dipping sauce or for wings!
Nutrition Information:
Yield:
8

Serving Size:
1

Amount Per Serving:
Calories: 108Total Fat: 12gSaturated Fat: 7gTrans Fat: 0gUnsaturated Fat: 3gCholesterol: 31mgSodium: 559mgCarbohydrates: 1gFiber: 0gSugar: 1gProtein: 0g
This nutrition information is based on the exact products I used in this recipe. Brands and sizes of products could alter exact nutrition and should always be calculated independently.