Survive your Veganuary slump with these spicy recipes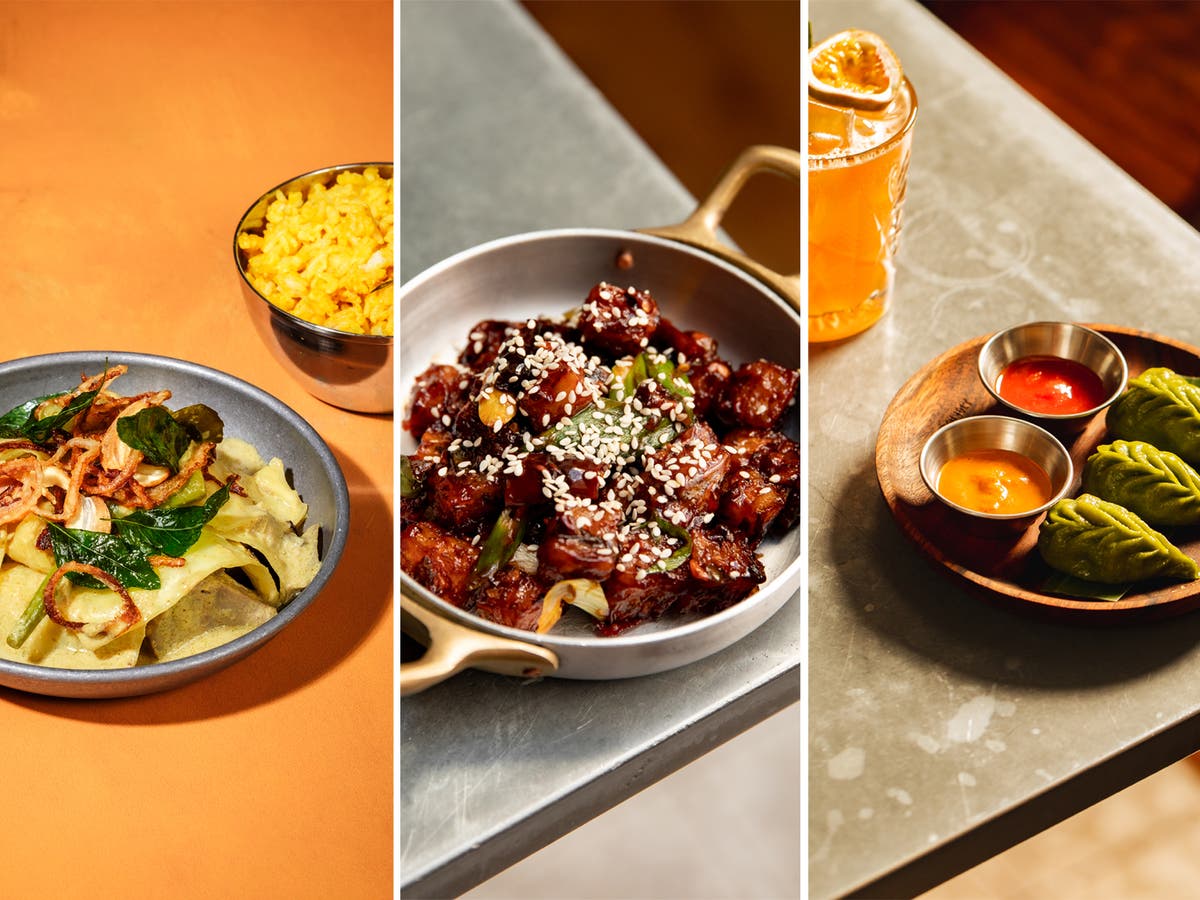 Having a mid-Veganuary slump? These recipes from London restaurants Fatt Pundit and Mambow should jazz up your dinners for the week.
Fatt Pundit's Indo-Chinese street food staple momos are a great way to start any meal, and can be easily filled with other proteins too. The tofu and vegetable filling is a homely healthy way to finish the day, and can be steamed or pan-fried. 
The sticky sesame vegetables are another moreish classic that are a must-order at the restaurant, and are an easy way to impress friends or family at home.
Mambow's Malaysian jackfruit curry from Abby Lee is the perfect warming vegan midweek meal that you can batch cook and enjoy again and again. Made with jackfruit, cabbage and green beans, it's a healthy and delicious way to get five a day, and can be adapted with any other vegetable that has been stored away.
Sticky sesame vegetables
Ingredients:
100g carrot, cut into thin strips
200g cabbage, cut into thin strips
100g grean beans
100g onions, thinly sliced
Oil for frying
For the batter:
5 tbsp cornflour/corn starch
5 tbsp refined flour
Salt to taste
For the sauce:
4-5 garlic cloves, chopped
5-6 whole dry red chilli
50g spring onions, chopped
2 green chillies, finely chopped
2 tbsp ketchup
1 tbsp dark soya
1 tbsp agave nectar
Salt to taste
Toasted sesame seeds for garnish
Method:
1. Mix cornflour, refined flour and salt in a bowl with enough water to make a thick batter. Add the vegetables and mix so that all the vegetables are well coated. Mold the battered vegetables into palm-sized flattened cakes.
2. Heat enough oil in a wok and deep-fry the vegetable cakes 1-2 minutes, just until they start changing colour. Drain on absorbent paper and set aside.
3. Once the cakes are fried, cut them into bite-size pieces and again deep fry until they are golden brown and crispy.
4. For the sauce, heat two tablespoons of oil in a pan until its smoking hot, add the dry red chilli to get the smoking flavour in the pan/wok; add garlic, green chilli, sauté until brown in colour.
5. Add the ketchup, dark soya, honey, spring onion and salt, and sauté for half a minute. Add all the fried vegetables and mix well until the vegetables are coated with the sauce. Sprinkle with toasted sesame seeds and serve hot.
Mixed vegetables momo
Prep time: 26-30 minutes | Cooking time: 11-15 minutes
Ingredients:
For the dough:
250g all-purpose flour
100g spinach leaves (optional for colour)
125ml water
½ tsp salt
For the filling:
100g chopped shiitake
For the mushroom:
100g shredded green cabbage
70g chopped carrot
70g chopped courgette
50g chopped onions
2 tsp salt, more to taste
1 tbsp minced ginger
2 cloves garlic, minced
2 tsp sesame oil
2 tbsp soy sauce
120g firm tofu, crumbled
½ tsp black pepper powder
½ tsp white pepper powder
3-4 tbsp olive oil or vegetable oil
Method:
1. Start by making the dough for the dumpling wrappers. Put the flour in a large mixing bowl. Gradually add the water to the flour and knead into a smooth dough. Puree the spinach leaves in a blender and mix it well with dough. This process should take about 10 minutes. Cover with a damp cloth and let the dough rest for an hour.
2. In the meantime, make the filling. In a wok or large skillet over medium high heat, add 3 tablespoons oil and add ginger and garlic. Cook for 30 seconds, until fragrant. Add the onions and stir-fry until translucent.
3. Add the chopped mushrooms and stir-fry for a few minutes, until the mushrooms are tender, and any liquid released by the mushrooms has cooked off.
4. Add the cabbage, carrots, courgette, and stir-fry for another few minutes, until the veggies are tender, and all the liquid released has been cooked off. Transfer the vegetable mixture to a large colander, place the colander on a deep plate or tray to collect the excess water released by the vegetable mixture as it cools.
5. To the bowl add black pepper powder, white pepper powder, sesame oil, soy sauce. Season with salt to taste (though the soy sauce will usually add enough salt to the filling).
6. Crumble the tofu and add to this mixture.
7. Divide the dough into small balls. Roll in dry flour and roll into small 2 inch circle keeping the edges thin and the centre thick. For well executed MOMO's, it is essential that the middle portion of the wrapper be slightly thicker than the edges to ensure the structural integrity of dumplings during packing and steaming.
8. For packing hold wrapper on one palm, put one tablespoon of filling mixture and with the other hand bring all edges together to the centre, making the pleats. Pinch and twist the pleats to ensure the absolute closure of the stuffed dumpling. This holds the key to good tasting, juicy dumplings.
9. To cook the dumplings, steam them or pan-fry them. To steam, put the dumplings in a steamer (oil the steamer rack well to avoid sticking) lined with a bamboo mat, cabbage leaf, or cheese cloth, and steam for 15-20 minutes.
10. To pan-fry, heat 2 tablespoons oil in a non-stick pan over medium high heat. Place the dumplings in the pan and allow to fry for 2 minutes. Pour a thin layer of water into the pan, cover, and reduce heat to medium-low. Allow dumplings to steam until the water has evaporated. Remove the cover, increase heat to medium-high and allow to fry for a few more minutes, until the bottoms of the dumplings are golden brown and crisp.
Sesame seed chutney (for the momo)
Ingredients:
1 tbsp vegetable oil or olive oil
2 tbsp garlic paste
2 tbsp ginger paste
1 tbsp red chilli flakes, or less to taste
3 tbsp sesame seeds
100g red onion, chopped
350g tomato, chopped
2 tbsp freshly squeezed lemon juice
1 cup water
Method:
1. Heat the oil in a pan over medium. Add the garlic and ginger and cook until fragrant, Add the sesame seeds and red chilli flakes and roast for a couple of minutes.
2. Add the onion and sauté until soft, then add the chopped tomatoes. Cook until soft and juicy.
3. Transfer the mixture to a blender, lemon juice, and water and blend until smooth. Taste and add salt if desired. Use immediately or allow to chill in fridge.
Gulai nangka (jackfruit curry)
Recipe by: Abby Lee, chef-founder of Mambow, London
Serves: 4
Ingredients:
480g tinned young green jackfruit
120g gulai paste (see below)
10g curry powder
6 makrut lime leaf
280g coconut milk (Aroy-D is our favourite brand)
4g gula melaka (or another type of palm sugar)
280g water
1 asam gelugor (or 1 tsp tamarind concentrate to taste – Vietnamese or Thai brand preferably)
145g white cabbage, cut into big chunks
40g green beans, ends off and cut into two
Fine sea salt to taste
100ml rapeseed or vegetable oil
For the gulai paste:
20g soybean paste or white miso paste
65g shallots
10g garlic
15g ginger
5g red bird's eye chilli
For the curry powder:
½ tsp ground turmeric
½ tbsp ground cumin
½ tsp ground fennel
½ tbsp ground coriander
Method:
1. Chop the ingredients for the gulai paste roughly and blend until smooth into a food processor.
2. Mix the ingredients for the curry powder.
3. In a medium saucepan, heat vegetable oil to a medium high heat. Add the gulai paste and curry powder, stir well and fry until it is fragrant, for about 5 minutes.
4. Drain and add your jackfruit pieces to the pan. Coat each piece well in the paste. Add water to the pan so the jackfruit is nearly covered. At this point, add your seasonings – gula melaka, asam gelugor, salt. Let simmer for 45 minutes.
5. Towards the last 10 minutes of cooking time, you can then add makrut lime leaf, white cabbage, green beans and coconut milk. Do not overboil the coconut milk.
6. Taste at the end for more sugar, salt or tamarind. Serve!