Thanksgiving leftovers transform this turkey potpie recipe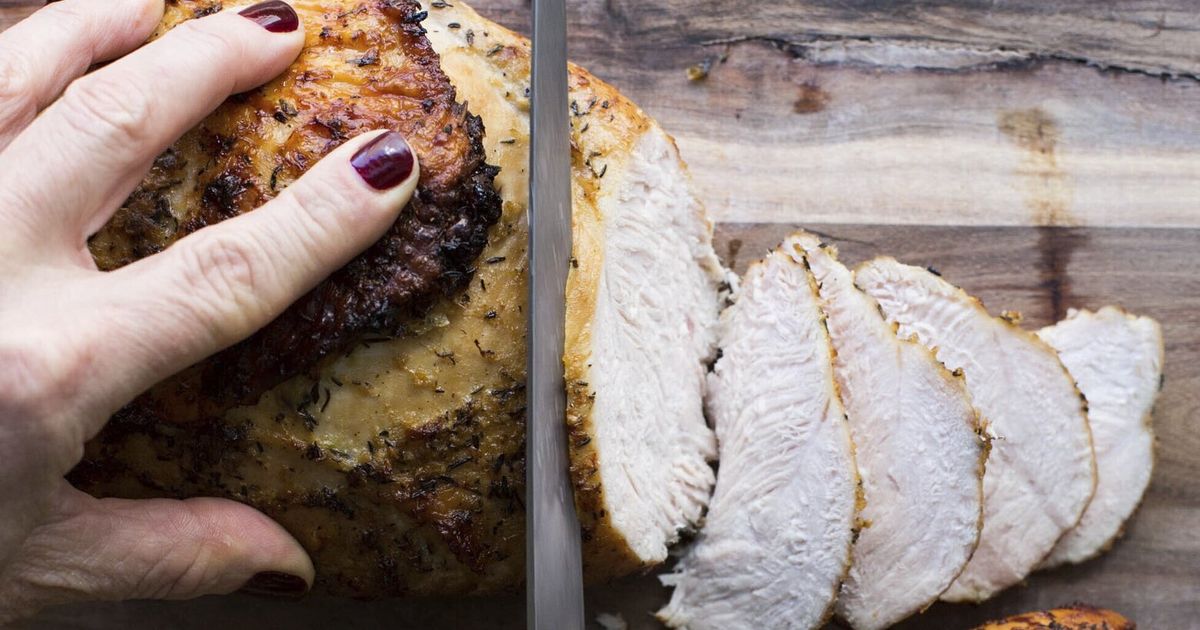 I feel like Thanksgiving is the one holiday where the leftovers are just as important as the meal. Maybe it's because there is such a variety of dishes available on Thanksgiving, and therefore so many possibilities for the leftovers. I haven't quite figured it out, but I can promise you I wake up just as excited the day after Thanksgiving as I do on the day of.
Most of the time, my leftovers consist of a Thanksgiving sandwich that I look forward to all year long. Turkey, ham, mashed potatoes, mac and cheese, and cranberry sauce — literally everything — on a dinner roll. It is SO good. I've also made turkey tetrazzini a few times, which is also a delicious leftover turkey option. This year, however, I wanted to do something even better, and a dish I hadn't made before. So turkey potpie it is.
We're using leftover turkey and some of the leftover gravy, a delicious array of vegetables and a homemade pie crust. If making pie crust isn't your jam, a store-bought crust will work just fine. This pie crust is a very enhanced crust to make sure it doesn't deteriorate under the weight of the potpie filling. Ultimately, all of these delicious flavors all in one dish will not disappoint and gives you a way to transform all of those wonderful leftovers.
_____
Turkey Potpie
Preparation time: 4 hours (1 hour active)
Servings: 8
INGREDIENTS
Pie crust
1½ cup butter, cubed
1 egg
3 cups flour
1 teaspoon salt
1 tablespoon sugar
1 tablespoon distilled white vinegar
2 tablespoons cold water
Potpie filling
2 teaspoons avocado oil
¼ teaspoon red pepper flakes
½ teaspoon fresh ground black pepper
½ teaspoon salt
½ teaspoon dried thyme
½ teaspoon garlic seasoning
1 cup mushrooms, sliced
1 cup leeks, sliced
1 carrot, diced
⅓ cup butter
⅓ cup flour
¼ cup gravy (leftover from Thanksgiving is perfect)
1 teaspoon lemon juice
1 teaspoon Worcestershire sauce
1 cup chicken or turkey stock
⅔ cup whole milk
2 cups turkey, diced
STEPS
Pie crust
Cut butter into ¼-inch cubes and place in refrigerator.
Add egg to a small bowl and lightly beat it.
Add flour, salt and sugar to a food processor and pulse 2 to 3 times to combine all ingredients.
Add butter to the food processor and pulse a couple of times until the mixture looks like sand. 
Add the lightly beaten egg, vinegar and cold water. Pulse until the dough is just combined.
Wrap dough in plastic wrap and refrigerate for 30 minutes to 2 hours, while you prepare the filling.
Pie filling
In a sauté pan over medium heat, add avocado oil and seasonings. Sauté for 1 to 2 minutes to bloom the spices.
Add mushrooms, leeks and carrot, and sauté until leeks are translucent and mushrooms are soft.
Reduce the heat to medium-low and add butter to the pan.
Once the butter is melted, add the flour and stir until everything is coated. Cook for an additional 2 minutes.
Add leftover gravy, lemon juice, Worcestershire sauce and stock. Stir until incorporated, and bring to a boil, then reduce to a simmer.
Add whole milk and diced turkey
Let simmer until heated throughout, about 5 more minutes, while you get the pie dough together. Stir occasionally.
The assembly
Preheat oven to 450 degrees.
Let pie dough sit outside of the fridge for about 10 minutes before you start working with it.
Cut the pie dough in half — this is a double crust pie, so we will be using the entire amount of dough.
Roll out the first half of the dough to ⅙-inch thickness, and large enough to hang over a 9-inch pie dish. Roll out the second half of the dough, and cover with plastic wrap and set aside.
Press the first half of the dough into the pie dish, and leave the overhang, as we will trim it after we fill it.
Pour the potpie filling into the pie dish.
Lay the second half of the rolled-out dough over the top.
Trim the excess pie dough, from the top and the bottom, using a knife. You can either crimp the edges or leave as is.
Cut four slits in the top of the pie to allow for steam to escape.
Bake at 450 degrees for 35 minutes.
Allow to cool a little bit before cutting and serving.
Serve with remaining leftovers, cranberry sauce or on its own.
Enjoy!