'Top Chef' Byron Gomez on cuisine, culture and bringing Costa Rica to Colorado with Pollo Tico
Byron Gomez has prepared haute cuisine in some of this country's finest restaurants. But on a recent day, in his food-hall stall on Pearl Street in Boulder, he is savoring something less high-brow, but oh-so-delicious. 
He calls it the "chicken oyster." It's a moist bit of meat hidden in a crevice behind the backbone of a rotisserie chicken that has rested overnight in Costa Rican spices before being slathered in a taste-bud-shaking secret sauce called Salsa Lizano.
That bit of food that brings him such joy serves as a symbol for a wildly unusual culinary career that has taken Gomez on a full-circle foodie journey in his 34 years.
It began in a modest family kitchen in Costa Rica where, as a toddler, he savored his native country's foods so much that he would sneak out of his bed to sleep on the kitchen floor. 
Hop from there to a Burger King in Long Island where his family had immigrated when he was nine. Gomez was too shy to be good at the counter, but he was moved into food prep because he was an excellent tomato slicer. 
Move on to constructing delicate dishes at Michelin-starred fine-dining restaurants owned by a world-famous chef in New York City. Throw in a stint on the culinary competition Top Chef.
 All that winds finally to Pollo Tico, Gomez's fast-casual, self-described "chicken joint" in the Avanti Boulder food hall.
"This introduces my culture and who I am," Gomez told Colorado Matters host Ryan Warner during a visit to Gomez's tiny Lizano-bottle-lined kitchen. 
The chicken is served up with Costa Rica's most recognizable dishes — arroz con pollo (chicken and rice), gallo pinto (beans and rice), maduros (fried green plantains), and chayote escabeche (pickled squash). Salsa Lizano goes on everything.
Gomez's time on Top Chef
These were not the foods that Gomez toiled over when he was a finalist on Season 18 of Top Chef, a brutal competition where the chefs spent 18 hours a day sweating over food challenges and the rest of the time totally closed away from a world in the thick of a pandemic. 
As a Top Chef finalist, Gomez showed off his culinary chops learned in top-culinary-world restaurants, including Cafe Boulad and Eleven Madison Park. He prepared a crab dish, a surf and turf entre, a pasta dish seasoned with coffee. 
The closest he got to his native cuisine was a Peruvian chicken dish. He is still kicking himself for those choices.
"I was watching the show at home with my bowl of ice cream and yelling at the TV, asking 'Why did you do that?'"
It was that anger about not highlighting his ethnicity that led him back to his roots.
"I had the most Michelin stars of anyone in the cast," he said. "But I realized I was cooking other people's cuisines. Everyone else was rooted in ethnicity, but I was left asking, 'Well, what am I?'"
Sunday dinners with family
That answer lay in his memories of the big Sunday dinners his family would have in Costa Rica. His mother was well-known for her cooking skills, and friends and relatives would gather at the Gomez home for meals. 
The women would be cooking up a feast in the kitchen. The men would be watching soccer as they waited for the meal. And Gomez would be gravitating to the kitchen.
When his family migrated to Long Island, the Sunday feasts continued in an altered form. His family couldn't get all their native foods, and what they could get didn't taste the same. Still, other Costa Ricans would gravitate to the Gomez house and pack in for Sunday gatherings.
Gomez's eventual mentor, Daniel Boulad, the Michelin-starred chef he still calls "papa," helped him to realize those gatherings were where his culinary dreams might lay. He had instilled in him the idea that he should always continue to test the limits of his skill and creativity.
Gomez landed a job at Café Boulad by highlighting his work ethic and desire to learn. He had no formal culinary training, unless prepping burgers and cooking ethnic dishes at a mom-and-pop café counted. But he had the drive and talent and, after stewing over submitting an application for a month, he was rewarded.
He spent five years working under Boulad. He describes it as a pressure-cooker existence similar to the Hulu culinary drama "The Bear," or to the late Anthony Bourdain's portrayal of sometimes hellish working conditions in the book "Kitchen Confidential."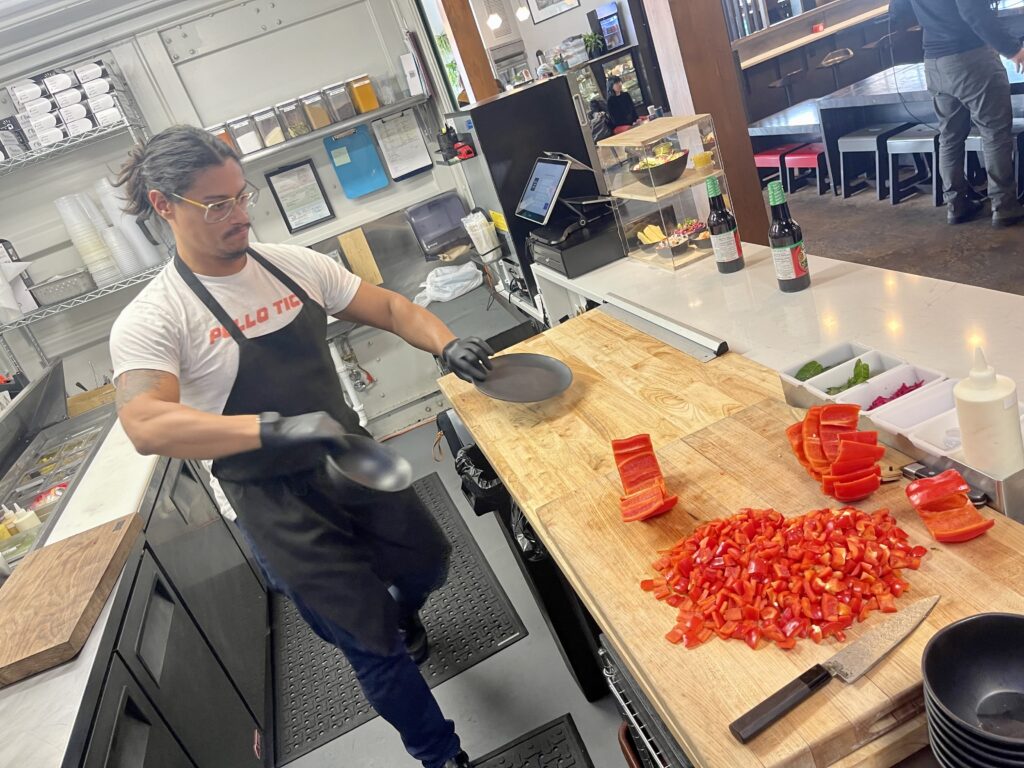 The next Shake Shack?
As his own boss now, Gomez still works hard, but can take time to hit the gym every day and to appear on the circuit of food festivals. 
He will be at Food & Wine festivals in Aspen and Charleston, South Carolina, this summer. He hopes to secure another slot on Top Chef.
Also on tap in Gomez' journey is a fine-dining mobile dining room concept that he brainstormed about during the COVID-19 pandemic lockdown. It's a concept that he said will "flip the rood truck thing on its head."
He also has plans to open more Pollo Ticos. In fact, he is thinking big about that, too. He believes Pollo Tico could become the next Shake Shack — as soon as patrons figure out that his restaurant is not Pollo Taco, and that Costa Rican food is quite different from omnipresent Mexican cuisine.
"My duty is to bring the beauty of who we are to this country," he said.
---
Gallo Pinto