What to Eat This Week. Healthy Meal Plan for April 17, 2023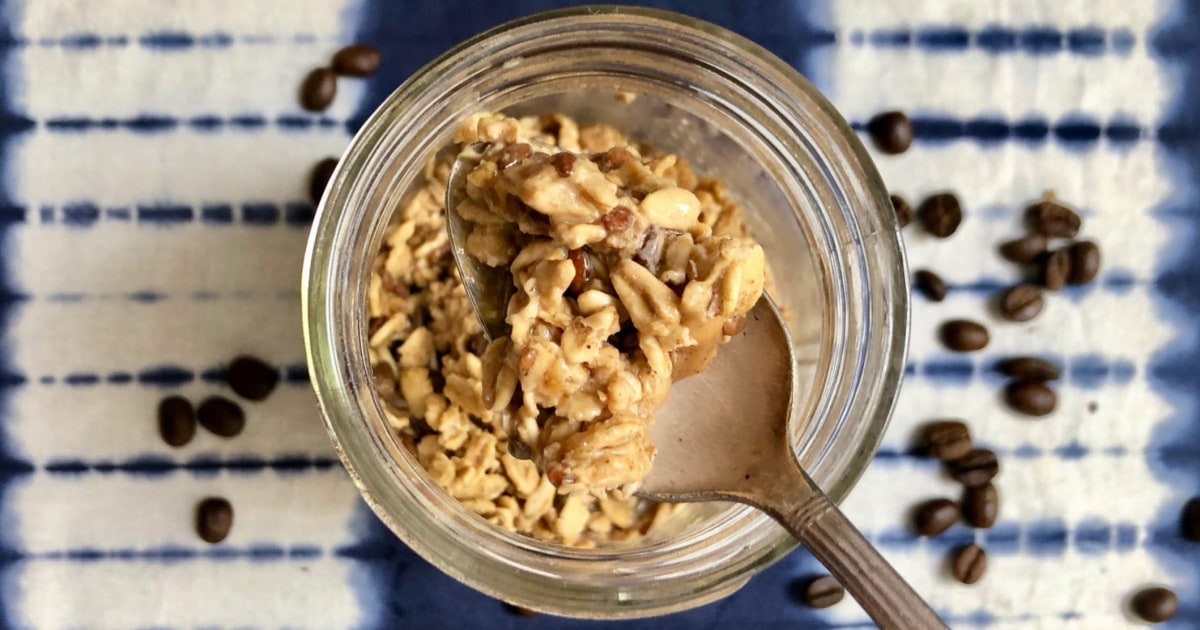 Welcome to Start TODAY. Sign up for our free Start TODAY newsletter to receive daily inspiration sent to your inbox.
You asked, we answered! Hundreds of Start TODAY members told us they wanted more healthy, balanced meal ideas to help them reach their health goals. This dietitian-designed meal plan will help you learn the building blocks of healthy eating gives and gives you the flexibility to ease into spring and summer.
Planning meals is one of the easiest ways to eat healthier, reduce decision fatigue — no more pondering what's for dinner at 3 PM — and save money by skipping prepared and takeout meals.
This week's assortment keeps you on track with easy-to-assemble breakfasts and lunches and low-lift dinners. To plan for the week ahead, review the recipes and make a list of any ingredients you need. Consider whether you'll be cooking dinner every night or if you'll double — or triple — a recipe to eat as leftovers later in the week. Then head to the store.
With your kitchen stocked and the menu planned, the next step is making your meals. That's where the real fun comes: Enjoying a range of healthful fare from cold brew oats to creamy pasta to honey mustard-glazed salmon.
What to Eat This Week, April 17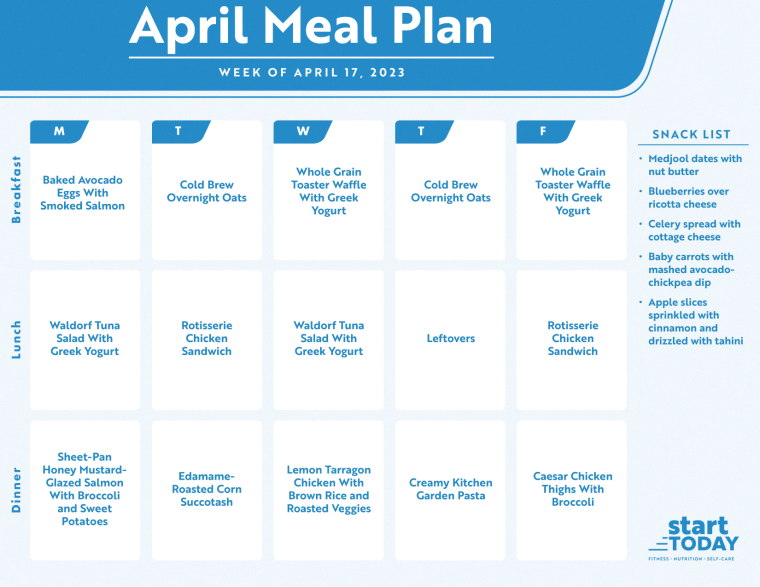 >>Download this week's meal plan
Monday
Tuesday
Wednesday
Thursday
Friday
>>Get this month's workout plan: 30-day walking and resistance band routine
Breakfast
Eating breakfast is associated with better energy and concentration, so get your day off to the right start with these easy-to-make breakfast options.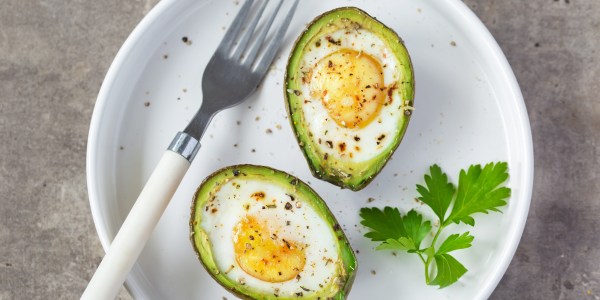 Shutterstock
Avocado and eggs go together like peanut butter and chocolate, don't you think? While the avocado cups are broiling, spread a piece of whole-grain toast with Greek yogurt and top with smoked salmon and tomato. This will bolster the protein, fiber-rich carbs, and veggies in your meal.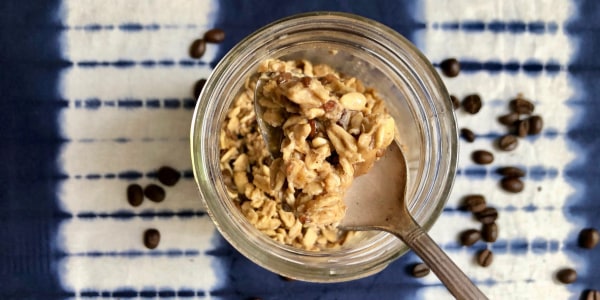 Courtesy Frances Largeman-Roth
Cold brew is the clever liquid base in these wholesome overnight oats. While oats are a fiber-rich satisfying breakfast, most people benefit from getting at least 20 grams of protein in the morning. To help hit this goal, pair your oats with a side of plain or low-sugar yogurt.
Whole Grain Toaster Waffle
Spread waffle with Greek yogurt (plain or low sugar) and top with berries.
Get more weekly meal plans
Lunch
This week's lunches are multi-taskers — both could be transformed into a salad or sandwich. We've recommended one of each. Though leftovers are eater's choice, we think the Edamame-Roasted Corn Succotash would be a perfect packed lunch.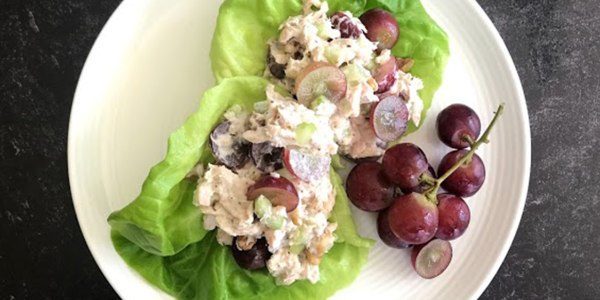 Carrie Parente
Swapping traditional mayo for Greek yogurt doesn't just save calories, it also boosts nutrition, providing some calcium and gut-nourishing live and active cultures. We suggest serving this dish over salad greens with whole grain crackers on the side, but you could also stuff it into a whole grain pita and have veggies on the side.
Rotisserie Chicken Sandwich
Spread whole grain bread with mayo and grainy mustard and stack with rotisserie chicken, lettuce and tomato. Serve with baby carrots on the side. For a vegetarian option, use mashed chickpeas.
Dinner
This week's dinner lineup includes numerous timesaving tactics, such as bottled salad dressing, frozen edamame, and a one-pan dinner. If something catches your eye, make enough for leftovers, the ultimate timesaver.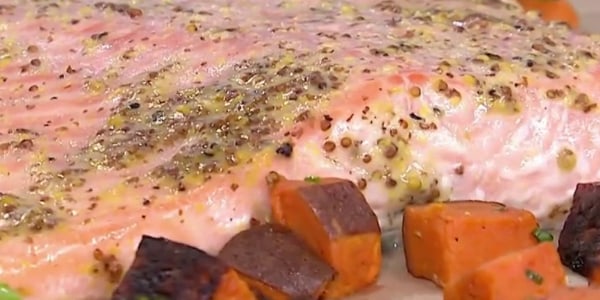 TODAY
A balanced sheet-pan dinner means you don't have to have multiple dishes cooking at once, and clean up is a breeze.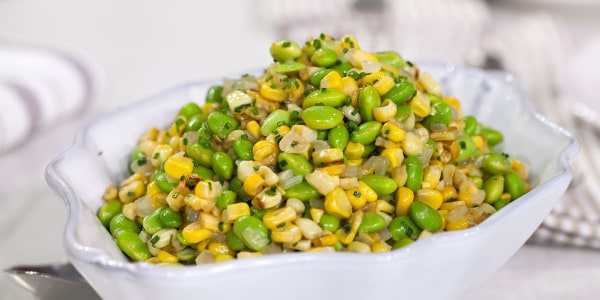 Nathan R. Congleton / TODAY
Since edamame is a plant protein, you can easily serve this dish as a meatless main course. However, if you want another easy protein source, have it with store-bought rotisserie chicken.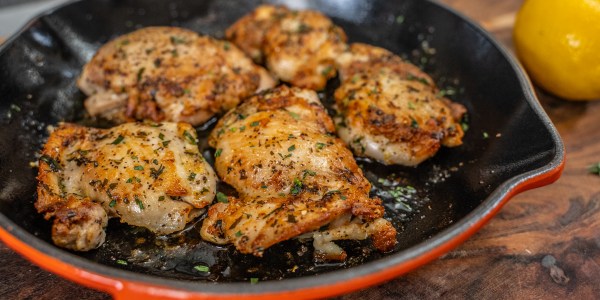 FitMenCook(TM)
This is a dish that's hard to mess up. The combo of lemon juice, olive oil and fresh tarragon elevates ordinary boneless chicken thighs in under 20 minutes. Serve over brown rice (from frozen, if desired) and roasted vegetables.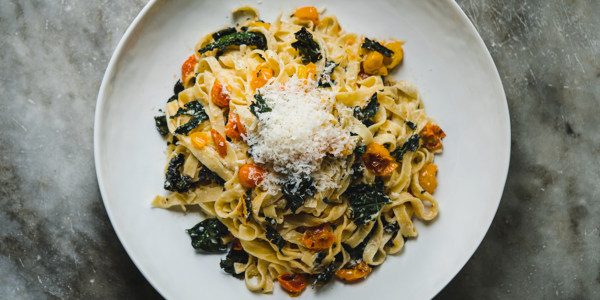 Raymond Prado
Pasta is an easy and affordable meal, and this version is the perfect mix of creamy and nourishing. What could be better?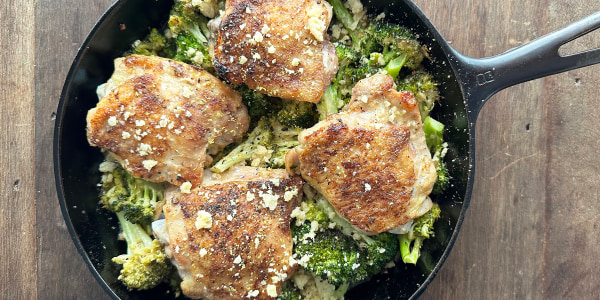 Nina Elder
A lettuce-less Caesar? You bet! Store-bought Caesar dressing is an easy way to dress up your next chicken dinner. Since this Caesar has no croutons, serve with a slice of sourdough bread to sop up leftover dressing.
Snacks
Snacks that contain whole food sources of protein and fiber offer a winning formula that keeps you full for hours. Here are a few ideas:
● Medjool dates with nut or nutless butter
● Blueberries over ricotta cheese
● Celery spread with cottage cheese
● Baby carrots dipped in protein-boosted mashed avocado. To make the dip, mash chickpeas or white beans into avocado.
● Apple slices sprinkled with cinnamon and drizzled with tahini
Related: