37 Healthy Super Bowl Recipes That Feel Like Winning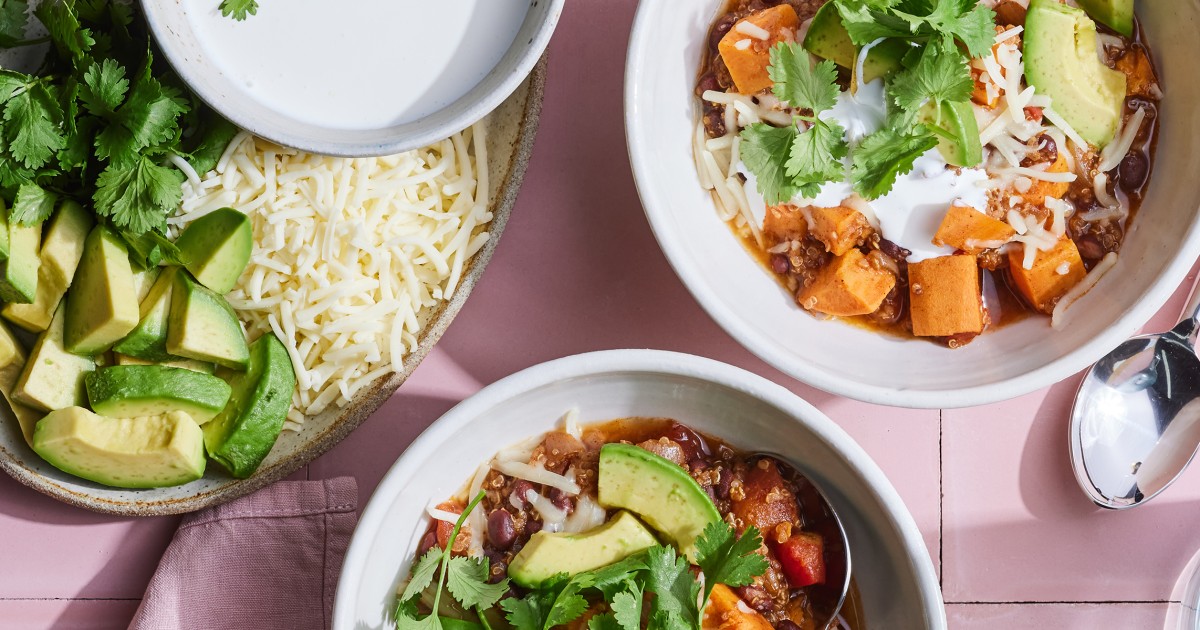 There are a few basic ground rules for any Super Bowl Sunday party: There must be a big enough screen to watch the game so everyone can see it; there must be enough comfortable seating (and some standing room) for everyone to relax, cheer and jump around when the game gets exciting; and, perhaps most importantly, there must be great food.
Any football fan knows the type of food that goes well with a game: snackable chips and dips, irresistible appetizers and tasty, hearty meals to ensure everyone is filled with energy (and team spirit!). It's easy to grab store-bought munchies, but it's hard to argue that the best Super Bowl recipes are homemade. For those looking for tasty, nourishing dishes for the big game, look no further.
We've gathered up some of our favorite healthy — well, healthy-ish — Super Bowl recipes to make sure there's a variety of snacking options for every kind of guest. Skip the pre-made foods in favor of fresh ingredients — and it'll make a world of difference. So, for the folks who want to ensure they're serving up food that's as wholesome as it delicious, these recipes are ideal. Instead of frozen Tater Tots, opt for homemade tots made with nutrient-rich sweet potatoes. Craving crispy poppers? Make 'em by baking cauliflower instead of deep-frying chicken. Boost the nutrition of your dips by packing them with vegetables and achieve that creamy consistency with Greek yogurt. Liven up your spread with plenty of legumes.
Your game-day guests will thank you for making them feel good for the entire game — regardless of the outcome.
Starters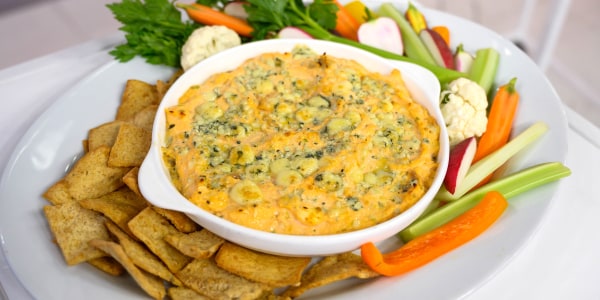 Nathan Congleton / TODAY
This decadent dish tastes like a big bowl of Buffalo wings dipped in blue cheese. It's got cauliflower and Greek yogurt to bump up the nutrition and volume, making it the a super satisfying game-day snack. Grab your carrot and celery sticks, and get dipping!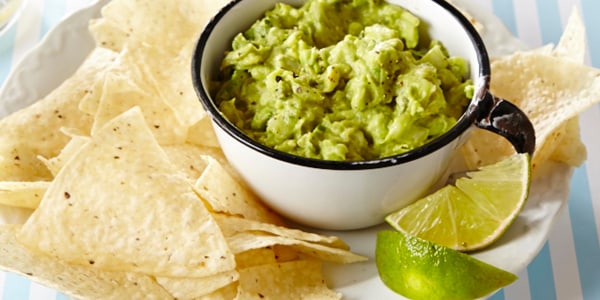 Maya Visnyei
The avocados in this creamy green dip are already good for your heart, but you can bump it up a notch with the addition of edamame. The soybeans add folic acid, as well as fiber to this tangy favorite.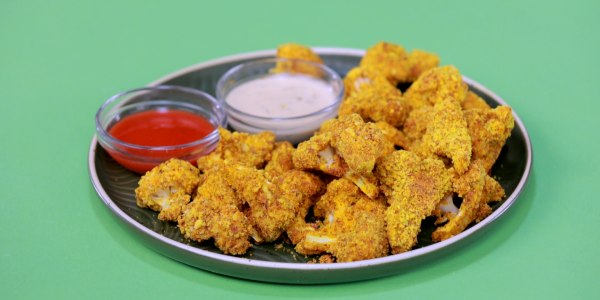 TODAY
Whip up a quick batch of these crispy poppers made with cauliflower for a hearty starter that's packed with flavor a fibrous veggie. Dredged in egg, breaded in gluten-free almond meal and tossed in warm, flavorful spices, these bite-sized florets are irresistible when they come sizzling out of the oven.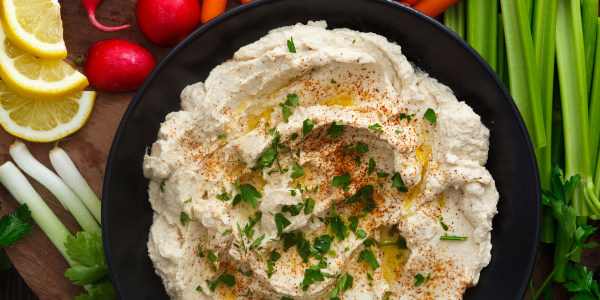 Linda Hughes / Getty Images
Hummus is a great make-ahead snack that's wonderful when serving a crowd. It's easy to make from scratch and the result is a creamy, salty, slightly tangy dip that's perfect with a platter of colorful veggies and/or pita.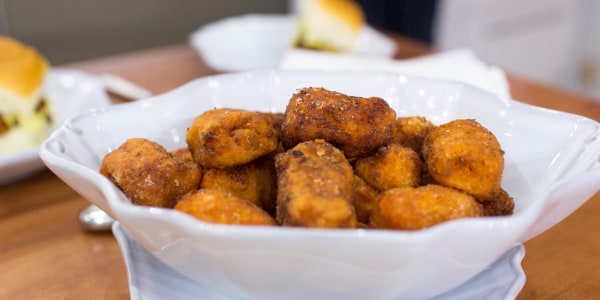 Samantha Okazaki / TODAY
Skip the frozen Tater Tots and make your own using nutrient-rich sweet potatoes — you won't regret it.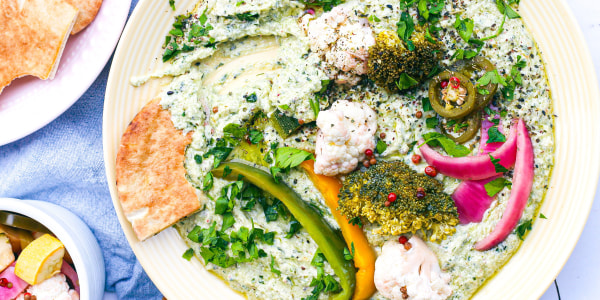 Will Coleman
This veggie-packed dish is light and fresh — in contract to your usual Super Bowl fare — and will leave everyone wanting seconds.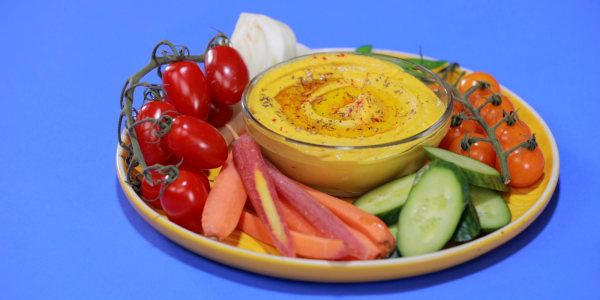 TODAY
The best part about this vibrantly hued hummus is that you can throw everything into a blender and watch the magic happen, with only the push of a button. What's better than that when you're serving a hungry crowd?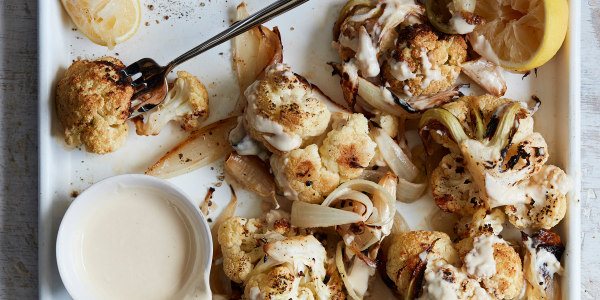 Courtesy Matt Armendariz
Roasting is Gaby Dalkin's favorite way to make vegetables! Here are a few simple things to keep in mind when you're roasting cauliflower so they're as cripsy as possible: You need ample room on the baking sheet, don't skimp on olive oil and roast until everything is caramelized on the edges.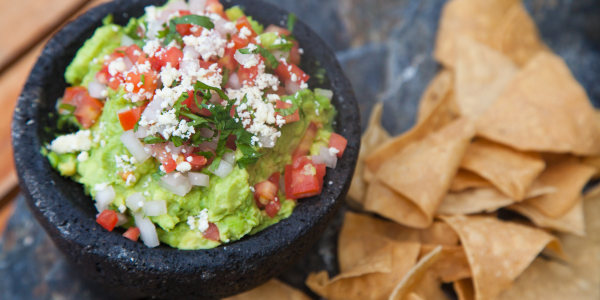 Daniel Alvarez / St. Regis Punta Mita, Mexico
It's not a party without guacamole. Serve as a snack with store-bought or homemade tortilla chips, or scoop it over a big pile of nachos.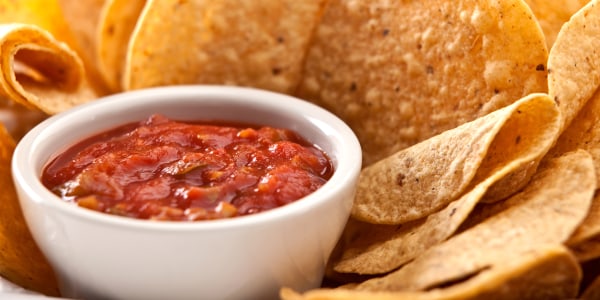 Featurepics
If you have good tomatoes, nothing could be simpler or better than a fresh salsa to dollop onto tacos, serve with grilled meat and fish, or just scoop up with chips.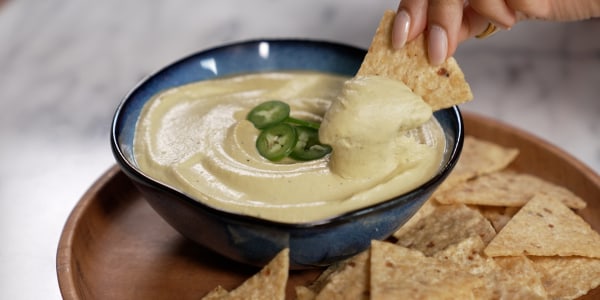 Tiara Chiaramonte / TODAY All Day
This vegan take on queso is totally creamy, spicy and savory. Soaked cashews give this dip its velvety consistency while a roasted jalapeño gives it a smoky kick.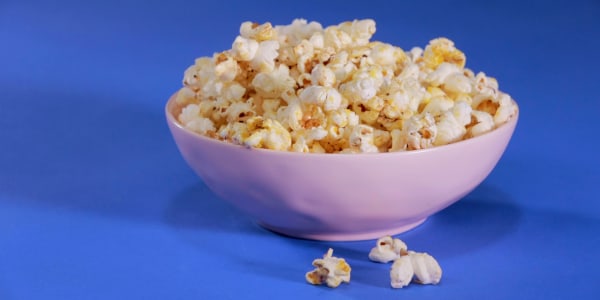 TODAY All Day / TODAY All Day
This garam masala-infused olive oil will bring earthy, savory flavors to any plain popcorn. Drizzle it on top of those freshly popped kernels with a sprinkle of nutritional yeast and you've got an incredible vegan snack for the big game.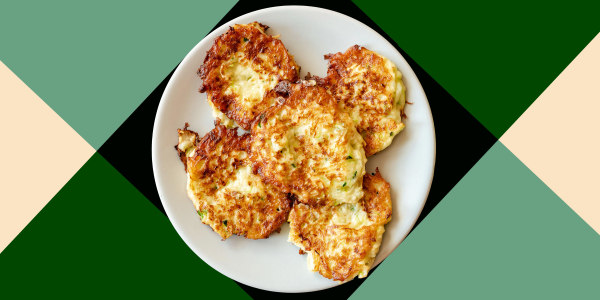 TODAY Illustration / Alamy Stock Photo
These zucchini fritters are nothing fancy but they're the perfect finger-food snack. They're super easy with few ingredients and the perfect way to use up that extra zucchini you have lying around. Serve 'em with warm marinara sauce and they'll go fast.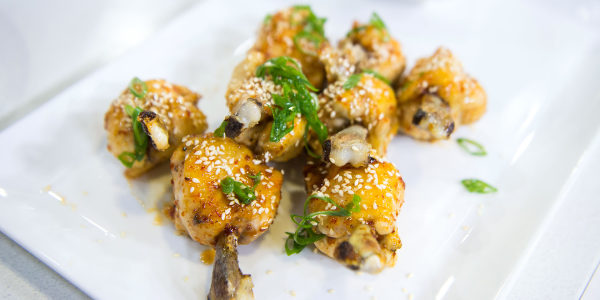 Nathan Congleton / TODAY
Gordon Ramsay's cool yogurt dipping sauce helps temper the heat of his hot and spicy chicken wings — which are baked instead of fried.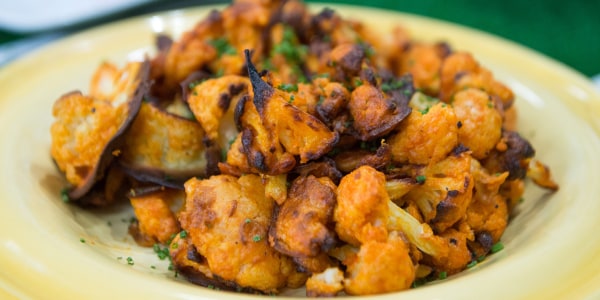 Nathan Congleton / TODAY
In this recipe, Katie Lee puts a healthier spin on Buffalo wings in two ways: swapping cauliflower for the usual chicken and baking the bites instead of frying them.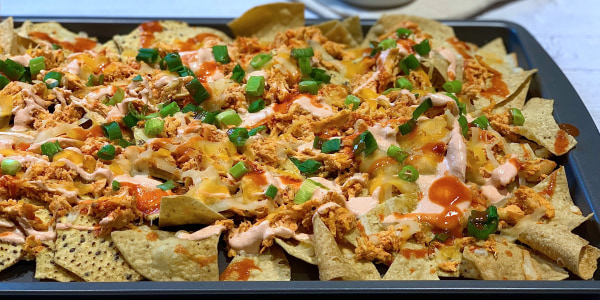 Joy Bauer
Protein-packed, fiery and addictive, these Buffalo nachos are a heat seeker's dream. All you need is a few simple ingredients and then you can cook and serve 'em on one sheet pan, which makes cleanup a breeze.
Main dishes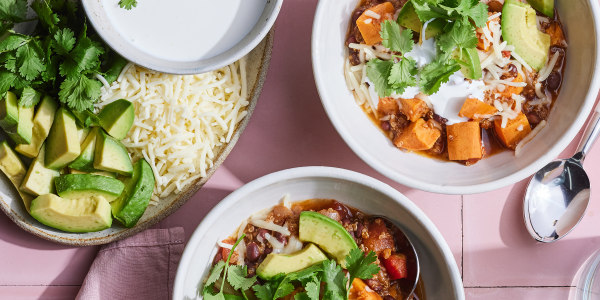 Courtesy Matt Armendariz
This is Gaby Dalkin's favorite vegetarian dinner, she says, because it's so easy, everyone loves it (including meat eaters), and it makes for excellent leftovers.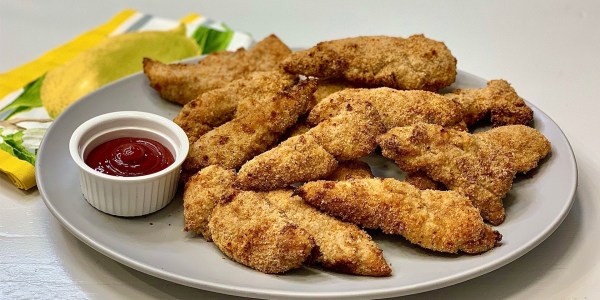 Joy Bauer
These chicken tenders will please any picky palate at the party. Coat 'em in a whole-grain crust (with a touch of cheese for extra flavor), then bake them so they turn golden brown and get ultra crispy without ever coming close to a fryer.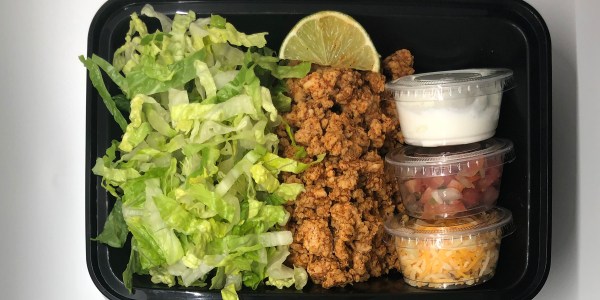 This salad is so perfect and hearty, you won't miss the taco shells. Just combine the crumbled ground turkey, pico de gallo, Greek yogurt (instead of sour cream), cheese and a lime wedge!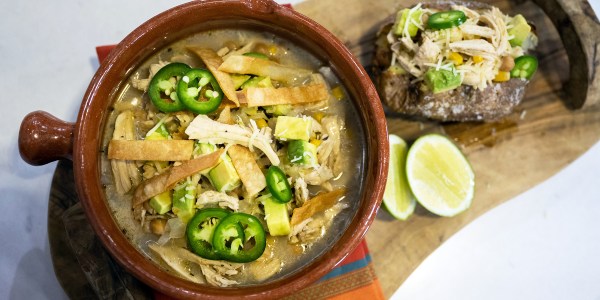 Nathan Congleton / TODAY
The best thing about this coconutty chicken chili is it feeds a group of people and is even better the next day. Add a baked potato to the side for serving, or save it for a round-two recipe.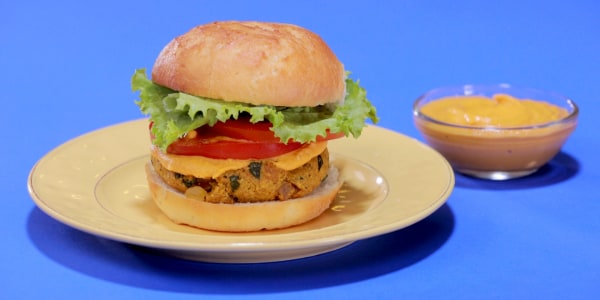 TODAY
Not only does this chickpea burger hold together beautifully, it's packed with plant-based protein and travels well. Slather on the special sauce and enjoy it happily while watching the big game.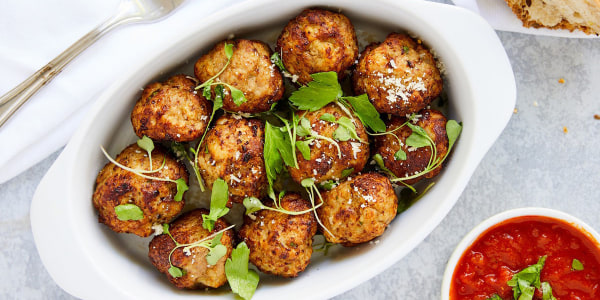 Courtesy Donatella Arpaia
In this recipe, Donatella Arpaia takes a traditional, beloved dish and made it heart-healthy without sacrificing flavor. Swap out red fatty meat for lean turkey, white bread for whole-grain bread, and deep-frying for air-frying, achieving the same delicious results.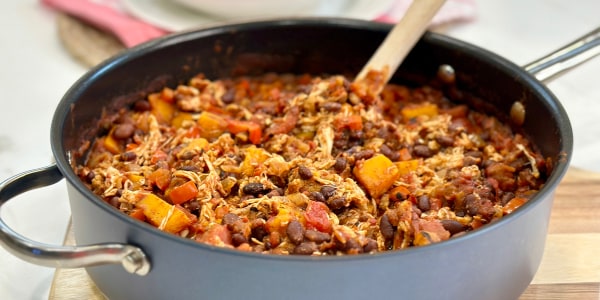 Courtesy Joy Bauer
For Joy Bauer, chili is the ultimate comfort food, and this hearty and warming bowl of goodness brings the magic. Plus, it's a one-pot wonder and serves a crowd (it yields about 14 cups), making it a perfect game-day meal, cozy family feast or scrumptious solo supper with tons of leftovers. You butternut not pass on this recipe — it's so good.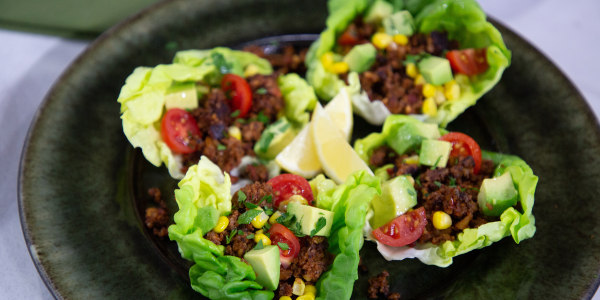 Nathan Congleton / TODAY
This "chorizo" crafted by Beyoncé's nutrition coach, Marco Borges, is created with umami-filled mushrooms. Stuff it into tacos, top fries with it, load it into a sandwich — the world is your oyster (mushroom)!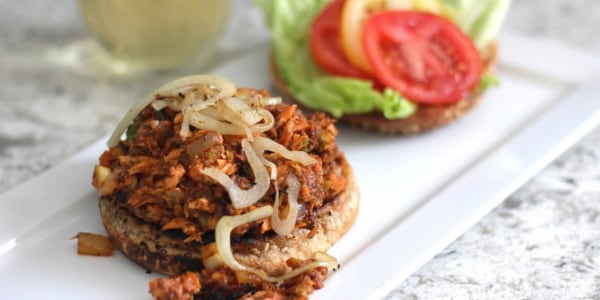 Courtesy Stephanie Harris-Uyidi
A savory salmon burger (made with canned fish!) is a crowd-pleaser that tastes like a gourmet dinner treat. It's hard to tell that it's a quick prep and takes hardly any effort at all to get onto the table.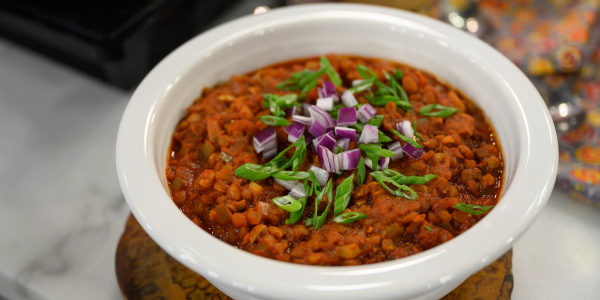 Nathan Congleton / TODAY
Hearty lentils and meaty mushroom take the place of animal protein in this rich chili. This healthy swap makes the dish so much better for you without leaving out any of the satisfying flavor or comforting texture from this cold-weather classic.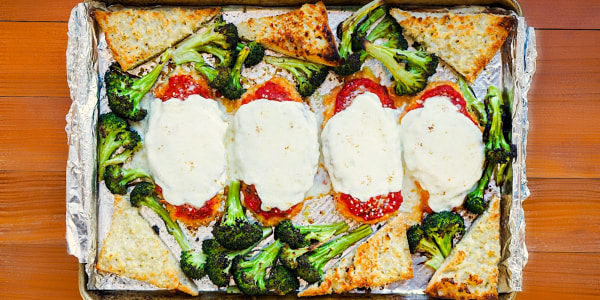 Elena Besser
People who love chicken Parm know that it, like lasagna, is a wonderfully satisfying recipe that requires a lot of work. The process of breading the chicken, frying in oil and finishing everything in the oven can be an exhausting feat. Not this recipe! Tender chicken smothered in sauce and mozzarella, a healthy veggie side dish and garlic bread: It just takes one sheet pan but has all the goodness for your game-day guests.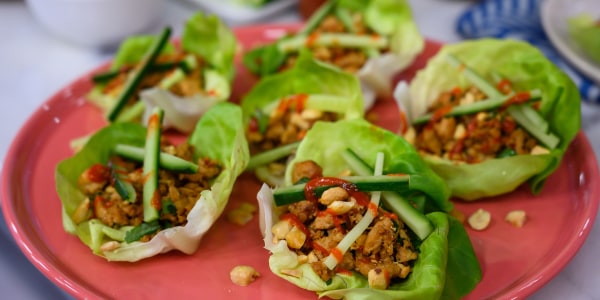 Nathan Congleton / TODAY
Eating with your hands is always more fun! These lettuce wraps are so easy to make but still have a fancy feel to them. They make a solid snack or even a main dish served alongside white or brown rice.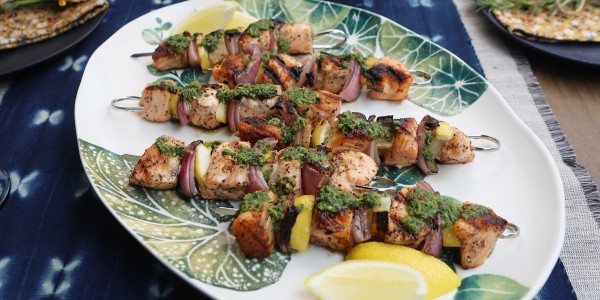 Food Network
This is a fast and easy meal that can be made all year round on an indoor grill pan. It's simple but super flavorful with the addition of the herb sauce. Sure to impress with not a whole lot of stress!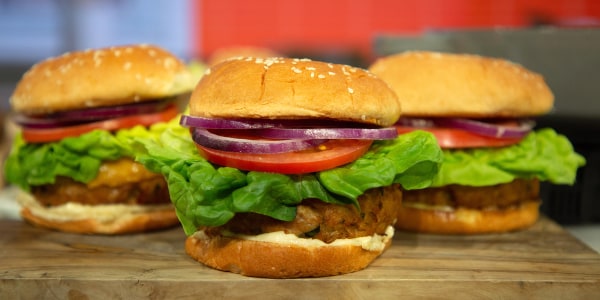 Nathan Congleton/TODAY
Transform your usual turkey burgers with just a few easy ingredients. Soy sauce, cilantro, water chestnuts — and a few other pantry staples — add a ton of flavor and terrific texture to these easy-to-make burgers.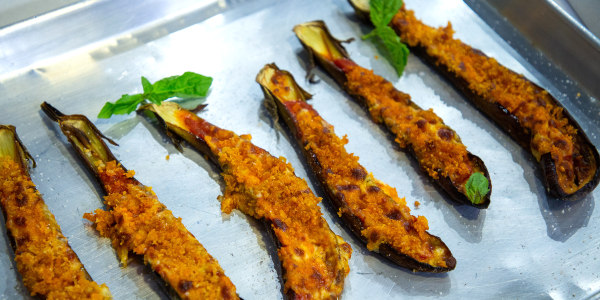 Nathan Congleton / TODAY
A healthier and simplified version of eggplant Parmesan is a perfect fit for a weeknight meal. Using Japanese eggplants shortens the prep time because you don't have to draw out the moisture with salt (like regular eggplants) for 20 to 30 minutes first.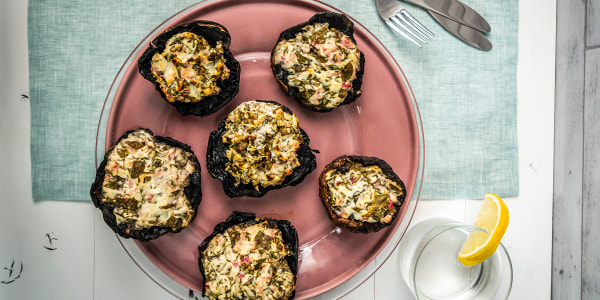 Noah Fecks
This recipe achieves that wonderful double bonus of being quick to make and quick to reheat. Portobellos are filling while also fulfilling any dietary restrictions; they cook quickly and add a meaty flavor (plus they hold up in the freezer like a dream). In 15 minutes, you'll have a wonderful dinner (or side dish) set to go.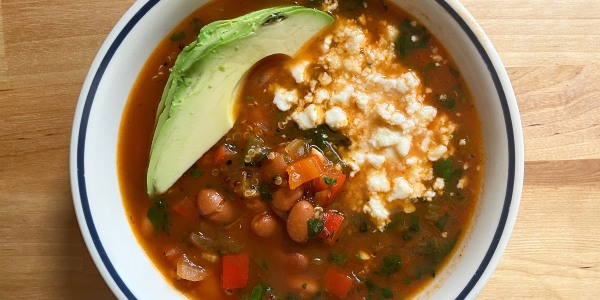 Romel Bruno
Loaded with beans, quinoa and veggies, this Mexican-inspired stew is guaranteed to make your mouth water — plus, it's vegan!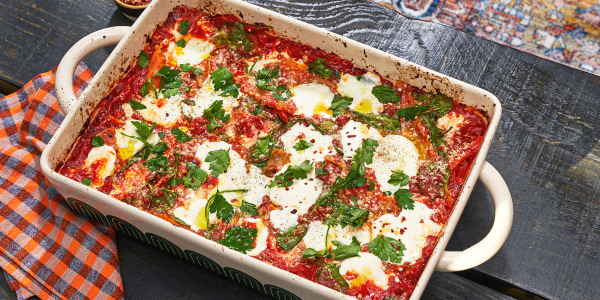 Courtesy Adam Friedlander
This recipe is low-maintenance, so you can put it in the oven and focus on the game (as long as you set a timer to remind yourself). There's something comforting about digging up the thick pieces of lasagna noodles smothered in garlicky red sauce — your guests won't be able to get enough.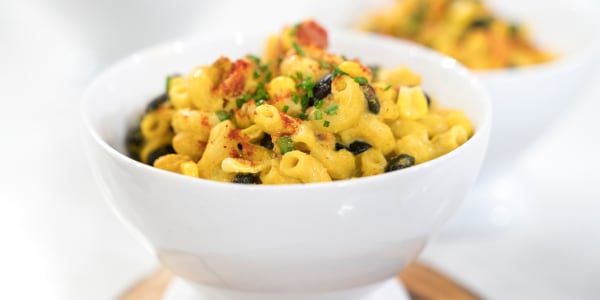 Mike Smith / TODAY
This vegan main is hearty with a capital H! It's kind of like a cross between tacos and mac and cheese — so definitely make it for your hungriest of friends and family members and dare them to say vegan food isn't filling.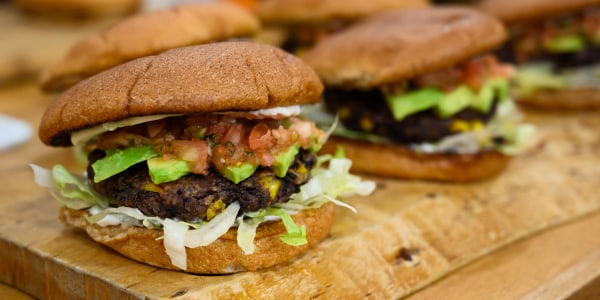 Nathan Congleton / TODAY
These black bean burgers are so hearty and satisfying you'll forget they're meat-free. Oatmeal helps bind the burger but also adds bulk to the patties.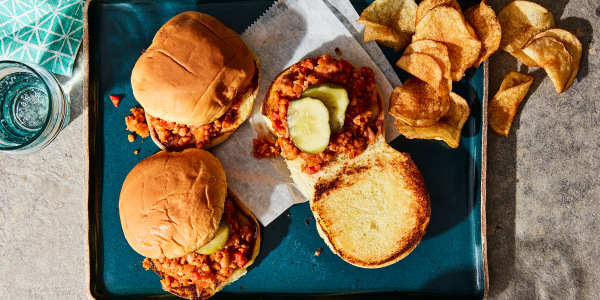 Mark Weinberg
This recipe is so flavorful and hearty despite lacking meat. It's a touchdown for hosts looking to serve a big spread of sandwiches, chips, dips and salads for a large group.