50 Best Chocolate Dessert Recipes and Ideas from TODAY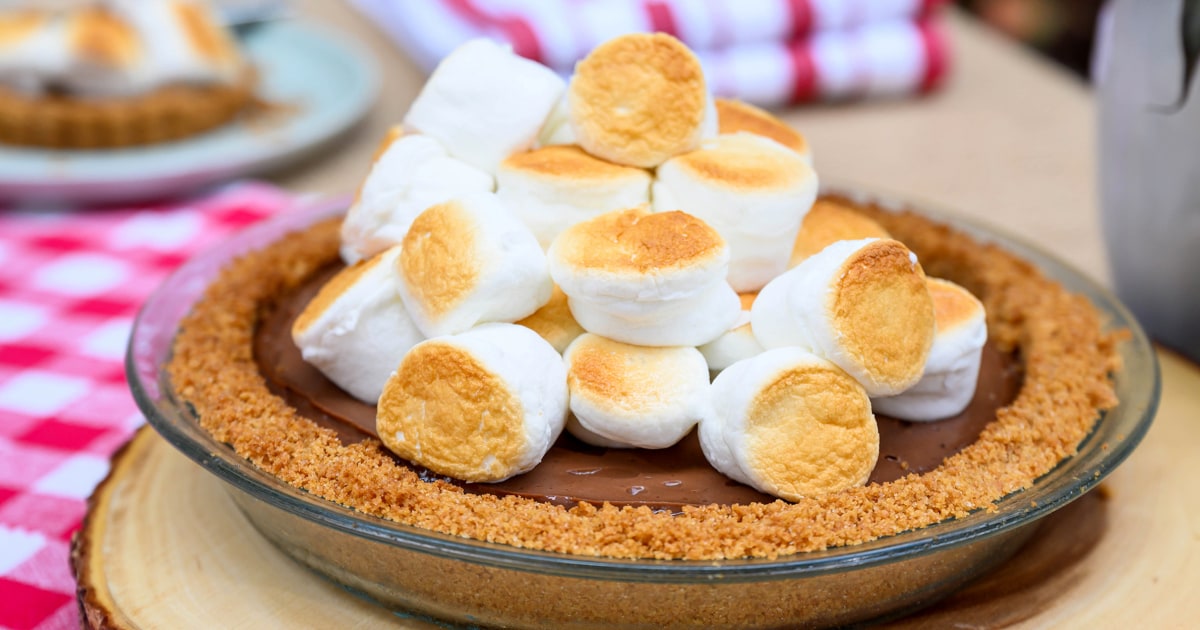 The best way to end a meal is with a dreamy dessert that satiates your craving for something sweet, which is why these chocolate dessert recipes will be such a big hit at your next get-together. From simple, no-bake treats that take only a few minutes to throw together to more involved, impressive cakes, cookies and brownies, these recipes make for the perfect after-dinner (or afternoon) snack.
On this list, you'll find some super-sweet recipes you can make when you're feeling extra indulgent. If you're usually team savory rather than team sweet, we've got you covered with low-key desserts that highlight flavors such as tahini or creamy peanut butter, keeping things only slightly sweet. There are even some healthy-ish dessert recipes that still manage to let the rich chocolate flavor shine—and they taste even better when you sprinkle some flaky salt on top.
Whether you're an avid baker or you're more of the set-it-and-forget-it type, you're bound to find a chocolate dessert recipe that you'll want to make over and over again.
Pies and Tarts
Let's be real: Not all of us want to spend hours preparing and baking a dessert. If you're on the hunt for a simple dessert that you can prep in 30 minutes or less, look no further than this no-bake chocolate and raspberry tart, complete with a crispy cookie base, a rich mousse filling and plump raspberries that tie it all together.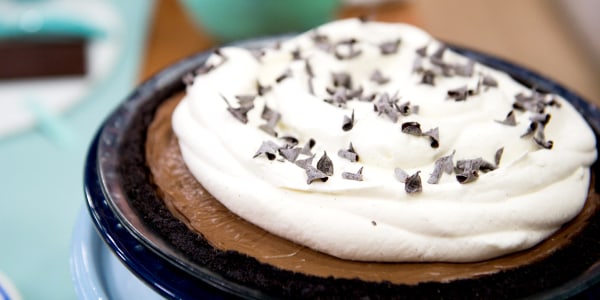 Nathan Congleton / TODAY
There's nothing like a late-night diner run to obtain the perfect slice of chocolate pie — unless, of course, you can make it at home. That's just what this easy chocolate pie recipe offers. The secret ingredient is powdered malt Ovaltine, which results in a rich, indulgent flavor.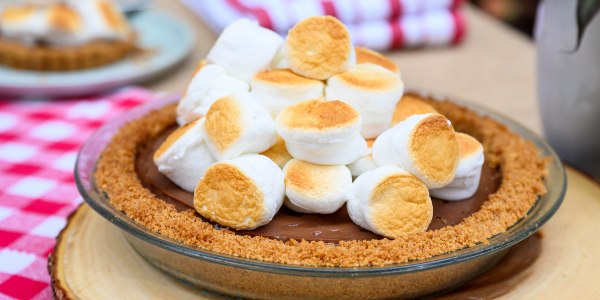 Nathan Congleton / TODAY
S'mores are the campfire dessert of choice (this is not up for debate). However, if you're not gathered around a crackling fire, this s'mores chocolate cream pie is the next best thing. A mountain of bouncy, slightly burnt marshmallows tops the chocolatey pudding filling, which rests on a bed of crushed graham crackers.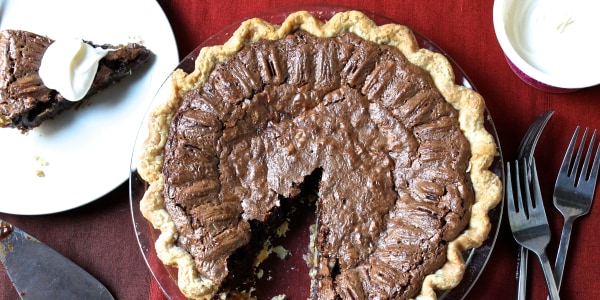 Grace Parisi / TODAY
Pecan pie is a classic dessert for Thanksgiving, but it's even better when you add chocolate into the mix. This sophisticated recipe is surprisingly simple to make. Just don't forget the crème fraîche topping, which adds a creaminess that is a delicious contrast against the crunchy, nutty filling.
Cakes and cupcakes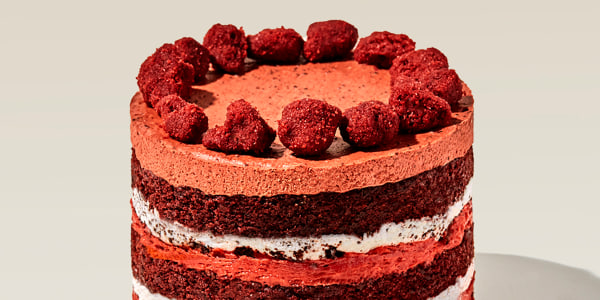 Courtesy Milk Bar
Christina Tosi has made a name for herself with her gorgeous, decadent cakes at her iconic Milk Bar chain, and now, you can make one of her mouthwatering creations at home with this red velvet layer cake recipe. Cream cheese frosting is smeared between layers of richly colored red velvet cake, creating a finished product that's almost as pretty as it is delicious.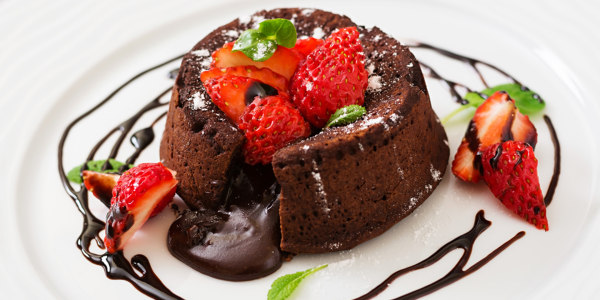 Shutterstock
This molten brigadeiro cake is inspired by the popular truffle candy from Brazil, but in this recipe, it takes the form of a rich chocolate cake with a lava-like chocolate filling. It's rich, it's indulgent and it's not nearly as difficult to make as it may look. Finish it off with a scoop of vanilla ice cream for an even more exciting treat.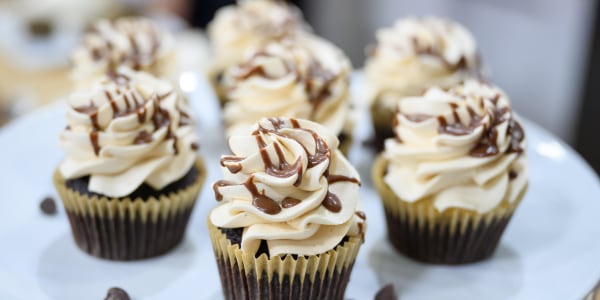 Nathan Congleton / TODAY
Moist, decadent chocolate cupcakes can only be improved with a buttercream frosting. Add caramel into the mix and it's transformed into an intensely sweet — albeit balanced — dessert that you'll want to serve at every event.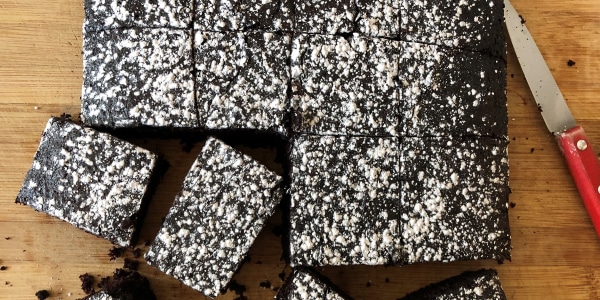 Mayonnaise belongs on sandwiches, in tuna salad and… in chocolate cake? While you can't actually taste the mayo in this chocolate cake, it adds a richness that's hard to achieve with eggs and oil alone.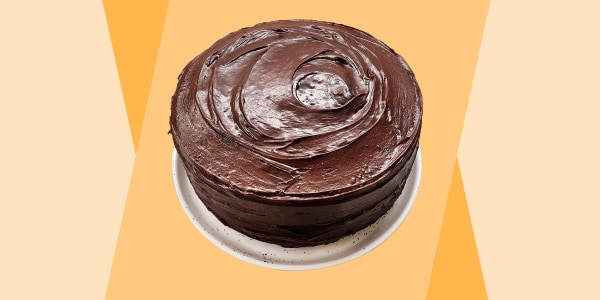 TODAY Illustration / Erica Chayes Wida
Peanut butter and chocolate go together like, well, peanut butter and jelly. Make sure you use smooth peanut butter for this recipe, as it more evenly mixes in with the thick chocolate frosting than the chunky variety. Together, they create an unforgettable dessert experience.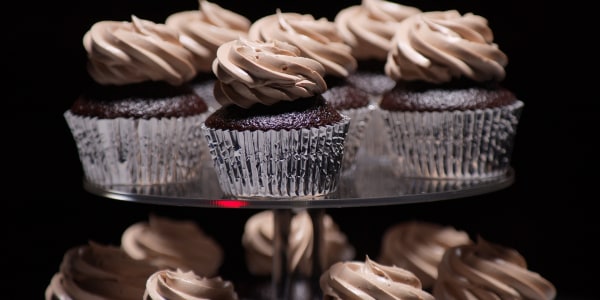 TODAY
If chocolate-hazelnut spreads are your love language, then this recipe for chocolate cupcakes with a luscious and nutty buttercream is what you've been looking for your entire life.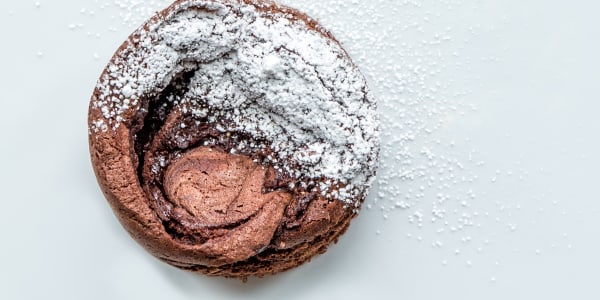 JoAnn Swenson / Floriole Bakery, Chicago
This dark chocolate-packed soufflé cake is so heavy, dense and chocolatey that the center of it sinks, creating an interesting texture in this deeply satisfying dessert that your guests won't soon forget.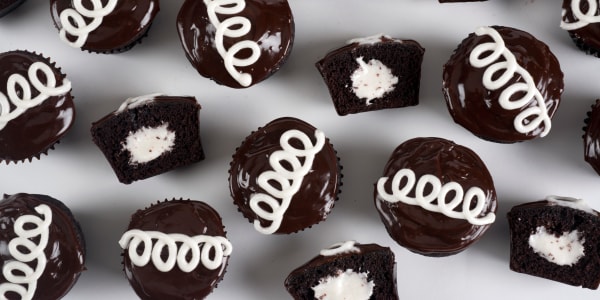 By Chloe
If Hostess cupcakes were a childhood favorite in your household, then you need to get your hands on this even more delicious homemade version. From the sweet créme frosting to the decadent chocolate cake, no one would ever guess that this recipe is completely vegan.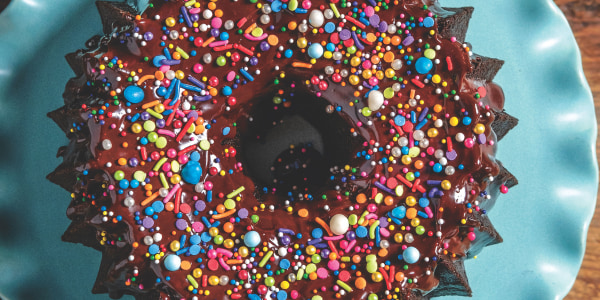 Ed Anderson
Admit it: baking from scratch can be a pain. If you want to make things a bit easier for yourself, this chocolate cake recipe from Ree Drummond (aka The Pioneer Woman) utilizes boxed cake mix so you can get your dessert into the oven in a matter of minutes. Colorful rainbow sprinkles add visual appeal and a bit of texture to boot.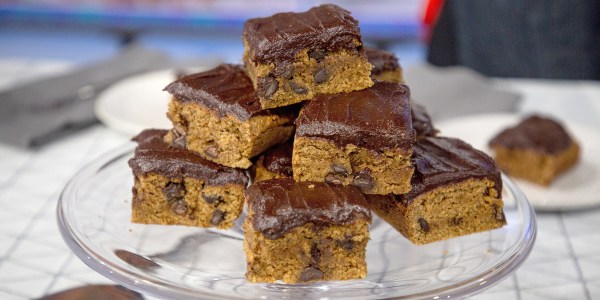 Nathan Congleton / TODAY
Move over, peanut butter. This chocolate chip cake recipe balances sweetness with the salty nuttiness of tahini. Top it off with a vegan chocolate frosting, and you have a healthy-ish dessert that's sure to be a hit… if you want to share it, that is.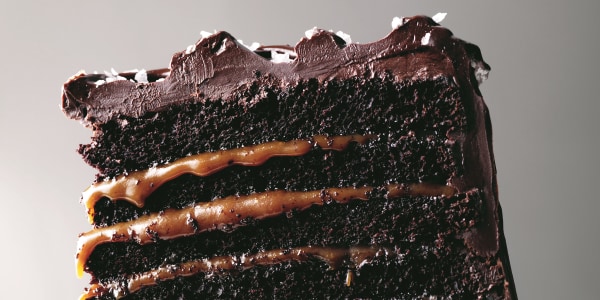 Courtesy Clarkson Potter
This chocolate cake by Martha Stewart is undeniably sweet, which is why the salted caramel is such a perfect pairing. The sugar and salt balance each other out, leaving you with an unbelievably rich, unbelievably moist chocolate cake that always hits the spot. Don't forget to top it with another sprinkle of flaky salt.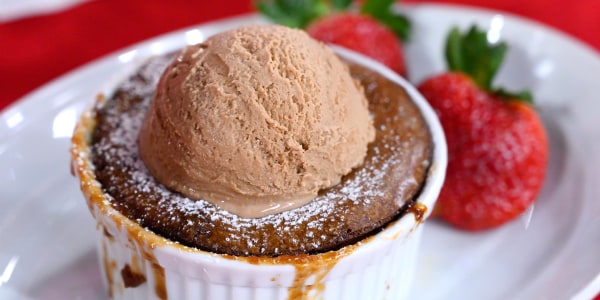 Nathan Congleton/TODAY
There are few desserts more special than lava cake, so it's no surprise that this recipe, which also calls for salted caramel, is luscious, warm and downright awe-inducing. Topping it with a scoop of chocolate ice cream creates a tasty temperature contrast that helps highlight those bold flavors.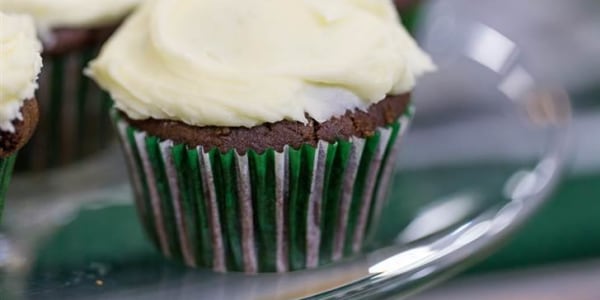 Samantha Okazaki / TODAY
If you need an excuse to open a bottle of beer while you're baking, let this recipe for chocolate Irish stout cupcakes be it. Not only does the addition of beer help to create a light, fluffy texture, but it also adds a depth and complexity to the flavor profile of this dessert.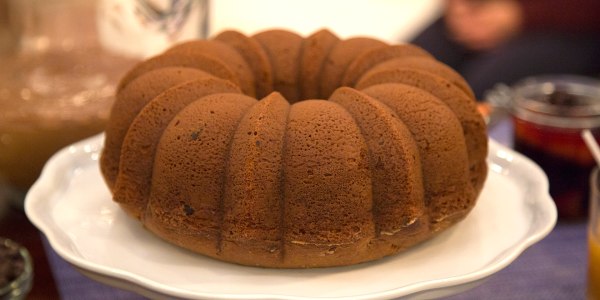 Zach Pagano / TODAY
Baking a bundt cake doesn't have to be difficult. By using instant pudding and a box cake mix — plus some chocolate chips and sour cream — you can have this comforting cake ready in about an hour.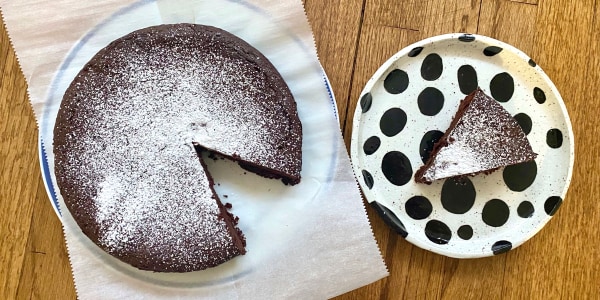 Caroline Choe
Flourless cakes are ubiquitous for a reason: Not only are they incredibly simple to make, but they tend to have a richness and silkiness you just can't achieve with recipes that call for flour. Adding some powdered sugar on top of this beautiful cake is a pretty — and effortless — touch.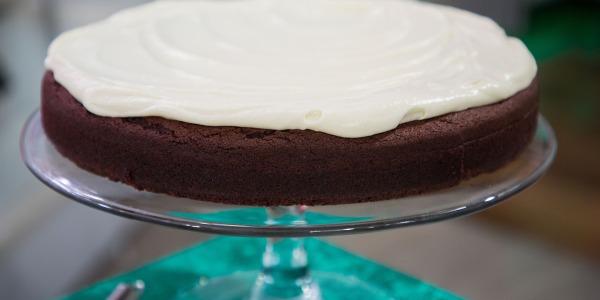 Nathan Congelton / TODAY
When it comes to our chocolate dessert ideas, this is the best of the best. Guinness is the not-so-secret ingredient in this chocolate cake recipe, and it gives the cake a super light, almost bouncy texture that's hard not to love. The cream cheese icing is understated but ultra-creamy.
Cookies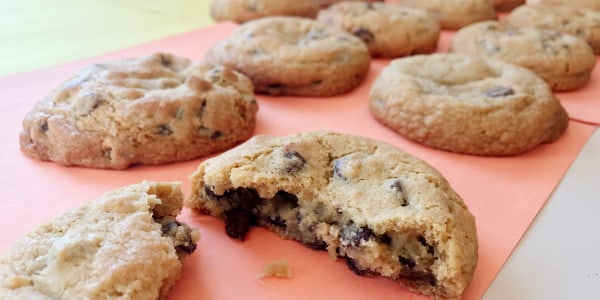 TODAY
You might have experimented with a lot of chocolate chip cookie recipes in your life, but this one is an absolute must-try. The trick to these crunchy-on-the-outside, gooey-on-the-inside chocolate chip cookies? Freezing scoops of dough before putting them in the oven to bake.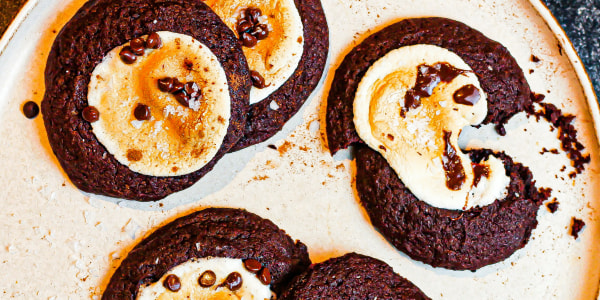 Will Coleman
Melted marshmallows are at their best when they're served on top of gooey, fudgy cookies. A sprinkling of chocolate chips adds even more chocolate to the equation, leaving you with an undeniably luxurious dessert experience.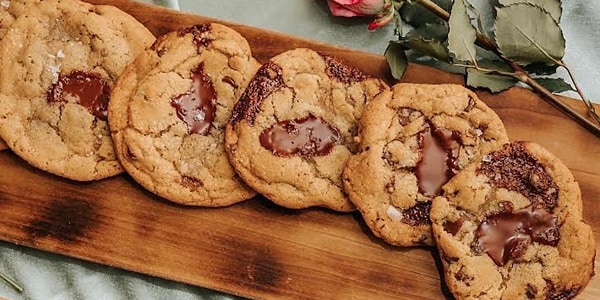 Twins That Cook
Forget your average chocolate chip cookie recipe and upgrade to this version that utilizes rich brown butter for a spin on the classic treat. Using dark chocolate chunks offers a touch more sophistication than your typical semi-sweet chocolate chips and a sprinkle of flaky salt tops it all off beautifully.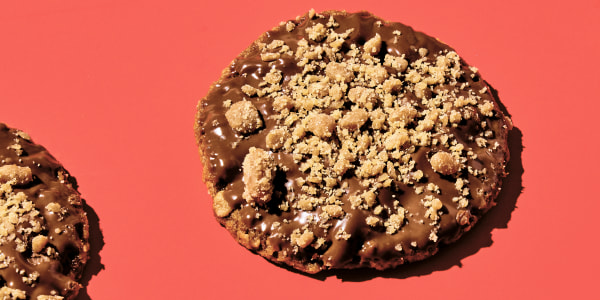 Henry Hargreaves
Hobnobs are a delicacy in England, but this Hobnob-inspired cookie recipe takes them to new heights. Oats create the base of the cookies, which are then covered in chocolate and bits of toffee for an intensely flavorful dessert.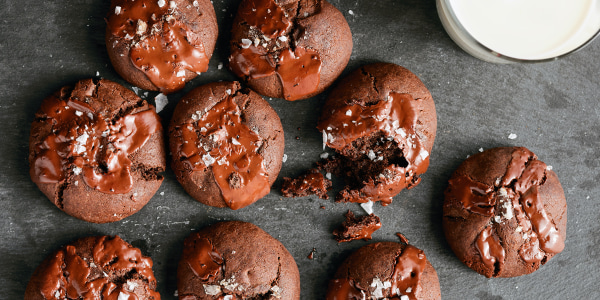 Chris Andre
This chocolate cookie recipe is the answer for anyone with dietary restrictions. It's both vegan and gluten-free, so almost everyone around the table will be able to enjoy it. Nobody's going to feel left out after eating one of these.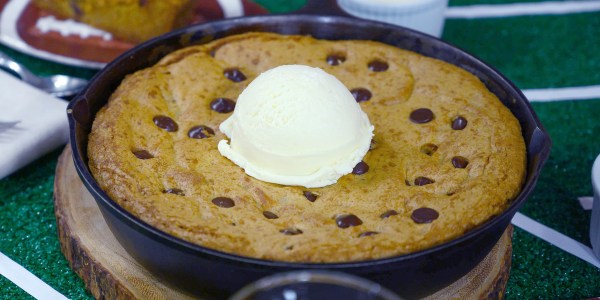 TODAY
You don't even need a mixer to make this giant skillet chocolate chip cookie that's big enough to share with friends and family. With a scoop of vanilla ice cream on top, it's guaranteed to be a crowd-pleaser.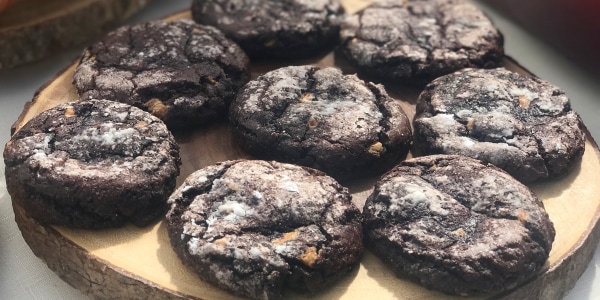 TODAY
If you're serious about your love of chocolate, you need to try these triple chocolate chip cookies ASAP. Chocolate cookie dough, milk chocolate chips and white chocolate chips all come together to create the most intensely chocolatey cookie you've ever tasted. A dusting of powdered sugar on top provides an extra touch of sweetness.
Brownies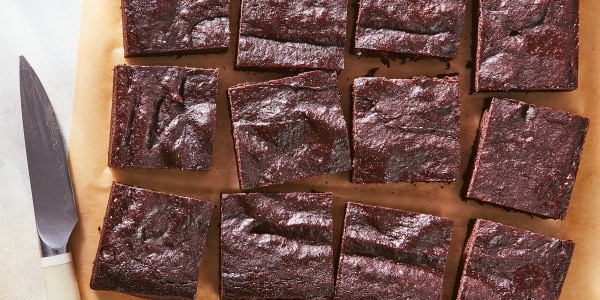 Julia Gartland
You may think of avocado as a savory food, but its mild flavor and creamy texture means it's also perfect for adding to chocolate-based desserts, like these luscious brownies. You don't need to add any butter or oil to give these silky brownies a rich, fudgy bite.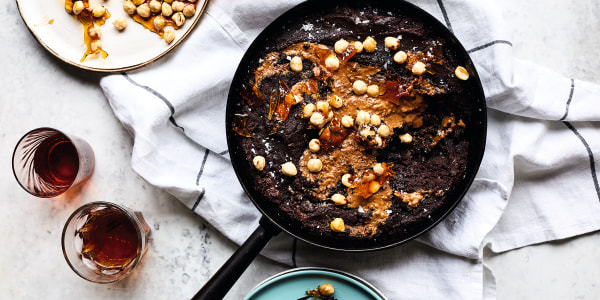 Lizzie Mayson
If you love chocolate but have always felt like brownies were just too one-note for your taste, try this recipe for skillet Biscoff brownies. You'll never guess what the secret ingredient is: steamed potatoes, which help to ensure that every bite is a moist one. It's the candied hazelnuts that play the real starring role in this recipe, though.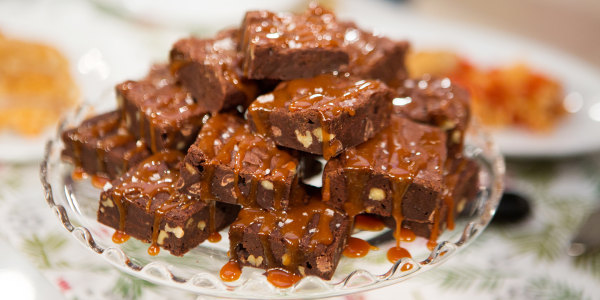 Nathan Congleton / TODAY
Classic chocolate brownies are delicious enough on their own, but they're truly at their best with a drizzle of salted caramel on top. The chopped walnuts in these brownies offer an interesting textural element to the recipe, but feel free to leave them out if you don't like nuts.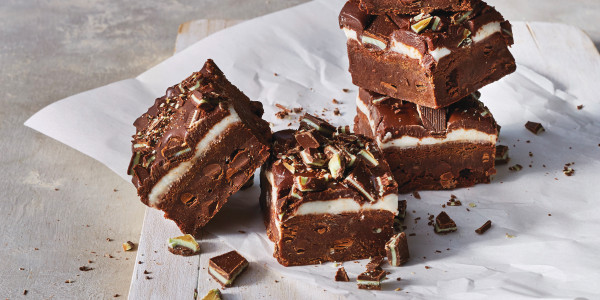 Caitlin Bensel, "Siriously Delicious," TI Inc Books. / Caitlin Bensel
Dark chocolate and mint are a match made in heaven, which is why we paired them together in this festive brownie recipe. The chocolate glaze is made with Andes candy and heavy cream, providing just the right amount of texture. It's perfect for Christmas, but you can make these brownies at any time of the year.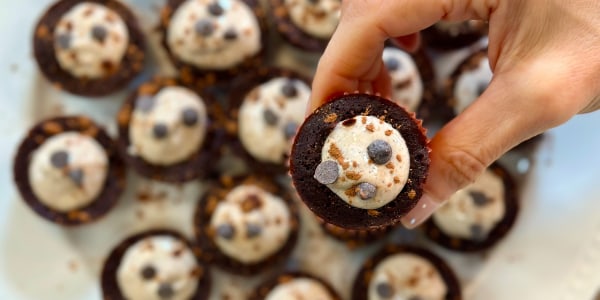 Joy Bauer
When you can't choose whether to make cheesecake or brownies, these cheesecake brownie bites are your solution. These two-bite wonders are perfect for party platters (even though you'll want to keep them all for yourself).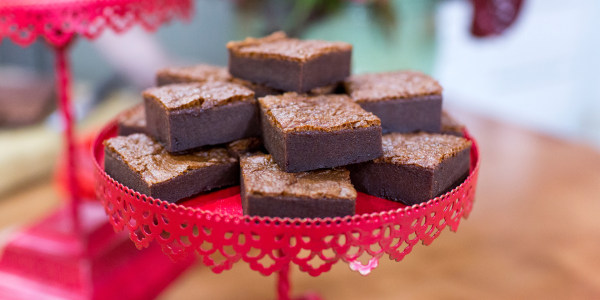 Samantha Okazaki / TODAY
Ditch your plain chocolate brownies and indulge in this Nutella-infused brownie recipe instead. With just four ingredients, you can throw these brownies together at a moment's notice whenever you get a craving for something sweet.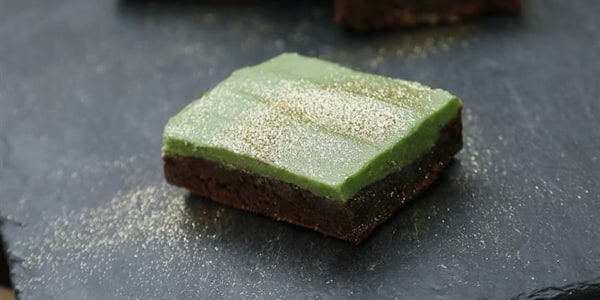 Guinness Storehouse
There's a lot going on in this brownie recipe, but the seemingly odd combination of Guinness and salt comes together exceptionally well, resulting in a brownie unlike any other you've tasted. With a generous smear of peppermint white chocolate icing on top, you'll see why this is a brownie recipe worth celebrating.
More chocolate desserts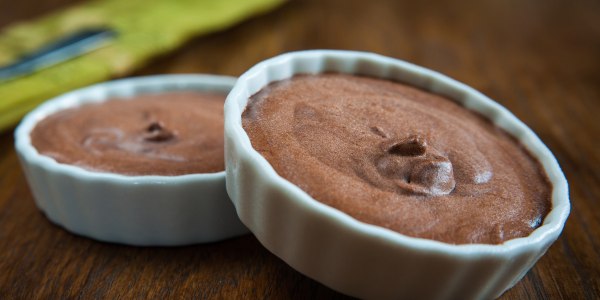 Shutterstock
You won't find a silkier, smoother dessert than Julia Child's very own chocolate mousse recipe. There's nothing fussy or complicated about this recipe. Rather, it thrives in its simplicity, offering a supremely enjoyable dessert for surprisingly little work.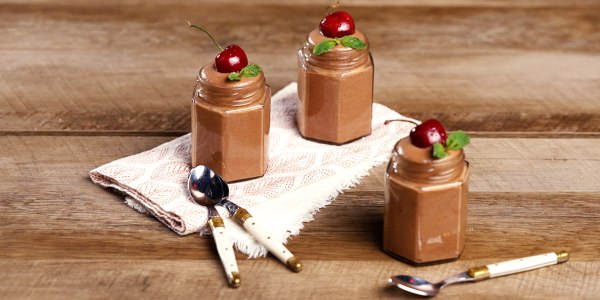 TODAY All Day
Vegans don't have to miss out on creamy whipped chocolate mousse with this recipe, which calls for aquafaba (the water that comes in a can of chickpeas) in place of egg whites. Add in an ounce of Amaretto liquor and you'll have mousse that vegans and non-vegans alike will be excited to dig into.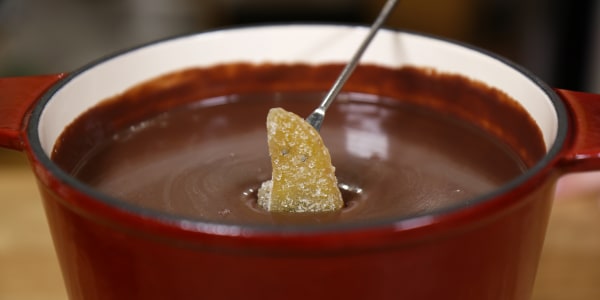 TODAY
Fondue may seem like a restaurant-only culinary experience, but it's surprisingly easy to pull off, especially with this simple chocolate fondue recipe. You'll only need four ingredients to make the perfectly dippable chocolate sauce. Then, snag some fruit, cookies, pretzels and anything else that tastes good dipped in warm, silky chocolate (in our opinion, that's pretty much everything).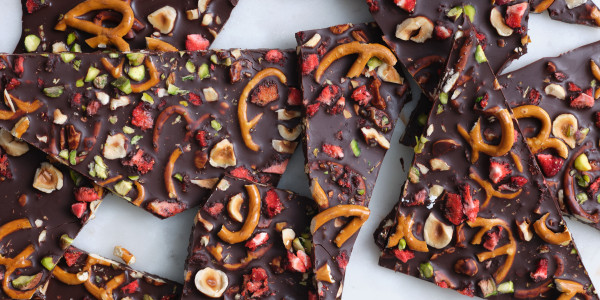 Discovery+
This gorgeous chocolate bark calls for slightly crushed pretzels, toasted hazelnuts, freeze-dried strawberries and pistachios, which all come together to create a jewel-toned dessert that's almost too pretty to eat.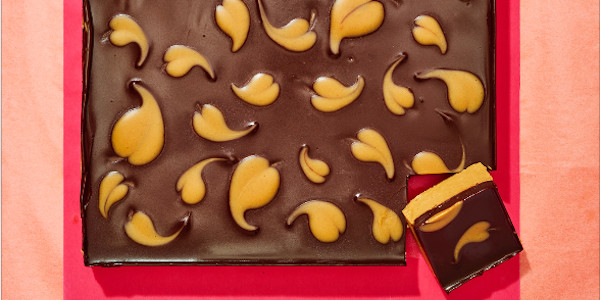 Martha Stewart
Reese's candies don't have anything on Martha Stewart's peanut butter cups, which require absolutely no baking. In this simple recipe, melted chocolate and creamy peanut butter take center stage. After four hours in the fridge, the dessert will be hardened and ready to serve.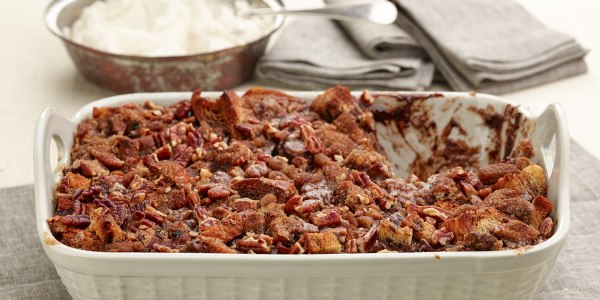 Renee Comet / Food Network
The bourbon whipped cream is the star of this recipe, and it transforms an already-delicious chocolate bread pudding into a dessert you'd expect to find at a restaurant. It's also the best way to use up stale, leftover croissants.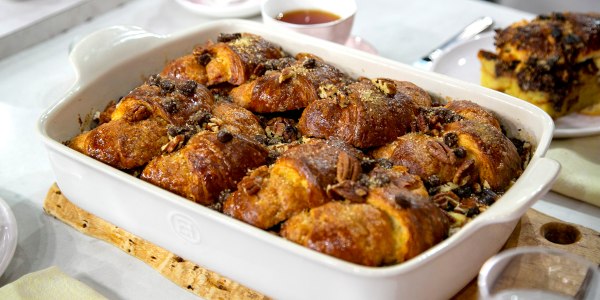 Zach Pagano/TODAY
You've had bread pudding before, but have you ever had bread pudding made with croissants? These pecan- and dark chocolate chunk-studded croissants are soaked in custard and baked until they reach toasty brown perfection.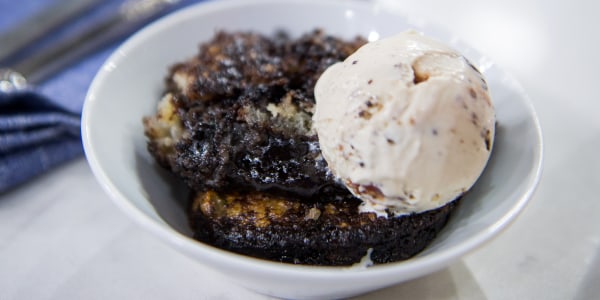 Nathan Congleton / TODAY
Cobbler gets a chocolatey upgrade with this recipe that prizes cocoa powder over seasonal fruit. Top it with cherry ice cream for a tart twist, or opt for a combination of caramel sauce and toffee bits if you want to keep things more luxe.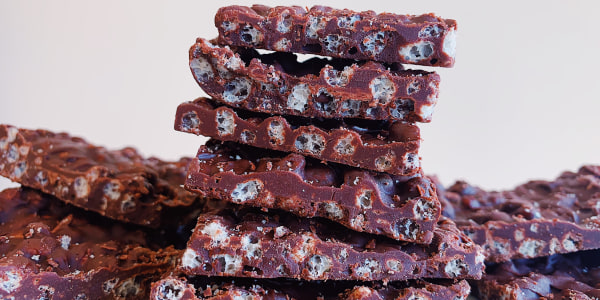 Samah Dada
Brown rice crisps are responsible for the crunchy texture of these chocolate bars, which require little more than chocolate and maple syrup to come together into a simple but exciting sweet snack. And since you don't even have to bake them, you can prep them in a flash.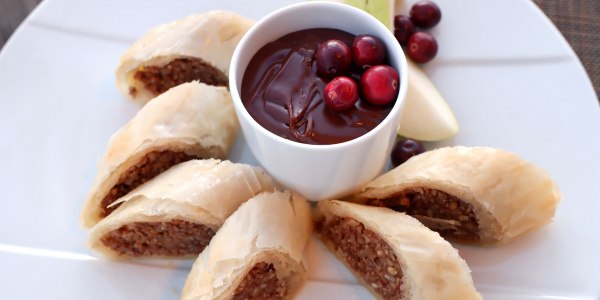 Courtesy Robin Ventress
This fruit-forward dessert dish prizes pears and pecans and pairs them with a gooey chocolate-hazelnut dip. Add some bourbon to the roll-up dough for a deeper, more complex flavor that complements spices such as cinnamon and ginger.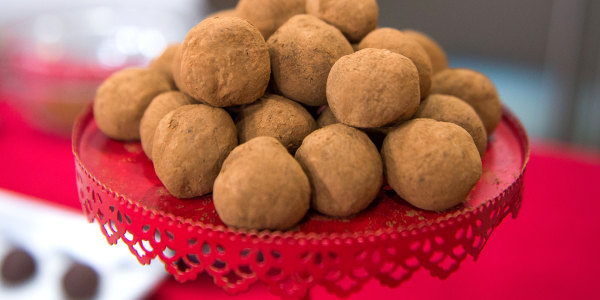 Nathan Congleton / TODAY
A good chocolate truffle is a beautiful thing to behold. Make sure you use good-quality chocolate with at least 60% cacao, since it's the main ingredient in this easy-to-make recipe. Rolling the finished truffles in cocoa gives these treats a perfectly polished appearance.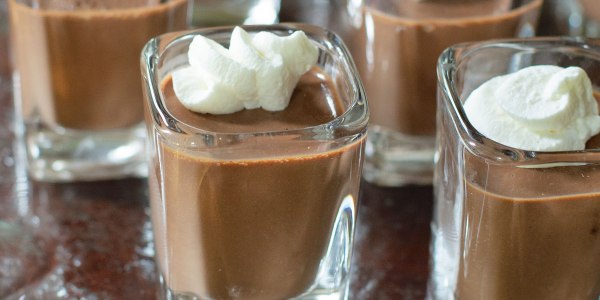 Angie Mosier
You only need three ingredients to make this elegant chocolate dessert — semi-sweet chocolate, eggs and light cream. Put everything in a food processor, and you'll have an easily shareable chocolate treat in no time. If you want to add an extra layer of complexity to this dessert, scoop a spoonful of instant coffee into the mix.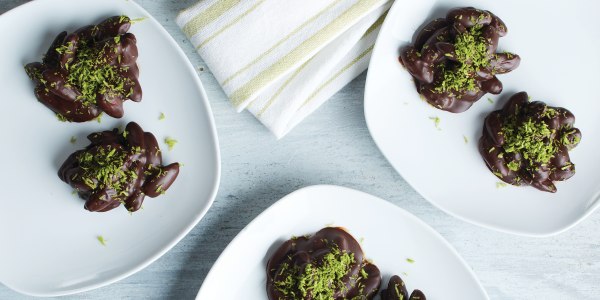 Zero Sugar Cookbook
Forget those plain old chocolate-covered almonds and opt for these almond clusters enrobed in dark chocolate and complemented by chewy shredded coconut mixed with green matcha powder for a pop of color and texture. Use them as the last bite at a dinner party, or keep some next to your desk for the times when you crave a sweet snack.
TODAY All Day / TODAY All Day
Dates are delicious on their own, but they really shine when they're filled with almond butter, covered in chocolate and frozen. The result is a kind of cold candy bar topped with crunchy, flaky salt.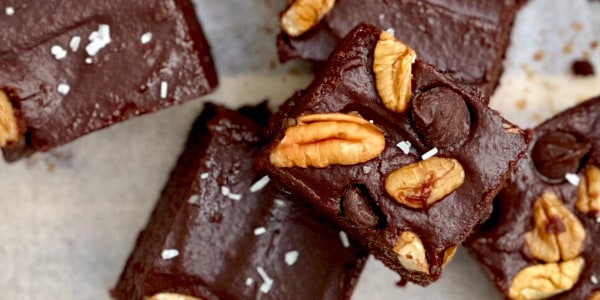 Courtesy Joy Bauer
When those late-night dessert cravings hit and your cabinets are nearly void of anything sweet, you can still make this chocolate fudge. All you need are semi-sweet chocolate chips and moist pitted Medjool dates to make your dessert dreams come true.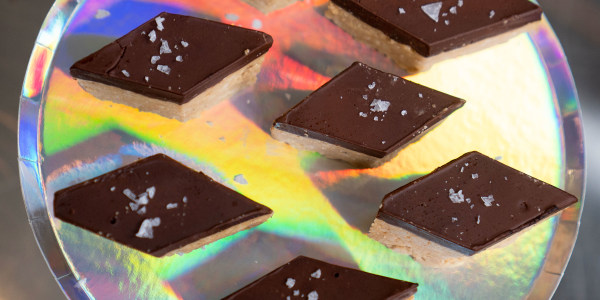 Christina Tosi / TODAY All Day
Classic buckeyes get an upgrade with this recipe for chocolate-covered peanut butter diamonds from celebrated pastry chef Christina Tosi. Crisped rice provides just the right amount of crunch, while a silky ganache topping offers a textural contrast that makes these treats downright irresistible.