Award-winning chef, author encourages exploration of roots in lecture at Kennesaw State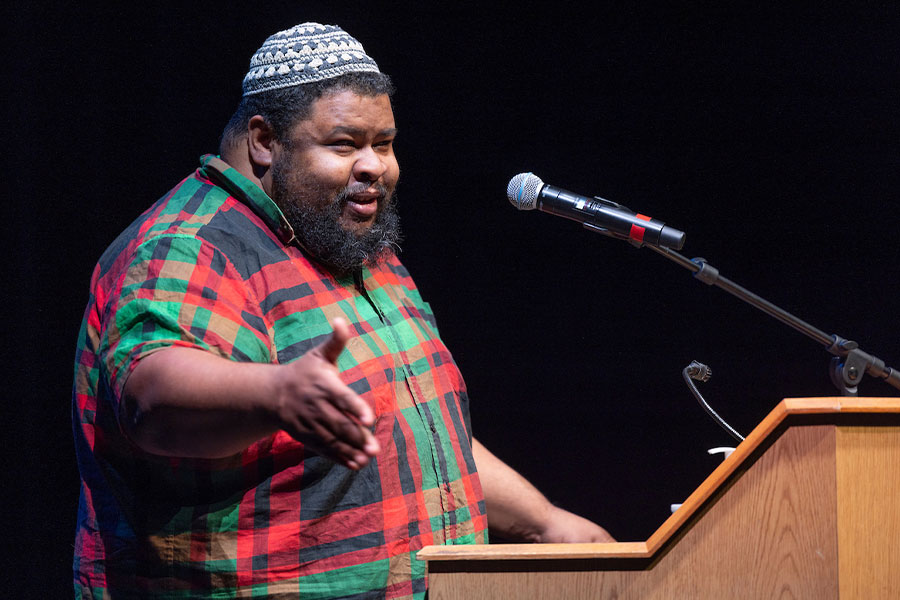 KENNESAW, Ga. |
Jan 27, 2023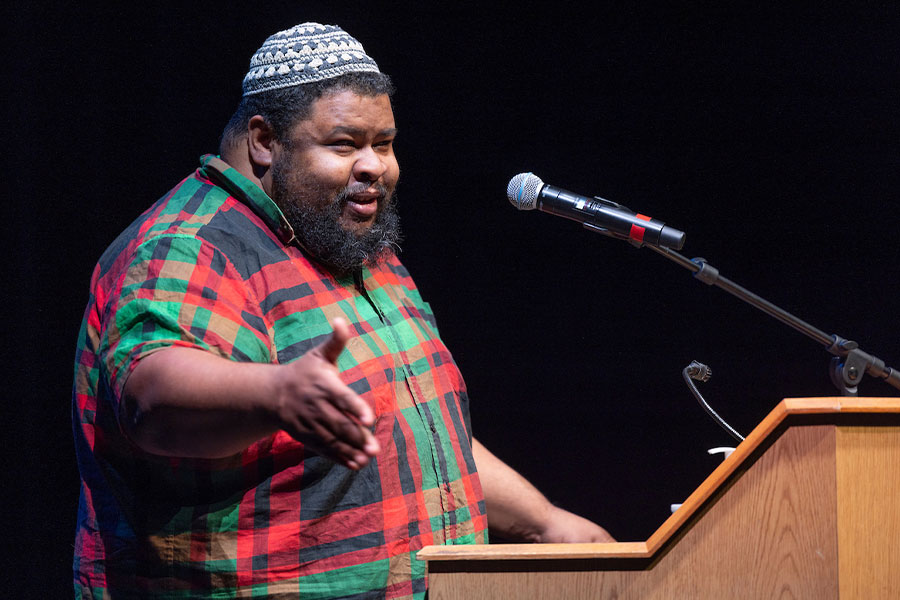 For renowned chef, culinary historian and writer Michael Twitty, living at the intersection
of multiple identities provides an opportunity to educate – and his medium is food.
The James Beard Award-winning author and longtime Hebrew educator spoke Thursday on living as a queer, African American Jew during the 10-year anniversary of Kennesaw State University's inaugural Paul and Beverly Radow Lecture Series on Jewish Life. His message to each person in the crowd at KSU's Stillwell Theatre was to live fully in their identity and to learn about their cross-sections of lineage and culture.
"I belong to all different kinds of peoples and intersections, and that's not weird because everybody in this audience does. Nobody is free from intersectionality," Twitty said. "Someone has to talk about the ideas behind the import of food, and not just the food itself. The food is a vehicle to understanding each other."
Twitty noted how heavily influenced food of the American South is by its history of
slavery, and how family recipes or food preferences can often be traced back to a
combination of ethnic roots. He also stressed the importance of not putting people
into boxes, no matter their race, gender, religion, culture or combination thereof.
That, he said, is how the history of communities with unique cultures are lost.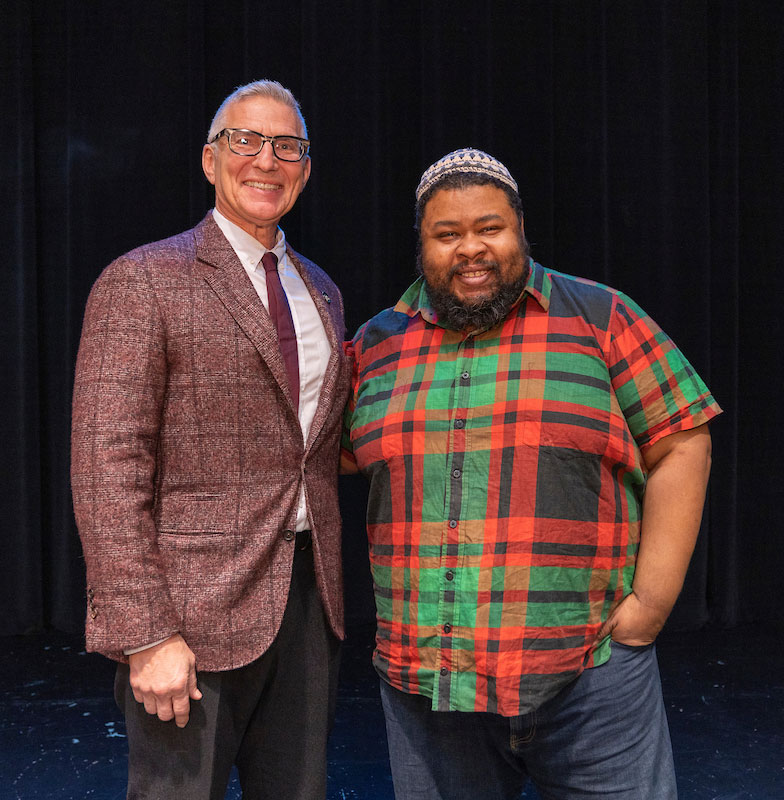 "If you have a story, and you think it's a niche story, record it – document it. Don't let people say years from now, 'They didn't exist,'" he said. "Tell these stories. Make sure the world understands. Talk about what it means to have a Nigerian daddy and a momma from Georgia, because that's complicated."
Norman Radow – historian, longtime KSU benefactor and namesake of the Radow College of Humanities and Social Sciences – praised Twitty's lecture as representative of many different perspectives of the American experience.
"Michael is such a unique individual, and I think he did a great job of entertaining and making his lecture so personal," Radow said. 
Radow College Dean Katie Kaukinen agreed, noting Twitty's ability to use food as a metaphor and medium for cross-cultural understanding and appreciation. She noted his example of the variety of ingredients that may appear in a potato salad depending on a family's cultural and ethnic background and how different that same dish may turn out if prepared by a diverse group.
"I think the takeaway is we're not one or the other. People can't be put into boxes in terms of who they are as human beings," Kaukinen said. "Michael reminds us that we have to own all those spaces to which we belong, but we also have to be forceful in asking others to respect those spaces."
Kaukinen also credited Twitty with broadening the understanding of what historians
and those in the humanities do. Though two people might be neighbors in Georgia, she
said, studying the food they eat could tell vastly different stories about those individuals.
"I think the way he articulated that was profound," she said.
Twitty is the first African American to win the James Beard Award for best writing and Book of the Year in 2018 for "The Cooking Gene: A Journey through African American Culinary History of the Old South." "The Cooking Gene" was released in 2017 and traced his ancestry through food from Africa to America and from slavery to freedom. His follow-up book, "KosherSoul: The Faith and Food Journey of an African American Jew," was published in 2022 and was named the national Jewish Book of the Year by the Jewish Book Council.
Twitty's media appearances include Netflix's "High on the Hog," "Bizarre Foods America," with Andrew Zimmern, "Many Rivers to Cross," with Henry Louis Gates, and "Taste the Nation," with Padma Lakshmi from "Top Chef." He also teaches a course entitled, "Tracing Your Roots through Food," which can be found on MasterClass, YouTube, ClassCentral and other sites.
– By Thomas Hartwell
Photos by Darnell Wilburn
Related Stories
A leader in innovative teaching and learning, Kennesaw State University offers undergraduate, graduate and doctoral degrees to its more than 43,000 students. Kennesaw State is a member of the University System of Georgia with 11 academic colleges. The university's vibrant campus culture, diverse population, strong global ties and entrepreneurial spirit draw students from throughout the country and the world. Kennesaw State is a Carnegie-designated doctoral research institution (R2), placing it among an elite group of only 7 percent of U.S. colleges and universities with an R1 or R2 status. For more information, visit kennesaw.edu.