Buffalo chicken dip, chili, cheesesteaks and more top Super Bowl recipes across US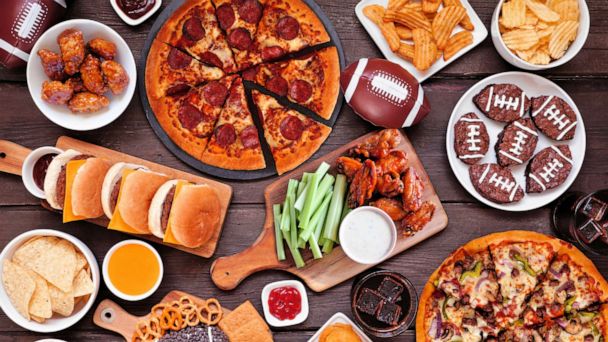 ---
Football and food fans are searching for the top Super Bowl recipes to serve this Sunday during the big game, so "Good Morning America" tapped top food creators to share their best dishes from dips to drinks.
Whether you're a house divided like Ed and Donna Kelce cheering for the Eagles and the Chiefs, or just there for the food, Google Trends shared the top game day bites to help every fan plan the perfect game day meal.
The search engine platform also discovered that "nachos" hits an annual high during Super Bowl week, over the last five years.
Chiefs fans in Kansas City, Missouri, are most interested in "cocktail meatballs" while their rivals in Philadelphia are looking up "seven-layer dip."
Check out the other top Super Bowl-related searches and recipes to make at home.
Top searched Super Bowl recipes
The popular creamy baked chicken dish packed with bold buffalo wing flavor is a top search term and food blogger Jamie Milne of Everything Delish shared her simple spin on the go-to gameday dish in salad form.
Ingredients
4 cups romaine, chopped
1 can of black beans
1 can of corn kernels
1 avocado, cubed
1/2 red onion, diced
1/2 rotisserie chicken, shredded
1/2 cup buffalo hot sauce
1/2 cup lite sour cream or Greek yogurt
1 cup cherry tomatoes, halved
2 tbsp dill, chopped
Dressing
1 cup lite sour cream
1/2 cup lite mayo or Greek yogurt
1 bunch of dill, chopped
1 tbsp garlic powder
1/4 lemon, juiced
1/2 tbsp honey
1 tsp Dijon mustard
Splash red wine vinegar
Salt & pepper
Directions
Shred rotisserie chicken using a fork and add to a large bowl. Add hot sauce and sour cream. Mix together until the chicken is evenly coated. Set aside.
Wash and prep veggies. Add romaine, black beans, corn, tomatoes, dill, avocado, onion and shredded rotisserie chicken to a large bowl.
In a small bowl, combine all ingredients for the dressing. If the dressing is too thick- add 1 tsp water at a time to thin it out. Season as necessary.
Add dressing over top of the salad and black pepper. Toss salad. Serve and enjoy!
Philly cheesesteaks Fans in Philadelphia have the ultimate luxury of ordering a fresh cheesesteak from their favorite local spot. But for others cheering on the Eagles from afar who crave the City of Brotherly Love's staple sandwich — try this fun riff on the beef and cheese combo with Anne Burrell's cheesesteak nacho recipe.
Pigs in a blanketGrab a pack of lil smokies and crescent roll dough to make this popular two-ingredient game day favorite. Or check out Carla Hall's vegetarian version here.
Banana breadHere's a full recipe for the only sweet recipe that made the Google Trends list.
Top searched chicken wing flavors
Lemon pepper chicken wings
Buffalo chicken wings
Honey garlic chicken wings
BBQ chicken wings
Teriyaki chicken wings
Toss together a batch of lemon pepper rubbed wings from Chef Nancie Greene, resident chef on the "I Am Athlete" podcast, for a taste of the top searched wing flavor.
Top searched Super Bowl cocktails
This term has been highly searched in the last week leading up to the big game, according to Google, and while there may be many variations popping up on social media, this recipe below is a bright and refreshing crowd pleaser with ample room for creativity and swaps.
Ryan Wainwright, the highly sought-after award winning bartender and national brand ambassador for Bombay Sapphire, shared his Super Bowl concoction to stir and sip on Sunday.
Ingredients
3/4 part Bombay Sapphire
1/4 part St-Germain
1/2 part Vermouth
4 parts Ginger Ale
Lime, Mint, and Ginger to garnish
Directions
Combine gin, St-Germain, vermouth, and ginger ale. Stir to combine. Garnish the punch bowl with lime wheels, fresh mint, and ginger slices.
Serve over cubed ice in a balloon or highball glass.
This classic Mexican cocktail is not just for weekend brunch or recuperating after a night out. Try this recipe on Super Bowl Sunday to give beer and bloody Mary lovers a concoction that will make both palates happy.
The classic cocktail made with muddled mint, white rum, sugar, lime and a splash of soda water is a fresh and effervescent option for game day.
Milne shared even more of her favorite game day dishes with "GMA" below.
Loaded Smashed Potatoes
Ingredients
2 lbs mini potatoes
potato seasonings: 2 tbsp olive oil, 1 tbsp dried basil, 1 tbsp oregano, 1 tbsp paprika, salt & pepper
4-6 slices bacon, chopped
1 bunch of green onions, chopped
1 bunch of cilantro, chopped
2 Roma tomatoes, chopped
6-8 dollops lite sour cream
2 jalapenos, thinly sliced
1 cup shredded cheese
Preheat oven to 425 degrees. Line 2 baking sheets with parchment paper and set aside. Bring a large pot of salted water to a boil.
Add bacon to a lined baking sheet and bake for 15-20 minutes until bacon is crispy. Once cooked, set aside.
Once water is boiled, add in potatoes and cook for 8-10 minutes until fork tender. Add potatoes to a large bowl and let cool for 5-6 minutes.
When potatoes are cooled, add all of the potato seasonings and toss until potatoes are evenly coated. Add potatoes to a lined baking sheet. Using the bottom of a glass, smash potatoes. Add potatoes to the oven for 25-30 minutes until crispy.
Remove potatoes from oven and top with cheese. Bake for another 8-10 minutes until the cheese is melted. Remove potatoes from the oven and add all of the toppings over top. Serve and enjoy!
Baked Feta Dip
Ingredients
1 block of feta cheese
1 1/2 cups cherry tomatoes
1 tbsp olive oil, divided
3 tbsp olives, chopped
4-5 garlic cloves
1 tbsp honey
1/2 tsp chili flakes
1 tbsp oregano
1/2 lemon, juiced & zested
Salt & pepper
Fresh basil or parsley, chopped
Preheat oven to 400 degrees. Add tomatoes, garlic, and chopped olives to a baking dish. Add 1 tsp olive oil, lemon juice + zest, salt & pepper and oregano. Mix together.
Add a block of feta to the center of the dish. Add olive oil, honey, black pepper and red chili flakes to the feta. Add baking dish to the oven for 30-35 minutes until tomatoes are roasted and garlic + feta are soft.
Remove from oven and burst tomatoes with the back of a fork and mix everything together. Once combined, add to a medium-sized bowl. Top with fresh Basil or parsley, olive oil and black pepper. Serve with chips and enjoy!