Gordon Ramsay's Ultimate Cookery Course: Free Video Lessons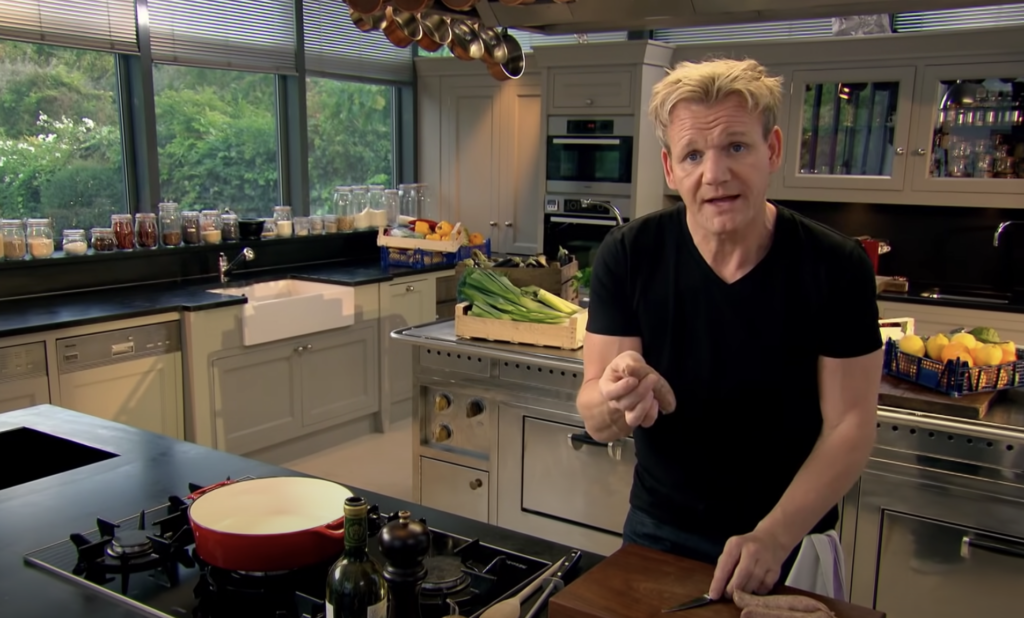 Our definition of budget cookery may differ from celebrity chef Gordon Ramsey's.
True, the world famous restauranteur and cookbook author speaks of cheap cuts with messianic zeal, but the episode of Gordon Ramsey's Ultimate Cookery Course dedicated to Food on a Budget, above, also finds him paying a call to Lina Stores' SoHo location to discuss ham, sausages, and salami with the late "deli maestro" Antonio Saccomani.
It's not exactly Costco.
Nor can we buy bone-in Lamb with fried bread as a cost conscious dish, though the accompanying milk soaked fried bread – homemade croutons really – will cost slightly less to make this year, as the USDA is predicting that dairy prices will fall after 2022's historic levels.
As long as we're at peace with the idea that the man is not ever going to be found stretching rice and beans to feed a family of four for a week when there's leftover risotto to be resurrected as arancini, the series is a goldmine for chefs of all budgets and experience levels.
It's not so much the final dishes, as the short cuts and best practices on the journey.
His "chef in Paris" might indeed kill him for uglying up a dish with deliciously humble pan scrapings, but his ironclad maxims to waste nothing and use available ingredients will benefit home chefs with an eye on the bottom line, as well as pros in high end restaurants where profit margins turn on a knife's edge.
In an age when any fool can Google up dozens of foolproof methods for cooking rice, sometimes it's reassuring to get this sort of intel straight from the lips of a globally recognized expert. (We're big fans of Julia Child's scrambled eggs…)
How does your method measure up against Ramsey's freely shared secret for cooking perfect rice?
Weigh out 400 grams of rice on a kitchen scale
Rinse with cold water
Season with salt and pepper, and – going up the food chain a bit – 3 pierced cardamom pods and a star anise
Add 600 grams of water (that's a 1:1.5 ratio for those playing along without kitchen scales or the metric system) 
Bring to a boil, and steam, covered for 8-10  minutes 
No peeking!
Remove pot from heat and fluff
Such universal tips are the most persuasive reason to stick with the series.
Ramsey's rapid fire delivery and lack of linked recipes may leave you feeling a bit lost in regard to exact measurements, temperatures, and step by step instructions, but keep your ears peeled and you'll quickly pick up on how to extend fresh herbs' shelf life and keep cut potatoes, apples and avocados looking their best.
Other episodes reveal how to grease cake tins, prevent milk from boiling over, remove baked-on residue, peel kiwis and mangos, determine a pineapple's ripeness, seed pomegranates, skin tomatoes, and keep plastic containers stain-free…
Seriously, who needs TikTok when we have Gordon Ramsey 2012?
Ramsey's advice to bypass expensive wine when cooking those comparatively cheap cuts of meat low and slow gets a chef's kiss from us. (In full disclosure, we would happily swig his braising vintage.)
As to the slow-cooked duck, truffles and caramelized figs with ricotta, we must remind ourselves that the series is over 10 years old. These days even eggs feel like a splurge..
Perhaps some stress free cooking tips will lower our stress level over this week's grocery expenditures?
Here too, there seems to be some discrepancy in Ramsey's definition and the general public's. His idea of stress free is achieved through lots of prepwork
If your idea of de-stressing involves skinning & deboning a salmon or making homemade fish stock, you're in luck.
Obviously the end product will be delicious but the phrase "chili chicken with ginger & coriander" activates both our salivary glands and our impulse to order out…

Watch a full playlist of Gordon Ramsay's Ultimate Cookery Course here.
Related Content 
Watch Anthony Bourdain's First Food-and-Travel Series A Cook's Tour Free Online (2002-03)
Watch 26 Free Episodes of Jacques Pépin's TV Show, More Fast Food My Way
How Cooking Can Change Your Life: A Short Animated Film Featuring the Wisdom of Michael Pollan
– Ayun Halliday is the Chief Primatologist of the East Village Inky zine and author, most recently, of Creative, Not Famous: The Small Potato Manifesto and Creative, Not Famous Activity Book. Follow her @AyunHalliday.