KARE 11 Saturday cooking show tips and recipes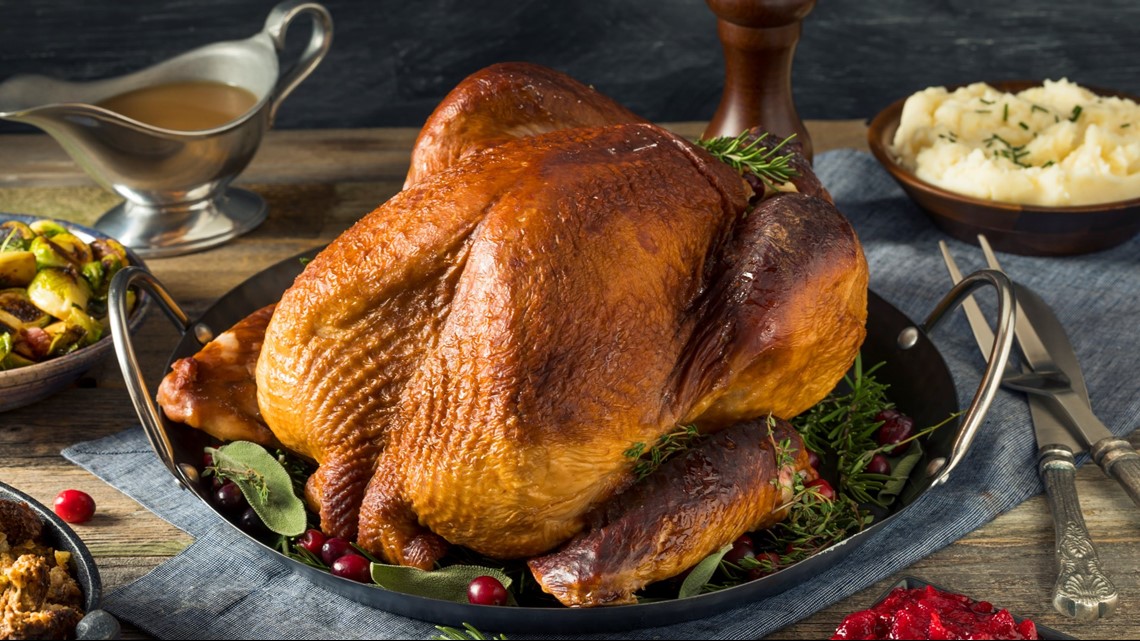 GOLDEN VALLEY, Minn. — Every year, the hosts of the KARE 11 Saturday show throw a big cooking party before Thanksgiving and share their recipes.
This year, the show turns 25.
Bel's recipe: Sue Erickson's Prosciutto Stuffing
1 Leek, halved, rinsed, and sliced
1 (6oz) package of sage and herb stuffing mix cubes
1 (14 ½ oz.) chicken broth
1 pkg. proscuitto, sliced thin crosswise
1 cup shredded parmesan cheese 
Preheat oven to 350 degrees. In skillet, melt butter over medium high heat.  Saute leeks 4 to 5 minutes, set aside.  In large mixing bowl, combine stuffing cubes, broth, pine nuts, cranberries, proscuitto, parmesan, and leeks.  Spoon mixture into a well greased large muffin pan or 2 quart baking dish.  Cover and bake 25 to 30 minutes.  Remove cover and fluff to fork.  Bake an additional 5 to 10 minutes, uncovered.  Serves 6.
Chris' recipe: Gordon Ramsey mashed potatoes (3 variations)
1kg Yukon Gold or Désirée potatoes, peeled and cut into 1cm cubes
Sea salt and freshly ground black pepper
Variation 1: Mustard Mash
Variation 2: Truffle Mash
30g porcini and truffle paste
Variation 3: Garlic and Herb Mash
2 garlic cloves, peeled and crushed
2 tbsp woody herbs, e.g. rosemary, thyme, sage, leaves finely chopped
2 tbsp soft herbs, e.g. parsley, chives, dill, finely chopped
Bring a pan of salted water to the boil. Add the potatoes and cook for 15 minutes with the lid on.
Meanwhile, if you're making the regular, mustard or truffle mash, put the butter, milk and cream into a small saucepan and bring to a gentle simmer. For the mustard mash, add the mustards to the warm cream mixture. For the truffle mash, add the truffle paste and truffle oil to the pan instead.
For the garlic and herb mash, heat the butter in a small saucepan, add the garlic and woody herbs, and cook for 2–3 minutes. Pour in the milk and cream and bring to a gentle simmer. Add the soft herbs and cook for another 2–3 minutes.
When the potatoes are cooked, drain in a colander. Put them through a potato ricer as quickly as possible and return them to the saucepan.
Pour over the flavoured cream and mix well. Season to taste with salt and pepper, stir again and serve.
Tips: The hotter the potato when you put it through the ricer, the fluffier the mash, so move fast once the potatoes have been drained.
Bobby's recipe: Lunds & Byerly's Wild Rice Waldorf Salad
1 (8 ounce) can pineapple tidbits in own juice
2 Granny Smith apples, diced (2 cups)
2 Red Delicious apples, diced (2 cups)
Drain pineapple, reserving 1 tablespoon of juice
Combine pineapple, wild rice, apples, celery and walnuts in a large bowl.
Stir reserved pineapple juice and remaining ingredients together until sugar is dissolved.
Fold dressing into salad. Refrigerate, covered, several hours.
KARE staff's favorite Christmas cookies: Julie's pick: Puff
Cream shortening and sugar until light.
Sift dry ingredients and add alternately with sour cream.
Drop by teaspoonful onto cookie sheets.
Bake at 325 for 8 minutes. Frost while hot.
Brown 1/4 cup butter. Remove from heat and beat in 3 cups *powdered sugar, 3/4 tsp. vanilla and about 3 Tbsp. hot water.
*Start out with half the powdered sugar. Not too thick.
Cookies are very soft. Can add sprinkles after frosting.
Nikki's pick: The Spritz
John's pick: Peanut Butter Blossom
48 HERSHEY'S KISSES Milk Chocolates
3/4 cup REESE'S Creamy Peanut Butter
1/3 cup packed light brown sugar
1 1/2 cups all-purpose flour
1/3 cup granulated sugar, for rolling (additional)
Heat oven to 375°F. Remove wrappers from chocolates.
Beat shortening and peanut butter in a large bowl until well blended. Add 1/3 cup of granulated sugar and brown sugar; beat until fluffy. Add egg, milk and vanilla; beat well. Stir together flour, baking soda and salt; gradually beat into peanut butter mixture.
Shape dough into 1-inch balls. Roll in granulated sugar; place on ungreased cookie sheet.
Bake 8 to 10 minutes or until lightly browned. Immediately press a chocolate into the center of each cookie; cookie will crack around edges. Remove from cookie sheet and onto a wire rack. Cool completely.
Kent's pick: White chocolate macadamia nut 
¾ cup packed light brown sugar
½ teaspoon vanilla extract
½ teaspoon almond extract
2 ½ cups all-purpose flour
1 cup coarsely chopped macadamia nuts
1 cup coarsely chopped white chocolate
Preheat the oven to 350 degrees F (175 degrees C).
Cream butter, brown sugar, and white sugar together in a large bowl until smooth. Beat in eggs one at a time, then stir in vanilla and almond extracts.
Combine flour, baking soda, and salt in another bowl. Gradually stir the dry ingredients into the butter mixture. Fold in macadamia nuts and white chocolate.
Drop dough by teaspoonfuls onto ungreased cookie sheets.
Bake in the preheated oven until golden brown, about 10 minutes.
Ben's pick: Peanut Butter Cookies with Blackberry Jam
1/3 cup unsweetened cocoa powder, such as
1/8 teaspoon fine sea salt
1 stick (1/2 cup) unsalted butter, at room
temperature, cut into 1/2-inch pieces
3/4 cup creamy peanut butter, at room
3/4 cup, plus 1/4 cup granulated sugar
1/2 packed cup light brown sugar
1 egg, room temperature, beaten
1 teaspoon pure vanilla extract
Put an oven rack in the center of the oven. 
Preheat the oven to 375 degrees. 
Line two baking sheets with parchment paper. 
In a medium bowl, sieve together the flour, cocoa powder, baking soda, and salt.
In a stand mixer, fitted with the paddle attachment, beat the butter, peanut butter, 3/4 cup of the granulated sugar, and the light brown sugar together, scraping down the sides of the bowl as needed, until smooth, about 30 seconds.
Add the egg and vanilla extract and mix until blended. With the machine running on low speed, gradually add the flour mixture until incorporated.
Put the remaining 1/4 cup granulated sugar in a small bowl. 
Form the dough into 1/4 cup-size balls and roll in the sugar. 
Arrange 5 balls of dough, evenly apart, on each baking sheet. 
Using a round 1/4 teaspoon measure, or the thin end of a wooden spoon, make a hole in the center of each ball of dough, 1/2 to 3/4-inch deep. 
Spoon 1 teaspoon of jam into each hole. 
Bake until the dough has spread and the surface of the cookies are crackled, 11 to 14 minutes. 
Cool for 5 minutes and then transfer to a wire rack to cool completely, about 20 minutes. 
Arrange the cookies on a serving dish and serve.
Main Event: The Bird
We know some of you are cooking a turkey for the first time and might have some questions. Karl Benson, owner of Cooks of Crocus Hill, offers up some help. Here are the links: