21 Healthy Dinner Ideas for Every Weeknight in January
The hustle and bustle of the week oftentimes leaves you scrambling to make a satisfying, healthy dinner. One of the ways to overcome this barrier is planning. But don't worry—we did the tough part for you and found all the recipes! All you need to do is organize your shopping list, so you have what you need at the start of every week.
On Saturday or Sunday each week, put together a shopping list of the five recipes based on the meals you intend you make before heading to the grocery store. The recipes selected use ingredients you can easily find at your local market. You'll also find suggestions for easy swaps you can make for some of the recipes.
Get motivated and start 2023 off by using these 21 planned weeknight dinners for January. Also, feel free to use it again for February or any month you choose! And if curious to find out about other healthy dinner ideas specifically geared toward your New Year's weight loss goals, be sure to also check out 5 Easy Weeknight Dinner Recipes for Weight Loss.
Kick off January weeknight dinners with simple chicken burgers. You can always swap the ground chicken for ground turkey. Feel free to add more veggies to this dish with a side salad or side of steamed broccoli or carrots.
Get our recipe for Chicken Burgers with Sun-Dried Tomato Aioli.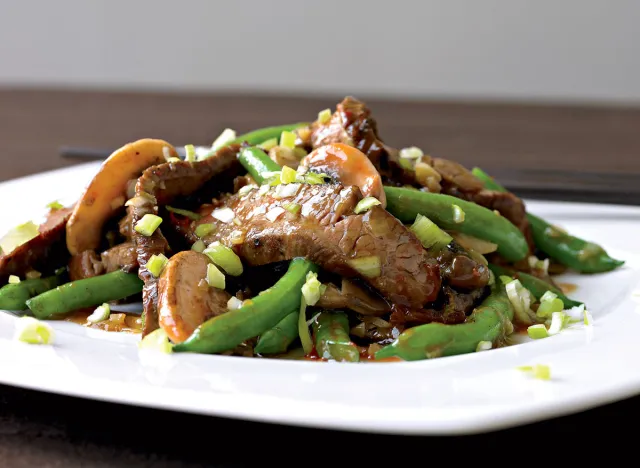 Stir fry dishes are always a go-to for quick and easy dinners. Serve over brown rice, and for more veggies add a side salad with a vinaigrette dressing.
Get our recipe for Sweet and Spicy Beef Stir-Fry.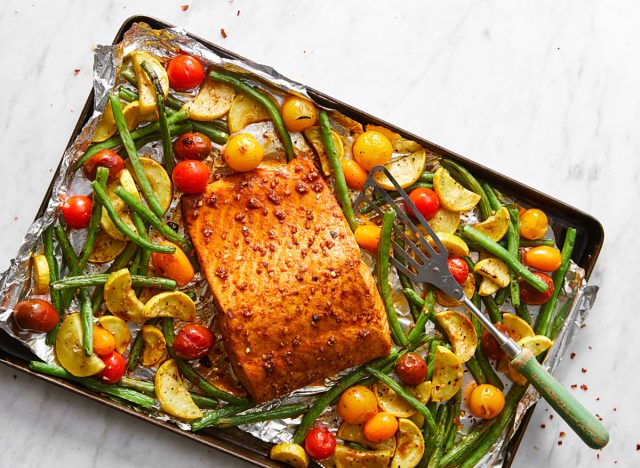 This sheet pan salmon dish is no fuss and not many dishes. Add whole grains on the side, like quinoa, farro, or use leftover brown rice from Wednesday night's stir fry meal.
Get our recipe for Sweet and Spicy Glazed Salmon with Roasted Veggies.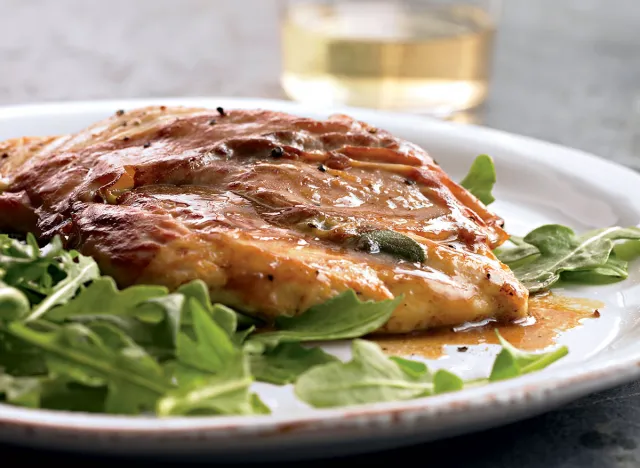 This better-for-you, Italian-inspired dinner has a fraction of the calories and saturated fat compared to your local Italian restaurant. Serve over whole grain pasta and with steamed cauliflower and broccoli on the side
Get our recipe for Simple Chicken Scaloppine.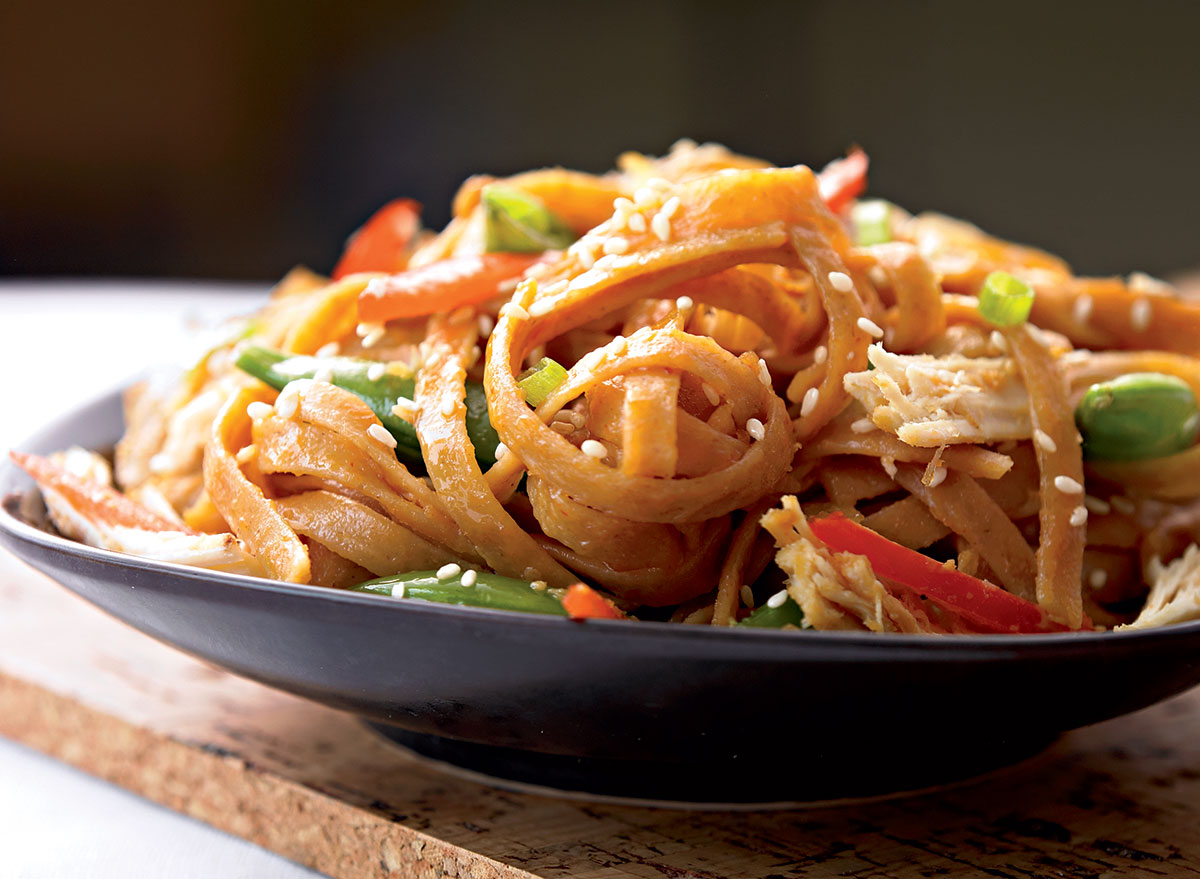 This Asian-inspired dinner uses fettuccine noodles, peppers, and shredded chicken, which you can make yourself or use a store-bought rotisserie chicken. Add more veggies by serving with a side salad or crudité with dip as an appetizer.
Get our recipe for Asian-Inspired Sesame Noodles with Chicken.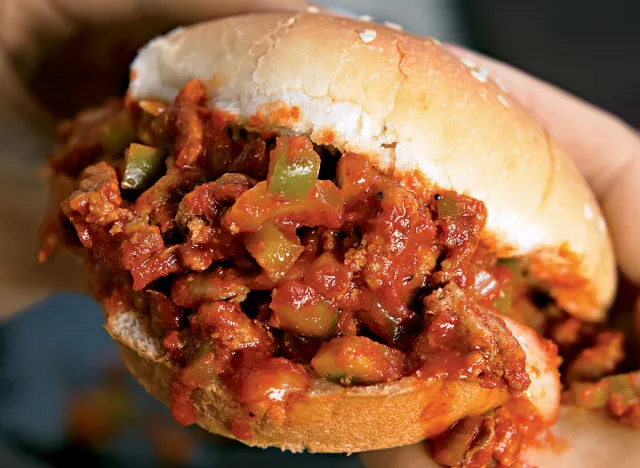 Sloppy Joes is a family favorite and uses many ingredients you probably already have in your pantry and spice cabinet. Serve with baked sweet or russet potato fries or a healthier slaw.
Get our recipe for Turkey Sloppy Joes.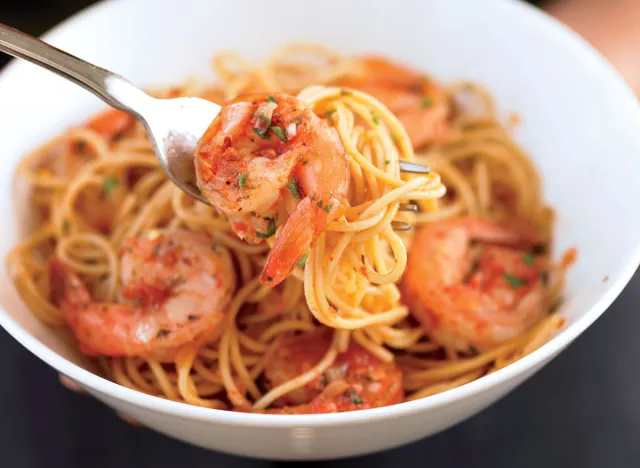 Shrimp is a very low-calorie protein that can be cooked in a flash. To get more fiber, swap traditional spaghetti for whole wheat or legume-type spaghetti. Serve with a side salad with vinaigrette dressing, steamed green beans, or both!
Get our recipe for Low-Calorie Shrimp Fra Diavolo.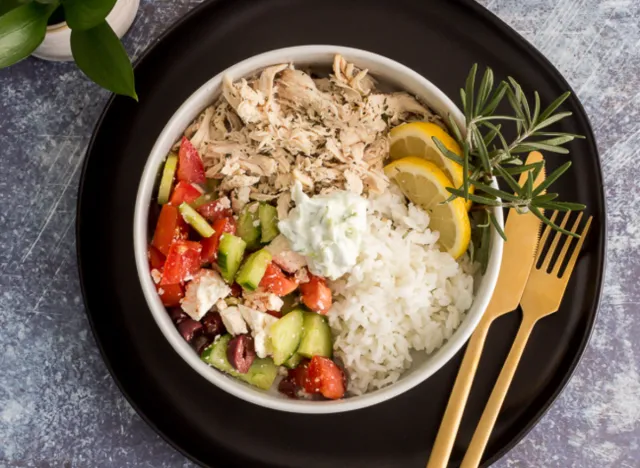 These Mediterranean-inspired bowls use rotisserie chicken, which helps cut back on your total cooking time. Paired with brown rice and a super simple chopped salad, and you've got a well-balanced delicious meal on the table in no time.
Get the recipe from Toby Amidor Nutrition.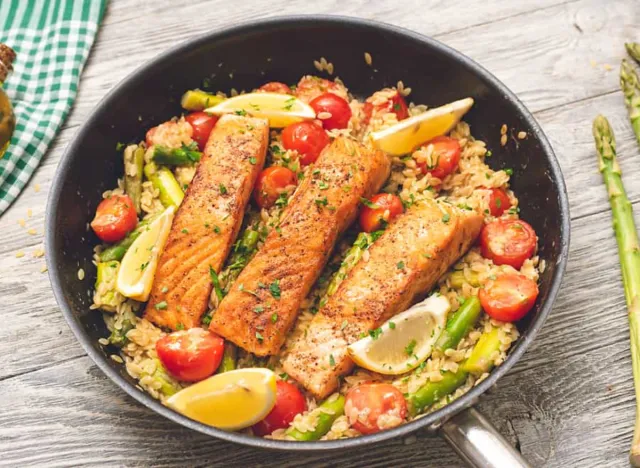 One-pot meals are a lifesaver when it comes to a busy work week. This dinner balances salmon with orzo and asparagus and tomatoes. Add more veggies by cutting up veggies for the table or make a simple side salad.
Get the recipe from The Creative Bite.
Meatloaf is a crowd-pleasing favorite, plus you can bring leftovers for lunch the next day. Serve with roasted potato wedges or a baked sweet potato on the side and roasted veggies.
Get our recipe for Turkey Meatloaf with Spicy Tomato Glaze.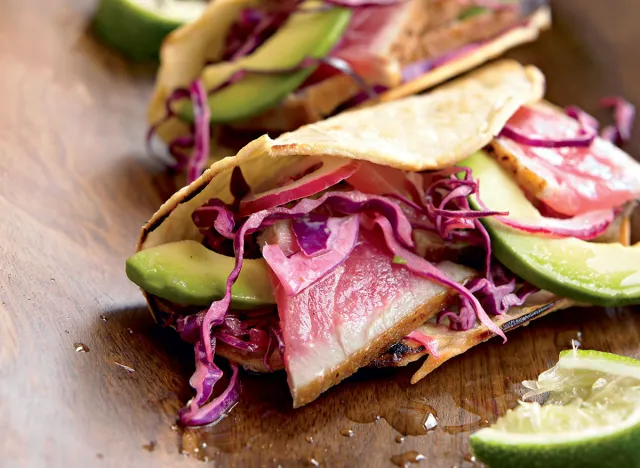 Make it a taco Tuesday with these tuna and avocado tacos. Serve with rice and beans on the side.
Get our recipe for Spicy Tuna and Avocado Fish Tacos.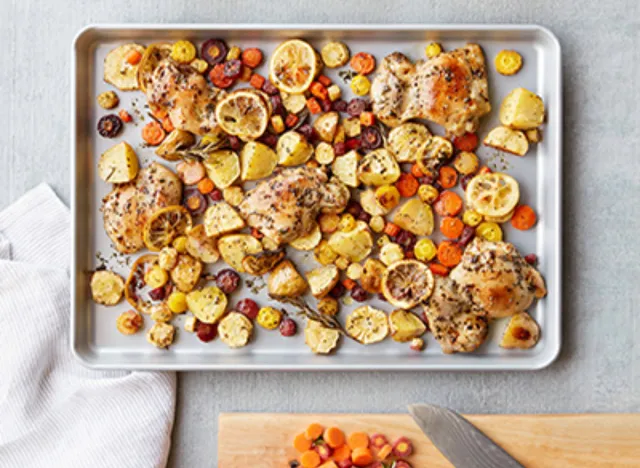 These chicken thighs are paired with potatoes, carrots and parsnips. You can also add a parsnip or two if you like. Add fruit salad or a piece of fruit like clementine or sliced pineapple for dessert for a complete meal.
Get the recipe from Toby Amidor Nutrition.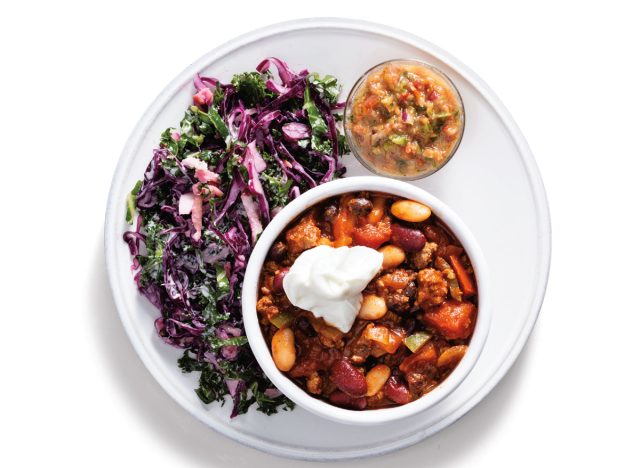 This chili recipe is made with lean ground beef and three (yes, three!) types of beans, each serving packed with 9 grams of fiber. Serve with a slaw and serve with Greek yogurt or reduced fat sour cream as an optional topper.
Get the recipe from Toby Amidor Nutrition.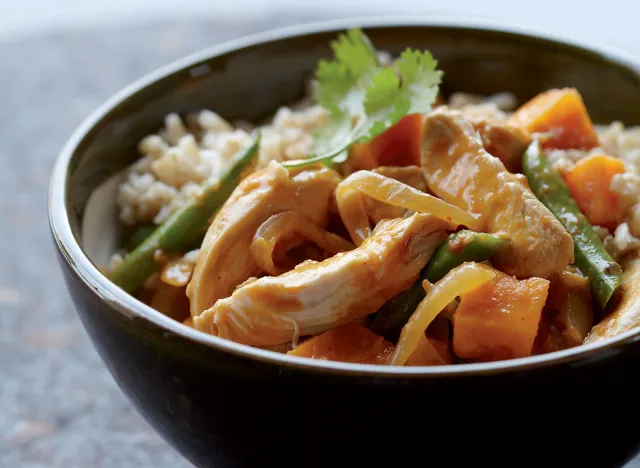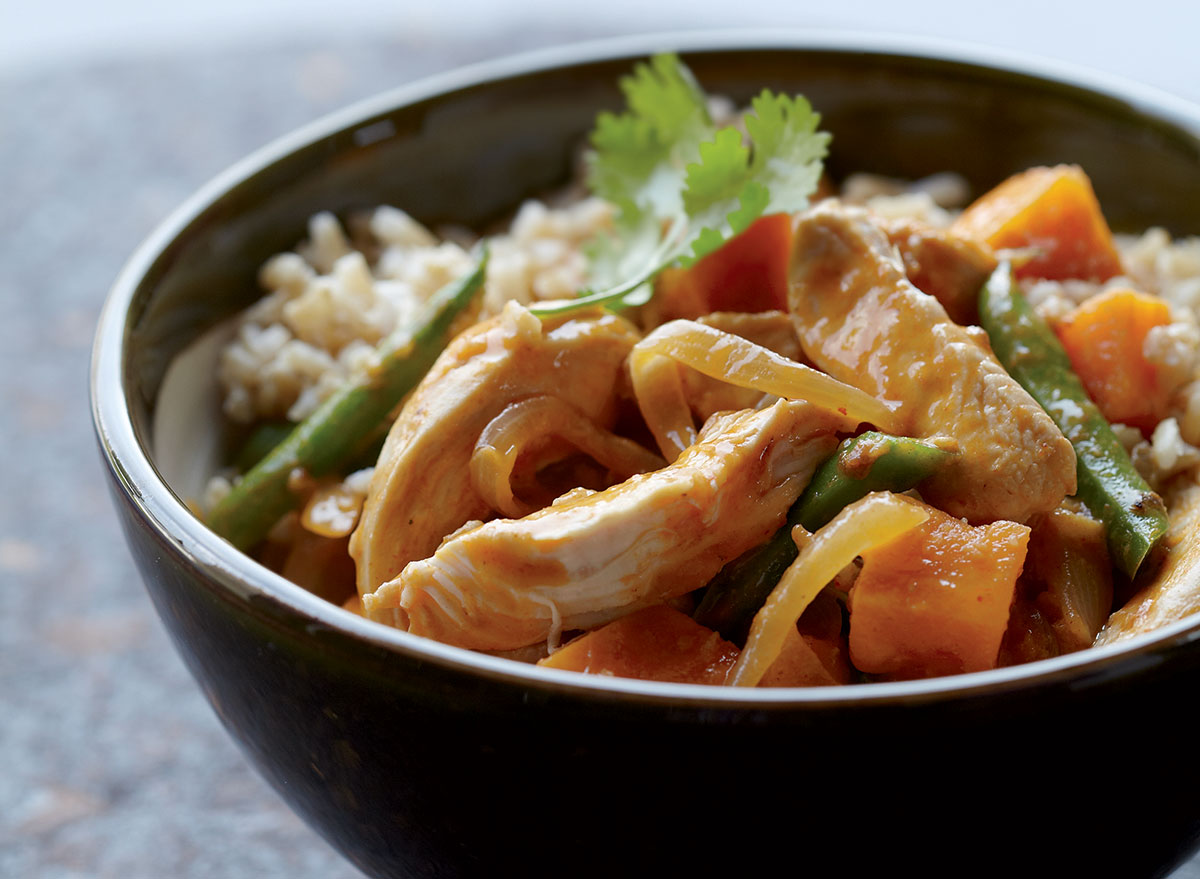 Instead of Thai takeout, cook up this curry recipe where you control the ingredients. Per serving, it provides 340 calories, 13 grams of fat—6 grams which are saturated, and 400 milligrams of sodium. Serve with flatbread on the side to mop up that delicious curry!6254a4d1642c605c54bf1cab17d50f1e
Get our recipe for Thai Chicken Curry.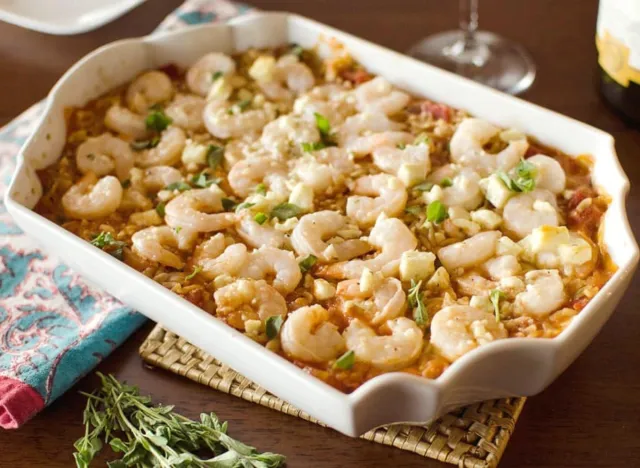 This vegetarian dish is another one-dish meal that can help minimize dishes and your all-out effort especially when you're exhausted. Complete the meal with steamed or roasted veggies on the side; I recommend brussels sprouts or string beans.
Get the recipe from The Creative Bite.
On some weeknights, five ingredients are all you want to handle. This simple dinner uses bottled barbecue sauce, so compare labels to make sure you get the one with a lower amount of added sugar. If you're cooking for more than two people, double or even triple this well-balanced sheet pan meal.
Get our recipe for 5 Ingredient Barbecue Chicken Sheet Pan Dinner.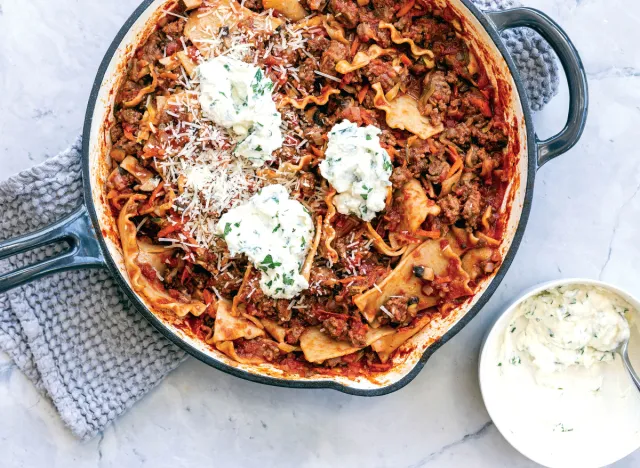 This skillet lasagna uses less lasagna noodles to help cut back on total carbs. If you want more veggies, you can add one cup of shredded carrots, shredded zucchini, or chopped cauliflower to the recipe.
Get the recipe from Toby Amidor Nutrition.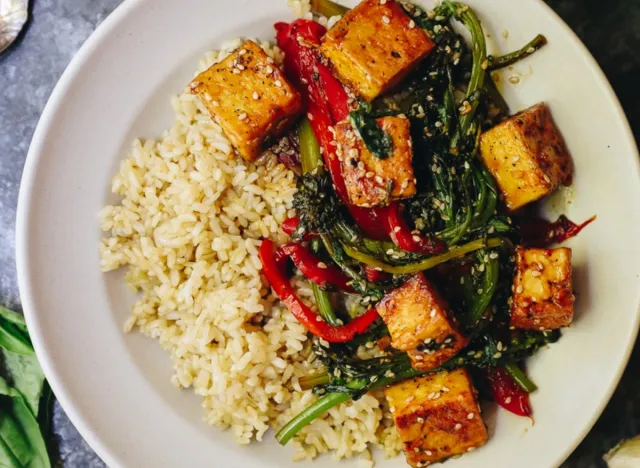 Tofu is a plant-based protein that is made from soybeans and quick to cook. Serve this over brown rice or quinoa for a complete meal.
Get the recipe from Healthy Maven.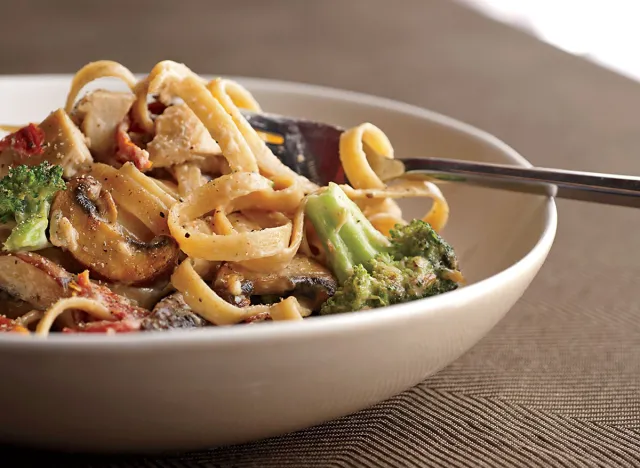 This lighter Alfredo sauce uses smaller portions of butter, 2% milk, and Parmesan cheese. By adding cooked chicken breast or rotisserie chicken and veggies, it makes for a healthy, delicious balanced meal.
Get our recipe for Loaded Alfredo Pasta with Chicken and Vegetables.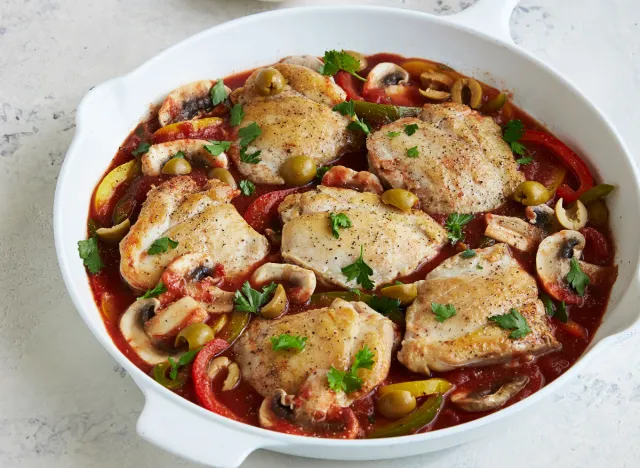 This recipe is another simple one pot meal that will become your go-to this year. Serve over whole wheat couscous, brown rice, or quinoa for a complete meal.
Get the recipe from Toby Amidor Nutrition.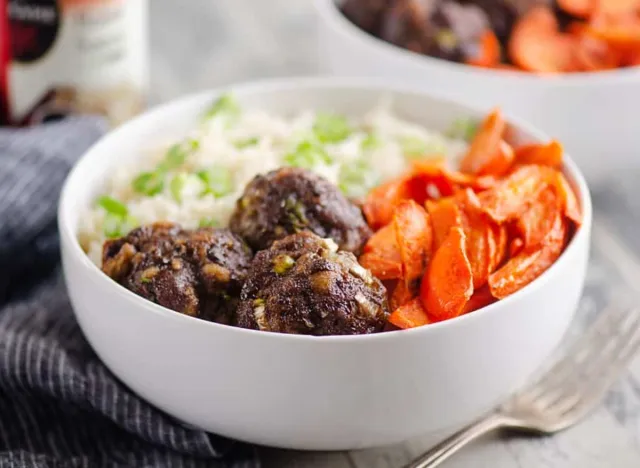 This drool-worthy bowl contains roasted carrots, simple white rice flavored with garlic, ginger and butter, and meatballs made with lean beef and a lot of flavor from hoisin and soy sauce. Serve fruit like fresh berries or orange segments for dessert.
Get the recipe from The Creative Bite.