April Fools' Cinnamon Rolls Recipe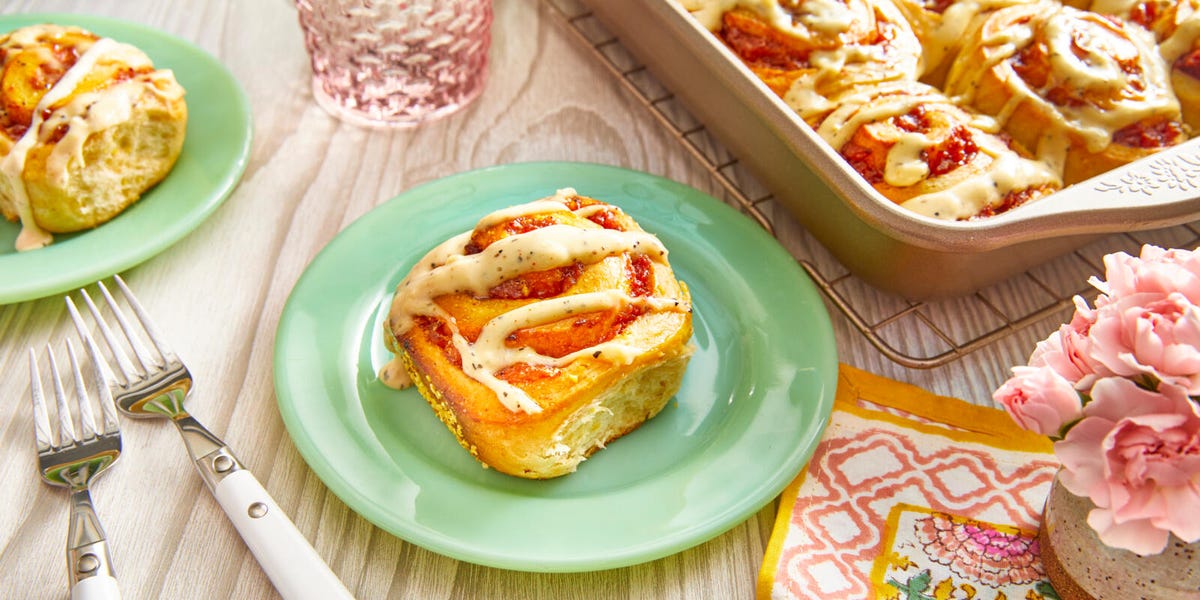 The Drummond family loves a good prank—just ask them about the ongoing feud involving rubber snakes! That's why, in honor of April Fools' Day, we came up with the idea of savory rolls disguised as Ree's famous cinnamon rolls. After all, there's something about those sweet, buttery, warm-from-the-oven rolls that's just pure heaven on earth—it's the perfect lure for a good ol' April Fools' joke.
Imagine your own family's surprise when you serve a batch of them on the table and the kids get that first taste of "dessert." Bite into one and… surprise! Each roll is stuffed with pulled pork and barbecue sauce. Don't worry, though—these rolls are just as tasty. The pork mixture gives them a flavor reminiscent of a pulled pork sandwich while the cornmeal dough makes them pillowy soft and chewy. Give 'em a drizzle of Alabama white sauce and you're good to go!
The best part? Everyone will be fooled, but no one's disappointed!
Heck, they might even ask for seconds.
Wouldn't that be funny?
Advertisement – Continue Reading Below
Yields:

12

serving(s)

Prep Time:

30

mins

Total Time:

3

hrs

10

mins
Ingredients
1/2 c.

whole milk

1/2 c.

unsalted butter, cubed

3 tbsp.

honey

1/4 c.

plus 1 tbsp. medium yellow cornmeal, divided

3 3/4 c.

 all-purpose flour, divided

2 1/2 tsp.

kosher salt

1/4 oz.

packet instant yeast (2 1/4 tsp.)

3

large eggs, room temperature and divided

Nonstick cooking spray

12 oz.

container sauceless pulled pork

3/4 c.

barbecue sauce

2 tbsp.

unsalted butter, melted

1 c.

Alabama White Sauce
Directions
Step 

1

Combine 1/2 cup of water, the milk, butter, and honey in a medium saucepan over medium heat until steaming. While stirring constantly with a whisk or a wooden spoon to prevent clumps, gradually add 1/4 cup of cornmeal. Cook until mixture is bubbling and thickened, about 2 to 3 minutes. (It will have the consistency of thin grits.) Remove from heat and allow to cool to 120 to 130°, or until cool enough to touch.

Step 

2

Whisk 1 3/4 cups of flour, salt, and yeast in the bowl of a stand mixer fitted with the paddle attachment. Add the cornmeal mixture to the flour mixture. Beat on low speed for one minute, scraping down the sides and bottom of the bowl. Add 2 of the eggs, one at a time, and beat on low until combined, scraping down sides and bottom of bowl. With the mixer on low speed, gradually add 2 cups of flour and beat until the dough comes together. 

Step 

3

Switch to the dough hook attachment. Beat at medium-low speed until the dough is elastic and clears the sides of the bowl, about 6 to 8 minutes. (The dough will stick to the bottom of the bowl).

Step 

4

Spray a large bowl with nonstick cooking spray. On a clean surface form dough into a smooth ball. Place in the prepared bowl, turning to coat the top. Cover and let rise in a warm, draft-free place (75°) until puffy, 45 minutes to 1 hour.

Step 

5

Preheat the oven to 350°. Spray a 13-by-9-inch baking pan with cooking spray and sprinkle with the remaining 1 tablespoon of cornmeal. Heat the pulled pork according to the package directions and finely shred. Fold in the barbecue sauce and allow to cool.

Step 

6

Turn dough out onto a clean surface. Roll the dough into a 18-by-12-inch rectangle. Spread the pork mixture over the surface of the dough, leaving a 1-inch border on one long end. Starting with the other long end, roll the dough tightly towards the long end with the border, creating a log. Pinch the seam together and place seam side down on a cutting board. With a serrated knife, cut the roll into 12 buns, each about 1 1/2 inch thick. 

Step 

7

Place the rolls, cut side down and evenly spaced, in the prepared pan. Cover the pan with a clean kitchen towel or plastic wrap and let rise until the rolls are just touching each other, 45 minutes to 1 hour.

Step 

8

Beat the remaining egg and brush the rolls with the egg wash. 

Step 

9

Bake the rolls for 35 to 40 minutes until golden brown on top. Brush the rolls with 2 tablespoons of melted butter. Let the rolls cool for 10 minutes in the pan.

Step 

10

Serve hot, warm, or room temperature, drizzled with Alabama White Sauce. 
Tip: Tuck the loose ends of the rolls underneath the cut side of the rolls for perfectly round buns.  

Recipe Developer
Leah Perez is a professionally trained recipe developer and food history fanatic. When she is not testing, tasting, and fine-tuning a recipe for The Pioneer Woman, she can be found reading in the botanical gardens or stirring up risotto for her friends.