Cambridge students gets cooking with Chef in the Classroom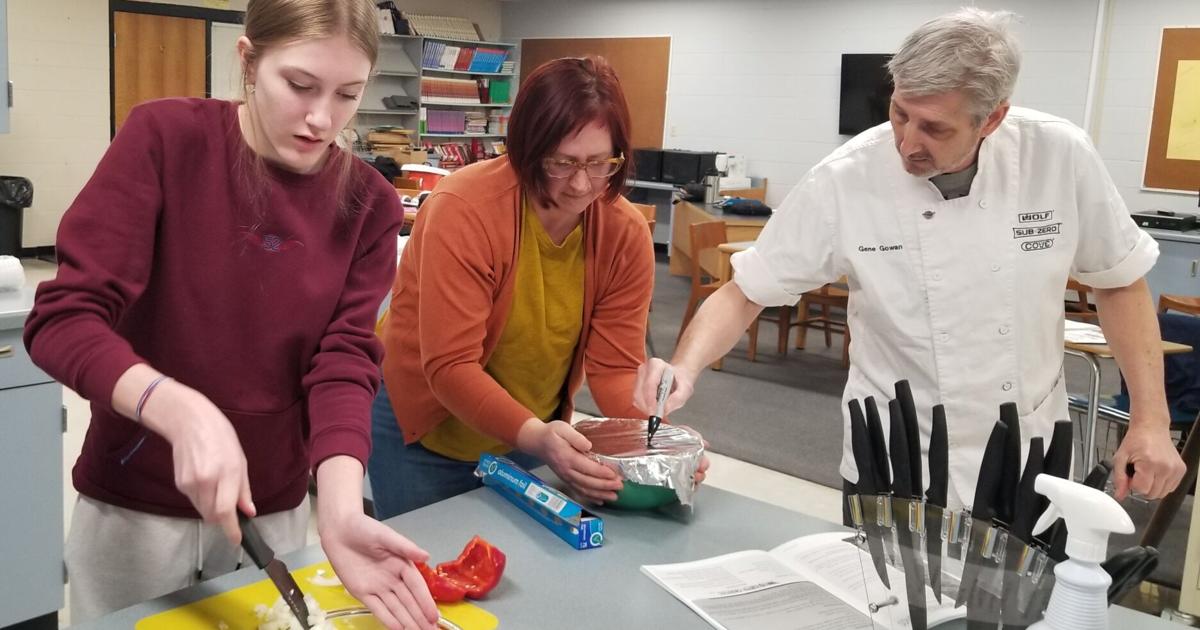 PAMELA COTANT
For the State Journal

Elementary students in the Cambridge School District are shown how to make recipes by a chef, and then they turn around and become the chefs as high school freshmen.
The Chef in the Classroom program brings in a chef to demonstrate for the young students how to make foods that are mostly tied to other lessons they are learning. Then in high school, the chef comes back to again teach students to make those same recipes and others. The students also learn knife skills and other cooking tips.
"It is kind of a full circle kind of thing," said Gene Gowan, who serves as the chef.
The Chef in the Classroom is one of the programs organized by Cambridge Farm to School, a volunteer-run organization that assists with programming and facilitates hands-on education in the Cambridge School District and the community. Chef in the Classroom takes place once a year for each grade for elementary students, and for four days during freshman health classes. Elementary students receive a copy of the recipe they learned, and each high school student receives a booklet with recipes and cooking tips.
"I'm learning a lot of new things in the first day," freshman Maggie Porter said about Chef in the Classroom.
Freshman Josie Punsel said she was learning new recipes and knife safety and was being exposed to different foods.
"The class is pretty interesting," she said.
Teacher Antione Gray, whose freshman health classes took part in Chef in the Classroom last month, said he sees several benefits to the program.
"The biggest thing is not a lot of families expose kids to cooking," he said.
While his students might do some food preparation at home, Gray said, it tends to be more simple fare. Not only is the cooking in Chef in the Classroom more elaborate, it also introduces students to different foods, he said.
"The last thing, though, is it gets them out of the classroom," Gray said.
Instead of sitting in their normal classroom, the students head down to the school's food lab for hands-on lessons.
Elementary students get to taste what Gowan makes, and the recipes are usually tied into what they are studying. For example, fourth-graders do a Native American unit, so Gowan made a traditional recipe called "Three Sisters Succotash." Gowan also shows students how math, science and reading tie in to the kitchen, and where particular food items come from and how they are grown.
Gowan runs a small catering business called Canella Culinary and is a chef in the sales training department at Sub-Zero, which has a farm on its property for growing the produce it uses. He said he gets satisfaction from seeing students try new things and exert a little bit of peer pressure to get others to do so.
"I like interacting with the kids," Gowan said. "I really enjoy helping them learn where their food comes from and the stories behind it."
The Cambridge Farm to School program started small and has evolved over the years while its leadership changed. In 2017, new co-chairs Jacy Eckerman and Ben Timp formed a new Farm to School Advisory Committee and partnered with the Cambridge-based Rural Schools Collaborative with the goal of becoming a non-profit organization, which was realized in 2019. There are still three of the founding advisory board members on the current board: Eckerman, Timp and Erica Lien.
In 2012, local parents Robin Kantzler and Grace Leonard became the co-chairs and began to focus on Farm to School programs at the elementary school level. Kantzler and Leonard began Farm to School education and enrichment programs, including Chef in the Classroom, which is modeled after Fort Atkinson's program. Since 2017, Eckerman has worked with teachers in the elementary school to incorporate the chef program with what students are learning in their classrooms. Eckerman and Gowan expanded the program into the high school health class in 2020.
Currently the farm to school program has three prongs: Chef in the Classroom, maintaining its Perennial Edible & Exploration Garden, and environmental projects such as composting and recycling. Efforts to grow produce to use in school lunches include Project Tomato and the raspberry patch.
The garden also is a community educational space used to host collaborative projects focusing on reuse and sustainable materials, and students can use it to work on independent projects. Eckerman made the garden sign by using plastic bottle caps to create the lettering and design. Using an old billboard and poles, a shelter was built out of reused materials, and pallets were reused for a fence around the pumpkins. Future plans call for a table and benches to be built out of reused materials.
Plans for this year include getting all the structures built for the raspberry growing operation, irrigation systems built and installed, and planting and maintaining the garden to grow a variety of pumpkins to be used as decoration for a fall festival, in addition to herbs and perennial plants that help deter pests. Other plans include maintaining and caring for what was planted last year — lavender, bamboo and perennial flower beds. Future plans include building a tool shed using only reused materials.
Cambridge Farm to School holds community work days one Saturday a month starting in May and is always looking for volunteers for its gardening projects and other programs, Eckerman said. But the fall festival has helped get the organization recognition.
After some false starts due to the COVID-19 pandemic, last fall the organization launched the Cambridge Farm to School Fall Festival, which includes a chili cook-off, 5K run, family games, live music and beer tent, and information about the organization. This year it will take place on Oct. 14 at Westside Park. The festival is a community celebration and raises money to support all the Farm to School programs.
Each Monday, the Wisconsin State Journal features a story about learning in Wisconsin. Here are School Spotlight stories from the past year. 
"We've worked really hard in the last two years to really get our name out there," Eckerman said.
"I like interacting with the kids. I really enjoy helping them learn where their food comes from and the stories behind it."

Gene Gowan, chef, Canella Culinary