Tom Kerridge's weight loss recipes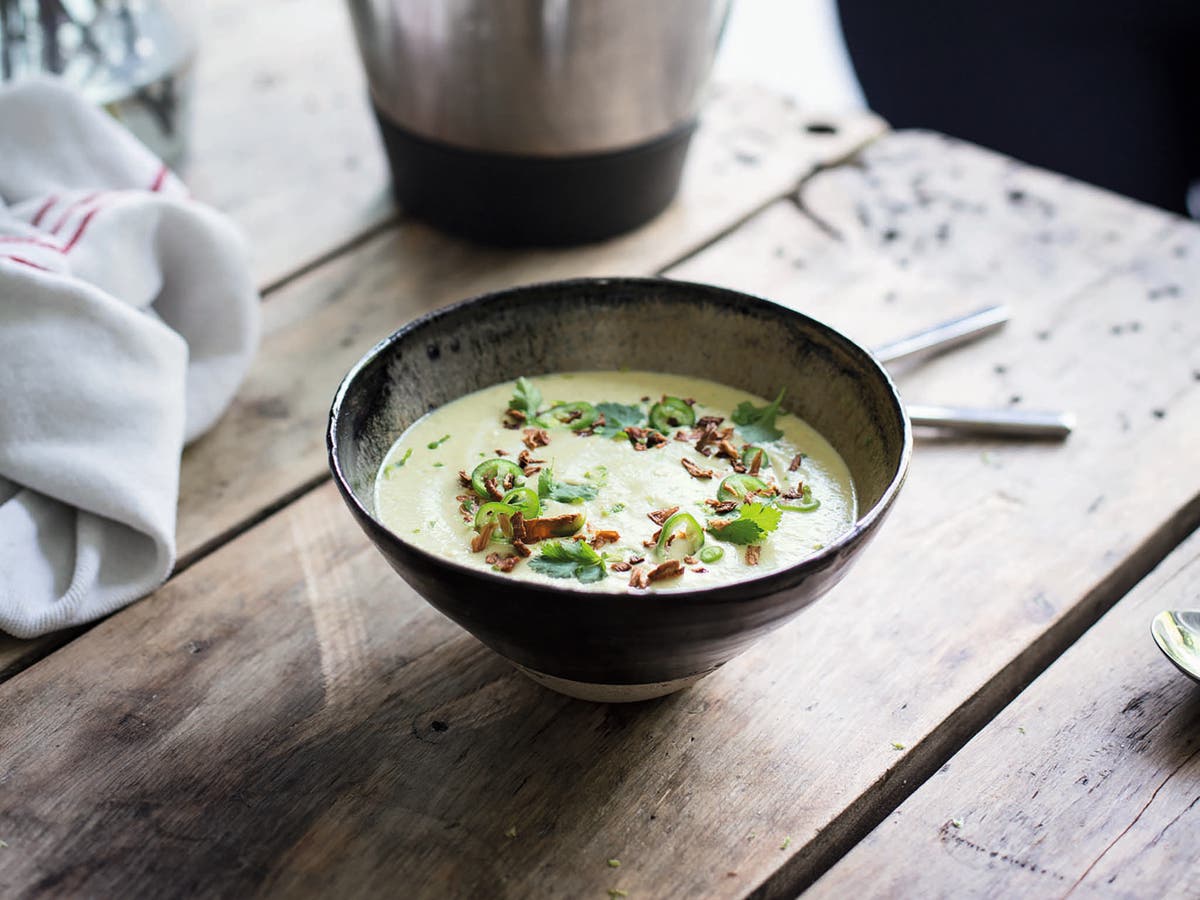 Even Michelin-starred and celebrity chefs need a health kick from time to time.
Tom Kerridge might have made a career for himself turning pubs into award-winning restaurants and appearing on our screens in everything from MasterChef to Saturday Kitchen, but he's also a household name for his personal weight loss journey, which he's also turned into a series of hugely popular cookbooks and TV shows.
Drawing on this experience and his expertise, he shares four easy and delicious recipes to help you stick to your goals – or simply to enjoy!
Curried cauliflower soup
I've eaten a lot of cauliflower on my low-carb diet and I've grown to love it. When it's cooked and pureed like this, it takes on such a rich, creamy texture that it feels quite indulgent, particularly when combined with the coconut and cream cheese. It takes on spices beautifully, too.
Serves: 4
Carb count: 22g per person
Ingredients:
50g dried onion flakes
2 tbsp vegetable oil
50g butter
1 onion, diced
2 garlic cloves, grated
1½ tbsp curry powder
1 chicken or vegetable stock cube
1 large cauliflower (about 800g), broken into florets
200ml coconut cream
200g cream cheese
4 tbsp chopped coriander, tender stems and all
2 hot green chillies, sliced, seeds and all
Finely grated zest of 1 lime
Sea salt and cayenne pepper
Method:
1. Preheat the oven to 180C/fan 160C/gas 4. Scatter the onion flakes on a baking tray, trickle on the oil, give it a stir and season with salt. Bake for 5 minutes, or until the onion flakes are golden brown. Set aside to cool.
2. In a large saucepan, melt the butter over a medium-low heat. Add the onion and garlic and sweat gently, stirring from time to time, for 10-15 minutes until soft. Sprinkle on the curry powder and cook, stirring, for 2-3 minutes.
3. Now pour in 1 litre water and crumble in the stock cube. Bring to the boil and add the cauliflower florets. Turn the heat down to a simmer and cook for 5-10 minutes, until the cauliflower is soft.
4. Stir in the coconut cream and cream cheese until fully combined. Bring back to the boil then take the pan off the heat.
5. Blitz with a stick blender, or in a jug blender or food processor. If you've time, pass the soup through a sieve into a clean pan at this point – this will give the soup an unbelievably silky and delicious texture. Warm gently and season to taste with salt and cayenne pepper.
6. Ladle the soup into warmed bowls and scatter over the toasted onion flakes, coriander, chilli and lime zest.
'Tom Kerridge's Dopamine Diet' by Tom Kerridge (published by Bloomsbury, £14.99; photography by Cristian Barnett; illustrations by David Eldridge).
Berry and yoghurt breakfast shake
I'll often have this shake when I want to refuel after morning exercise. By keeping a stash of berries in the freezer I can whiz it up in seconds, and avoid giving in to hunger cravings on the way back from the gym.
Serves: 1
Ingredients:
A large handful (100g) frozen berries
30g porridge oats
2 tbsp Greek yoghurt (0% fat)
1 tsp granulated sweetener
180ml whole milk
A few mint leaves
4 ice cubes
Method:
1. Put all the ingredients into a jug blender and blend until completely smooth.
2. Pour into a large glass or portable drinks container and enjoy!
Variation: Use coconut or almond milk instead of cow's milk.
Bonus: This shake is ideal as a pre- or post-workout breakfast – the oats supply sustained energy while yoghurt provides protein to promote muscle recovery. And berries are a great source of vitamin C, which is also needed for muscle repair and helps to boost the immune system.
Per serving: 341 kcals, 21g protein, 9g fat, 42g carbs, 6g fibre
'Lose Weight and Get Fit' by Tom Kerridge (published by Bloomsbury, £22.00; photography by Cristian Barnett; illustrations by David Eldridge).
Sticky pork chops
This recipe taps into everyone's love of those all-American smoky flavours. It has a great barbecue-style glaze, but with much less added sugar. A fresh and crunchy slaw is the perfect foil for the sticky chops.
Serves: 2
Calories: 420 per serving
Ingredients:
2 trimmed bone-in pork chops, i.e. all fat removed (250g each)
Olive oil spray
Sea salt and freshly ground black pepper
For the barbecue sauce:
4 tbsp tomato ketchup
1 tbsp maple syrup
1 tbsp Worcestershire sauce
1 tbsp English mustard
½ tsp cayenne pepper
For the slaw:
100g red cabbage, finely shredded
100g white cabbage, finely shredded
1 tbsp white wine vinegar
2 tbsp Greek yoghurt (0% fat)
Method:
1. Preheat the oven to fan 240C/gas 9. Line an oven tray with baking parchment.
2. Season the pork chops on both sides with salt and pepper. Heat a griddle pan over a high heat. Spray both sides of the chops with a few sprays of oil. When the griddle is smoking hot, add the chops and cook for 2 minutes on each side or until well charred. Set aside on the lined oven tray.
3. For the barbecue sauce, mix all the ingredients together in a small bowl.
4. Coat the pork chops in the sauce, on both sides. Cook on the top shelf of the oven for 10 minutes or until cooked through.
5. Meanwhile, mix together all the ingredients for the slaw and season with salt and pepper.
6. Remove the pork chops from the oven and run a cook's blowtorch over them to blacken slightly. Serve with the crunchy slaw.
'Lose Weight for Good' by Tom Kerridge (published by Bloomsbury, £22.00;photography by Cristian Barnett; illustrations by David Eldridge).
Sticky date pudding with coconut caramel
I'm not going to pretend that this is healthy! It's a luxurious version of sticky toffee pudding, using coconut milk for the caramel sauce. It's about getting into the kitchen and making something to share with others… and they'll certainly thank you for it.
Serves: 12
Calories: 545 per serving
Ingredients:
A little butter or oil, for greasing
350g pitted dates, roughly chopped
250ml dark rum
300ml water
170g vegetable suet
200g light muscovado sugar
4 large free-range eggs
1 vanilla pod, split and seeds scraped
2 tsp ground mixed spice
400g self-raising flour
3 tsp bicarbonate of soda
For the coconut caramel:
3 x 400ml tins coconut milk
100g light muscovado sugar
To finish:
30g coconut flakes, toasted
Method:
1. Grease a 30 x 25cm baking tin, at least 5cm deep, and line with baking parchment.
2. Put the dates into a heatproof bowl. In a small pan, bring the rum and water to the boil, then pour over the dates. Stir, then cover and leave to soak for 20 minutes. Preheat the oven to 190C/fan 170C/gas 5.
3. Put the suet and sugar into a large bowl and stir to combine. Add the eggs, one at a time, mixing well after each addition. Add the vanilla and mixed spice to the bowl then sift over the flour and bicarbonate of soda; fold into the mixture until nearly combined. Add the dates with their liquor and mix to combine.
4. Pour the mixture into the prepared tin and bake
on the middle shelf of the oven for 40 minutes or until a skewer inserted into the middle comes out with just a few moist crumbs clinging.
5. Meanwhile, to prepare the caramel, tip the coconut milk into a heavy-based non-stick saucepan and whisk until smooth. Bring to the boil over a high heat and boil rapidly, stirring occasionally, for about 40 minutes until reduced and starting to thicken. Sprinkle in the sugar and whisk well. (Reheat before serving if necessary.)
6. Once the pudding is cooked, remove from the oven and leave to stand for 5 minutes. Cut into squares and serve warm, trickled with hot coconut caramel and sprinkled with toasted coconut flakes.
'Tom Kerridge's Fresh Start' by Tom Kerridge (published by Bloomsbury, £26.00; photography by Cristian Barnett; illustrations by David Eldridge).