Lidia Bastianich shares her tools, tips and 2 recipes to cook like her with confidence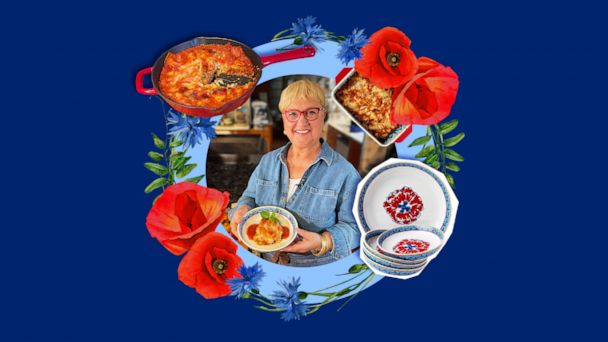 ---
For decades, home cooks around the world have turned to Lidia Bastianich for encouragement in the kitchen. Be it from her various television shows, myriad cookbook titles, or her empire of restaurants, the Italian-American icon is beloved for her inspiration and authentic invitation to get cooking.
On every episode of her show "Lidia's Kitchen," Bastianich closes with her famed tagline, "Tutti a tavola a mangiare" — "everyone to the table to eat" — and for the first time, Bastianich welcomed "Good Morning America" to her table.
Bastianich gave "GMA" a behind-the-scenes glimpse into her culinary process, shared two recipes with a shortcut you need to see and taste to believe, showed her new cookware line in action, and divulged her top tips and tools to cook like her at home.
"I want you to feel comfortable and cook well in the kitchen," Bastianich told "GMA" of her intention with her first-ever cookware line, which includes Dutch ovens, cast iron skillets, ceramic bakeware and more. "It's cast iron quality but much lighter — enamel outside, nonstick inside — you can roast, you can poach, you can make soup and pasta, all in the Dutch oven."
By clicking on these shopping links, visitors will leave Goodmorningamerica.com. These e-commerce sites are operated under different terms and privacy policies than Goodmorningamerica.com. ABC will receive a commission for purchases made through these links.
Shop the entire Lidia's Kitchen Cookware collection on HSN's website here.
Top tips you need to cook like Lidia Bastianich
"Get in the kitchen with confidence — think, 'Lidia is on my shoulder' — I'm there with you, just get in the kitchen and start cooking," she said.
Add life to a dish with fresh herbs
"As an Italian, I can't stress enough on how to bring a spirit and soul to your dishes: Use fresh herbs," she said. "Whether it's rosemary, whether it's basil, whether it's sage or thyme, whatever you have — just don't put them all together because then it becomes a mix of flavors — but choose one fresh herb [and] add it to your dishes. In most cases, it will really elevate the dish."
"I always do a drizzle of olive oil at the end when I'm finished with my dish because then you really taste the olive oil in its purity. Because once you cook it, the olive oil changes a little bit, it loses a little bit of flavor. So, a drizzle of the fresh olive oil on top. It's always a Lidia deal," she said.
However, Bastianich also made the case for omitting olive oil when necessary. "Don't put olive oil in when you're cooking pasta and you're boiling that water," she stressed. "The oil coats the pasta and then the sauce slides off. You want the pasta that sort of kisses with the sauce, and all together is delicious. Always salt the water, no oil."
Glossy and saucy pasta 101
"Once you cooked your pasta and have your sauce — maybe it's not enough sauce, maybe somebody is late or the pasta is congealing, sort of — save a little bit of that pasta water, nice hot pasta water, add it to your pasta and you extend that sauce," she said, adding that the pasta water also creates a more glossy and viscous consistency that will cling to the noodles better thanks to the starches.
Lidia Bastianich's must-have kitchen tools
"Being a good chef is of course a lot of practice, but it's also an art that needs its tools," Bastianich explained.
She listed a handful of her essentials, which include "a nice pan like a cast iron skillet; a Dutch oven is always great for roasts and braising, you can even do pastas in there; a nice wooden spoon; I always like a good solid wood cutting board so I have space to cut everything; a rubber spatula if you're doing desserts; and a ladle if you're doing a lot of soups."
Another tool Bastianich said she reaches for often is one commonly used across Asian cultures, "the spider," which has "a long wide [wooden] handle with the chicken wire at the end. I love it, it's a must in my kitchen — I fish out vegetables with it, I fish out the pasta with it. So make sure you have that."
"You can build from there," she added, "but get the essentials and get a sharp knife — If I don't have a sharp knife, it is a problem. It's difficult and you never get the right cut."
Cast Iron Skillet No-Boil Noodle Lasagna
"I'm going to make two pasta dishes with no-boil pasta. You might say, 'Lidia no … you're not cooking the pasta or boiling it?' No, I'm not,'" Bastianich said, sharing the first of two dishes with "GMA." "But we're going to compensate for that and ultimately, we are going to let them cook on their own terms."
She noted that the marinara sauce with added water, as well as the moist filling, will help get the pasta to its perfect consistency to create an easier version of two Italian classics, lasagna and stuffed shells.
"You can add additional vegetables to this if you like," she added. "Try browning some mushrooms — or, for heartier appetites, a few crumbled links of Italian sausages — in the olive oil before adding the sauce, or add a few handfuls of baby spinach to each layer."
Extra-virgin olive oil, for coating the skillet
3 cups marinara sauce (homemade or store-bought)
1 cup low-moisture mozzarella, shredded
1/2 cup Grana Padano, freshly grated
2 tablespoons fresh Italian parsley, chopped
Peperoncino flakes (dried red chili flakes)
12 sheets no-boil lasagna noodles
Heat a large nonstick skillet over medium heat. Add enough olive oil to make a thin film on the bottom of the skillet. Add 1 3/4 cups of the marinara with 1/4 cup water and bring to a simmer over medium heat.
In a bowl, combine the ricotta, 1/2 cup mozzarella, 1/4 cup grated Grana Padano, the egg, peas, and parsley. Season with salt and a pinch of peperoncino, and mix well.
Layer three of the noodles in the skillet over the sauce. Dollop a third of the ricotta mixture on top of the pasta in the skillet, and spread it out to cover the noodles; then drizzle with 1/4 cup of the tomato sauce. Make two more layers, ending with noodles. Drizzle with the remaining 1 1/2 cups of tomato sauce. Top with the remaining 1/2 cup mozzarella and 1/4 cup grated cheese. Cover the skillet, and simmer until the pasta is al dente (test by piercing the center with a paring knife), about 20 to 25 minutes.
Preheat the broiler. Broil the lasagna just until the top is nicely browned, about 1 minute. Let it sit for 15 minutes before cutting and serving so the lasagna will settle and cut into portions more easily.
No Boil Stuffed Shells
"The stuffing is rather simple … just a little scallions, ricotta, a little [Grana Padano] cheese, and it's as simple as that," Bastianich said of the filling for these shells.
For this recipe, Bastianich used her new Lidia's Kitchen 9 x 13-inch ceramic baker with serving tray lid.
1 cup low-moisture mozzarella, shredded
1/2 cup Grana Padano, freshly grated
4 scallions, green parts included, chopped
1/4 cup fresh Italian parsley, chopped
Freshly ground black pepper
3 cups marinara sauce (homemade or store-bought)
12 ounces jumbo pasta shells
Preheat the oven to 400 F. In a bowl, combine the ricotta, 1/2 cup of the mozzarella, the egg, 1/4 cup of the Grana Padano, the scallions, and parsley. Season with salt and pepper.
Spread about 1 cup of the marinara in the bottom of a 9-by-13-inch baking dish. Fill the shells with the ricotta mixture (see headnote for instructions). Arrange in the baking dish. Stir together the remaining sauce and 1 1/2 cups water. Spoon this over the shells. Cover with foil, and bake for 1 hour. Remove, and sprinkle with the remaining cheese. Bake, uncovered, until it's browned and bubbly, about 15 minutes more, and serve.
Recipes reprinted with permission from "A Pot, A Pan and a Bowl" by Lidia Bastianich.